The big idea
Much of the brittle, upper crust of Venus is broken into fragments that jostle and move – and the slow churning of Venus' mantle beneath the surface might be responsible. My colleagues and I arrived at this finding using decades-old radar data to explore how the surface of Venus interacts with the interior of the planet. We describe it in a new study published in the Proceedings of the National Academy of Sciences on June 21, 2021.
Planetary scientists like me have long known that Venus has a plethora of tectonic landforms. Some of these formations are long, thin belts where the crust has been pushed together to form ridges or pulled apart to form troughs and grooves. In many of these belts there's evidence that pieces of the crust have moved side to side, too.
Our new study shows, for the first time, that these bands of ridges and troughs often mark the boundaries of flat, low-lying areas that themselves show relatively little deformation and are individual blocks of Venus' crust that have shifted, rotated and slid past each other over time – and may have done so in the recent past. It's a little like Earth's plate tectonics but on a smaller scale and more closely resembles pack ice that floats atop the ocean.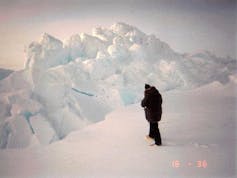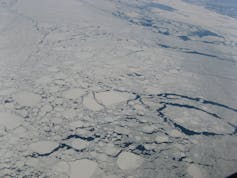 Researchers have hypothesized that – just like Earth's mantle – the mantle of Venus swirls with currents as it's heated from below. My colleagues and I modeled the sluggish but powerful movement of Venus' mantle and showed that it is sufficiently forceful to fragment the upper crust everywhere we've found these lowland blocks.
Why it matters
A major question about Venus is whether the planet has active volcanoes and tectonic faulting today. It's essentially the same size, composition and age as Earth – so why wouldn't it be geologically alive?
But no mission to Venus has yet conclusively shown the planet to be active. There's tantalizing but ultimately inconclusive evidence that volcanic eruptions have taken place there in the geologically recent past – and are perhaps even ongoing. The case for tectonic activity – the creaking, breaking and folding of the planet's crust – is on even less solid ground.
Showing that Venus' geological engine is still running would have huge implications for understanding the composition of the planet's mantle, where and how volcanism might be taking place today and how the very crust itself is formed, destroyed and replaced. Because our study suggests that some of this jostling of the crust is geologically recent, we may have taken a big step forward in understanding if Venus really is active today.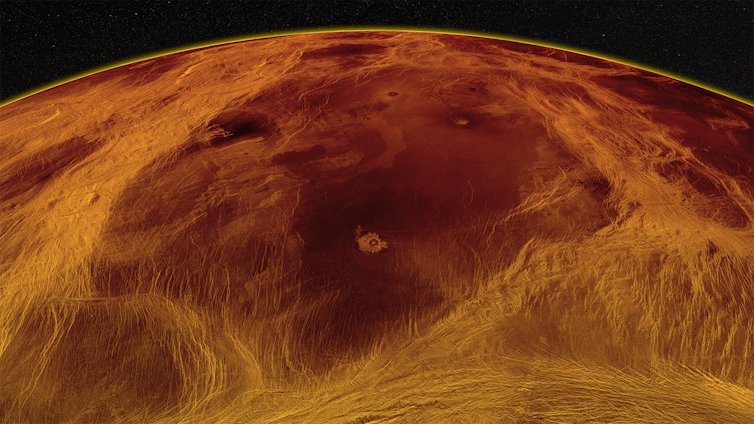 What still isn't known
It's not clear just how widespread these crustal fragments are. My colleagues and I have found 58 so far, but that's almost certainly a low estimate.
We also don't yet know when these crustal blocks first formed, nor how long they've been moving around on Venus. Determining when the crust's fragmentation and jostling occurred is key – especially if planetary scientists want to understand this phenomenon in relation to the planet's suspected recent volcanic activity. Figuring that out would give us vital information on how the planet's surface features reflect the geological turmoil within.
What's next
This initial study has allowed my colleagues and me to make our best guess yet about how Venus' vast lowlands have been deformed, but we need much higher-resolution radar images and topographic data to build on this work. Luckily, that's exactly what scientists are going to get in the coming years, with NASA and the European Space Agency both recently announcing new missions bound for Venus later this decade. It'll be worth the wait to get a better understanding of Earth's enigmatic neighbor.
This article by Paul K. Byrne, Associate Professor of Planetary Science, North Carolina State University, is republished from The Conversation under a Creative Commons license. Read the original article.
Marvel confirms 'Hawkeye' and 'Ms. Marvel' are coming to Disney+ in 2021
Halfway through July, this has already been one of the busiest years in the history of Marvel Studios. That makes it all the more incredible that we have seen less than half of the content that the studio has planned for 2021. In addition to the three new movies Marvel is releasing in the second half of the year, we also have confirmation that at least three new shows are coming to Disney+. After What If…? drops in August, Ms. Marvel and Hawkeye are still to come.
Today's Top Deal
Control your garage door from anywhere with your smartphone or Alexa! List Price:$29.98 Price:$21.99 You Save:$7.99 (27%)
Buy Now Available from Amazon, BGR may receive a commission Available from Amazon BGR may receive a commission
Speaking with Variety earlier this week, Marvel Studios EVP of film production Victoria Alonso revealed that "a few other shows" are on track for 2021, including Ms. Marvel and Hawkeye.
It's worth noting that both Ms. Marvel and Hawkeye had already been slated for late 2021. Both the Ms. Marvel page and the Hawkeye page on Marvel's official website state as much. That aside, Marvel has had very little to say about either show since announcing them in 2019.
What are Ms. Marvel and Hawkeye about?
While WandaVision, The Falcon and the Winter Soldier, and especially Loki helped to set up the stakes of the MCU's Phase 4, Ms. Marvel and Hawkeye should be even more purposeful. Ms. Marvel will introduce us to Kamala Khan (Iman Vellani) ahead of 2022's The Marvels. In Marvel comics, Kamala is a Pakistani-American and Carol Danvers fangirl that ends up getting powers of her own. She also takes her name from the powerful Avenger. Vellani will reprise her role in the sequel to Captain Marvel.
As for Hawkeye, we know that the show will bring Kate Bishop (Hailee Steinfeld) into the fold. She may very well take over for Jeremy Renner as an Avenger at some point in Phase 4. We also know from the Black Widow post-credits scene that Yelena Belova (Florence Pugh) will be involved.
Predictions for Marvel's 2021 release dates
Here's what we know about Marvel's plans for its movies and shows for the rest of 2021: What If…? is coming to Disney+ on August 11th, Shang-Chi and the Legend of the Ten Rings arrives on September 3rd, Eternals follows on November 5th, and Spider-Man: No Way Home drops on December 17th.
Based on the fact that we saw some footage of Ms. Marvel last December, my guess is that it will start streaming on Disney+ in October. That leaves November as the only month left in the year without a Marvel Studios release. Therefore, I'm betting Hawkeye lands then.
Today's Top Deal
How are these super-popular Alexa smart plugs on sale for just $3.75 each?! List Price:$24.99 Price:$14.99 You Save:$10.00 (40%)
Buy NowCoupon Code: LJFPY4K4 Available from Amazon, BGR may receive a commission Available from Amazon BGR may receive a commission
Netflix is releasing 56 original movies and shows in August – here's the full list
Boy oh boy, has Netflix stepped it up recently or what? The streamer's subscriber numbers from the last quarter weren't very impressive. We have a feeling that's due in no small part to the lack of compelling Netflix originals earlier this year. Long story short, Netflix's movies and shows were beyond weak for the first few months of 2021. Now, however, things are really starting to pick up again. This past month alone, there were so many high-profile Netflix releases. You can see the full Netflix July releases list here. Highlights include Gunpowder Milkshake with Karen Gillan, the fantastic final season of Atypical, Virgin River season 3, and the Fear Street trilogy that horror fans loved. Now, however, it's time to turn our attention to all the Netflix original releases in August 2021.
Wondering what Netflix subscribers have to look forward to next month? We'll run down the full slate of new original releases right here.
Today's Top Deal
Amazon's #1 best-selling portable Bluetooth speaker is down to the lowest price of 2021! List Price:$34.99 Price:$22.09 You Save:$12.90 (37%)
Buy Now Available from Amazon, BGR may receive a commission Available from Amazon BGR may receive a commission
Netflix original releases: August 2021
Netflix just announced all of its upcoming movie and series releases for August 2021. There are plenty of gems in there from third-party studios, but people are far more interested in original content. Netflix has been steadily raising its subscription fees every month, after all. Each time, it says the increase will help pay for new original content. With that in mind, subscribers want to know that they're getting their money's worth.
In August, Netflix has 56 new original movies, shows, and specials on tap. That's down sharply from the 69 new originals spread out over July. Of course, quality is far more important than quantity. With that in mind, it's time to see what kind of quality Netflix has in store.
Scroll down to check out the entire release calendar of Netflix originals in August. We've also included links to the relevant Netflix pages wherever possible. This way, you can set a reminder to be alerted when a title is released next month.
Streaming August 3rd
Streaming August 4th
Streaming August 6th
Streaming August 9th
Streaming August 10th
Streaming August 11th
Streaming August 12th
Streaming August 13th
Streaming August 17th
Streaming August 18th
Streaming August 20th
Streaming August 23rd
Streaming August 24th
Streaming August 25th
Streaming August 26th
Streaming August 27th
Streaming August 28th
Streaming August 31st
Release Date TBD
Today's Top Deal
Control your garage door from anywhere with your smartphone or Alexa! List Price:$29.98 Price:$21.99 You Save:$7.99 (27%)
Buy Now Available from Amazon, BGR may receive a commission Available from Amazon BGR may receive a commission
This free iPhone app is so incredible, it's hard to believe it's real
If you need to order new contact lenses or a pair of glasses, many places won't let you do so unless you take an eye test first. And seeing as how a trip to the optometrist can set you back as much as $200, many people put off getting their vision checked even when they should.
There is, however, an interesting alternative to popping into stores LensCrafters. Warby Parker recently issued an update to their Virtual Vision Test app for the iPhone. Now, users can take an eye test from the comfort of their own homes at a fraction of the cost of a traditional eye exam.
Today's Top Deal
Amazon's #1 best-selling portable Bluetooth speaker is down to the lowest price of 2021! List Price:$34.99 Price:$22.09 You Save:$12.90 (37%)
Buy Now Available from Amazon, BGR may receive a commission Available from Amazon BGR may receive a commission
How the mobile eye test works
With the new app, which was previously called Prescription Check, it's now easier than ever for individuals to check their eyes and renew their glasses or contacts prescription.
Once you download the app, you can take a traditional eye exam. Open the app and you'll be able to read letters off the iPhone from a distance of about 10 feet. Naturally, you'll want to do this in a quiet and well-lit room.
If the app determines that your vision is good, which is to say that your prescription hasn't changed, you'll be charged $15 for a brand new prescription. And as mentioned above, this is vastly cheaper than the $200 you might otherwise be charged by taking a trip to the doctor or eyeglass store.
Don't worry, a doctor is involved in the process
If you're wary about leaving your eye test to a mysterious algorithm, you have nothing to worry about. Once your eye test is completed, an eye doctor will take a look and assess each individual's results. In other words, the test itself is mobile, but the analysis is still handled by a professional.
App requirements
The app itself requires iOS 14.1 or later in order to run. And seeing as how iOS 15 is right around the corner, that shouldn't be an issue for most users.
Additionally, the app is only available for the iPhone for the time being. At this point, there's no indication in either direction if an Android app will be coming anytime soon.
Further, only individuals between the ages of 18 and 65 should use the app. Users experiencing problems with their current prescription shouldn't use it either. You'll also need a copy of your existing prescription on hand. The app notes that even an expired prescription will do.
If you're curious about checking the app out, you can download it here from the App Store.