2021 is almost half over, and we have to ask: How many movies have you watched this year? There's never been a better time to stay home and catch all of the new and classic flicks you may have missed in the past. Amazon Prime Video is one of the best streaming options if you're a film lover. Unfortunately, many of those films won't be available forever, though. But you won't even have to look them up — we've already assembled the best movies leaving Amazon Prime Video at the end of May.
Choose another category
48 Hours (1982)
48 Hours wasn't the first buddy cop movie, but it sure set the stage for almost every modern action-comedy that came after it. After a career criminal, Albert Ganz (James Remar), stages a deadly breakout from captivity with the help of his friend, Billy Bear (Sonny Landham), Inspector Jack Cates (Nick Nolte) becomes desperate to take them down. That's why Jack turns to Albert's former partner, Reggie Hammond (Eddie Murphy), and gets him a 48-hour release from prison to help him find the criminals. Reggie turns out to be a surprisingly good partner for Jack, even when their personalities clash. Which is quite often!
Rotten Tomatoes: 93%
Stars: Nick Nolte, Eddie Murphy, Annette O'Toole, James Remar, David Patrick Kelly
Director: Walter Hill
Rating: R
Runtime: 96 minutes
Aliens (1986)
Few films mix sci-fi, horror, and action as effectively as James Cameron's Aliens. Sigourney Weaver reprises her role as Ellen Ripley from the first film. After spending several decades in stasis, Ripley gets only a short time in recovery before she is recruited by the Weyland-Yutani Corporation to accompany the Colonial Marines to a colony in crisis. Once there, Ripley bonds with a young girl named Newt (Carrie Henn), and she soon discovers that the alien Xenomorphs are even deadlier than before. This film also gives Ripley one of cinema's all-time great lines. You'll know it when you hear it.
Rotten Tomatoes: 97%
Stars: Sigourney Weaver, Michael Biehn, Paul Reiser, Lance Henriksen, Carrie Henn
Director: James Cameron
Rating: R
Runtime: 137 minutes
Almost Famous (2000)
It's hard to believe that Almost Famous is over two decades old. Director and screenwriter Cameron Crowe drew upon his own life when crafting the story of William Miller (Patrick Fugit). While still in high school, William manages to get a gig writing for Rolling Stone. As part of his new job, William follows the band Stillwater on tour and becomes close with both the lead guitarist, Russell Hammond (Billy Crudup), and the self-described "band-aid" Penny Lane (Kate Hudson). But those bonds are used against William when Stillwater's secrets come out over the course of his journey. Unfortunately for William, that may cost him his new friendships and the story of a lifetime.
Rotten Tomatoes: 89%
Stars: Billy Crudup, Frances McDormand, Kate Hudson, Jason Lee, Patrick Fugit, Anna Paquin
Director: Cameron Crowe
Rating: R
Runtime: 122 minutes
An Officer and a Gentleman (1982)
You've probably seen the ending for An Officer and a Gentleman even if you didn't realize it at the time. It's a very famous cinematic moment. But the actual story centers on Richard Gere's Zack Mayo, an Aviation Officer Candidate in the Navy. Zack is only going through the program because he has issues with his father. Unfortunately for Zack, Gunnery Sergeant Emil Foley (Louis Gossett Jr.) has no time for his BS and puts him through an intensive training program that is designed to weed out pretenders. Meanwhile, Zack pursues a steamy romance with Paula Pokrifki (Debra Winger), which is, of course, the main reason we remember this film.
Rotten Tomatoes: 79%
Stars: Richard Gere, Debra Winger, David Keith, Louis Gossett Jr.
Director: Taylor Hackford
Rating: R
Runtime: 124 minutes

Chinatown (1974)
"Forget it, Jake. It's Chinatown." But no one who watches Chinatown could ever forget it. Jack Nicholson was at the top of his game as private investigator J. J. "Jake" Gittes. After being hired by an imposter, Jake stumbles on to a murder mystery with larger implications for the city of Los Angeles. Evelyn Cross Mulwray (Faye Dunaway) hires Jake to find out who killed her husband. While following the trail, Jake is also approached by Evelyn's father, Noah Cross (John Huston), to find his missing mistress, Katherine (Belinda Palmer). Unfortunately Jake's too smart for his own good. The more lies that Jake uncovers, the more he has to lose.
Rotten Tomatoes: 99%
Stars: Jack Nicholson, Faye Dunaway, John Hillerman, Perry Lopez, John Huston
Director: Roman Polanski
Rating: R
Runtime: 131 minutes
I Love You, Man (2009)
In I Love You, Man, Paul Rudd plays Peter Klaven, a relatively successful man with one major flaw: He just can't seem to form any friendships with other men. After getting engaged to Zooey Rice (Rashida Jones), Peter meets Sydney Fife (Jason Segel) and instantly forms a rapport with him. As the wedding approaches, Sydney and Peter get so close that Zooey is visibly angry about it. Sydney's motives also come into question when he hits up Peter for money. Sydney also has a tendency to blab about things that Peter would rather keep to himself. Can Peter keep Zooey without kicking Sydney out of his life?
Rotten Tomatoes: 83%
Stars: Paul Rudd, Jason Segel, Rashida Jones, Andy Samberg, J. K. Simmons
Director: John Hamburg
Rating: R
Runtime: 105 minutes
Little Women (1994)
Louisa May Alcott's Little Women has been adapted many times, but the 1994 movie is one of the best to date. There's an incredible cast here, led by Winona Ryder as Josephine "Jo" March, the second oldest of the March sisters. During the Civil War, Jo, Meg (Trini Alvarado), Beth (Claire Danes), and Amy (Kirsten Dunst) have to make their own way while their father is off fighting. Death and disease threaten to tear the March family apart. Affairs of the heart also enter the picture as Jo is romantically pursued by both her neighbor, Theodore "Laurie" Laurence (Christian Bale), and an older man, Professor Friedrich Bhaer (Gabriel Byrne).
Rotten Tomatoes: 92%
Stars: Winona Ryder, Gabriel Byrne, Trini Alvarado, Samantha Mathis, Kirsten Dunst, Claire Danes, Christian Bale
Director: Gillian Armstrong
Rating: PG
Runtime: 119 minutes
Ordinary People (1980)
Ordinary People is a drama that takes viewers by the throat and doesn't let go. In the aftermath of their oldest son's accidental demise, Calvin (Donald Sutherland) and Beth Jarrett (Mary Tyler Moore) have broken relationships with each other and their surviving son, Conrad (Timothy Hutton). Dr. Tyrone C. Berger (Judd Hirsch) tries to help Conrad come to terms with his guilt and his suicidal urges, but the emotional distance created by Beth only makes things worse. She keeps her son at arm's length during the moments when he needs her the most. As their true feelings emerge, the Jarretts may not survive as a family.
Rotten Tomatoes: 89%
Stars: Donald Sutherland, Mary Tyler Moore, Judd Hirsch, Timothy Hutton
Director: Robert Redford
Rating: R
Runtime: 124 minutes
The Truman Show (1998)
There's something very wrong in the life of Truman Burbank (Jim Carrey), something he just can't put his finger on. Truman is the only one who seems to notice how his hometown, Seahaven Island, has unexplained glitches. Truman even realizes that his wife, Meryl (Laura Linney), doesn't love him at all. But the big secret of Truman's life is that he's the unknowing and unwilling star of The Truman Show, a 24-hour, seven-day-a-week reality series that has followed Truman's every moment since his birth. The series' creator, Christof (Ed Harris), acts like he's the god of his little world. And he won't ever let Truman escape from the prison of his life.
Rotten Tomatoes: 95%
Stars: Jim Carrey, Laura Linney, Noah Emmerich, Natascha McElhone, Holland Taylor, Ed Harris
Director: Peter Weir
Rating: PG
Runtime: 103 minutes
Related topics: Netflix | Hulu | Amazon Prime | More Streaming Services
Editors' Recommendations
iOS 15 beta 4 and iPadOS 15 beta 4 are rolling out now on iPhone and iPad
Precisely two weeks after the last beta release, Apple began seeding iOS 15 beta 4 and iPadOS 15 beta 4 on Tuesday. There were eight beta releases before iOS 14 launched to the public in 2020. If Apple is following the same pattern in 2021, we're halfway through the betas.
First of all, we should point out that all of the devices that were supported by iOS 14 will be supported by iOS 15 as well, so if you were able to update to iOS 14, you're in the clear for at least one more year, even if you're still using an iPhone 6s Plus, an iPad Air 2, or an iPad mini 4.
As for the new features, iOS 15 is upgrading FaceTime with spatial audio, a grid view, Portrait Mode, and SharePlay to share music, movies, and more during video calls. The new Focus feature lets you make custom modes to decide which notifications you see depending on what time it is and where you are, Live Text can recognize text and make it selectable, and a few apps are getting significant redesigns, including Maps and Weather. All in all, it's a pretty substantial update.
Today's Top Deal
Behold: Apple AirPods Pro just hit Amazon's lowest price of 2021! List Price:$249.00 Price:$189.99 You Save:$59.01 (24%)
Buy Now Available from Amazon, BGR may receive a commission Available from Amazon BGR may receive a commission
Which devices work with iOS 15 beta 4?
iOS 15 beta 4 is now available to developers, as is iPadOS 15 beta 4. If you want to know whether or not your device is compatible with iOS 15 or iPadOS 15, we put together the full list below containing every supported device. If your device is on the list, you're good to go:
iPhone 12
iPhone 12 mini
iPhone 12 Pro
iPhone 12 Pro Max
iPhone 11
iPhone 11 Pro
iPhone 11 Pro Max
iPhone XS
iPhone XS Max
iPhone XR
iPhone X
iPhone 8
iPhone 8 Plus
iPhone 7
iPhone 7 Plus
iPhone 6s
iPhone 6s Plus
iPhone SE (1st generation)
iPhone SE (2nd generation)
iPod touch (7th generation)
iPad Pro 12.9-inch (4th generation)
iPad Pro 11-inch (2nd generation)
iPad Pro 12.9-inch (3rd generation)
iPad Pro 11-inch (1st generation)
iPad Pro 12.9-inch (2nd generation)
iPad Pro 12.9-inch (1st generation)
iPad Pro 10.5-inch
iPad Pro 9.7-inch
iPad (7th generation)
iPad (6th generation)
iPad (5th generation)
iPad mini (5th generation)
iPad mini 4
iPad Air (3rd generation)
iPad Air 2
How to download and install iOS 15 beta 4
As you know by now, installing the latest iOS or iPadOS beta on your iPhone, iPad, or your iPod touch could not be easier. Just navigate to Settings > General > Software Update and then tap "Download and Install" at the bottom of that page. If you want, you can also install the update through iTunes by connecting your iOS device to your computer. Whichever method you choose, just make sure to back up your device before installing the update. You can never be too careful!
Today's Top Deal
Super-popular TP-Link Kasa mini Alexa smart plugs just hit a new all-time low price of $6 each! List Price:$26.99 Price:$23.99 You Save:$3.00 (11%)
Buy Now Available from Amazon, BGR may receive a commission Available from Amazon BGR may receive a commission
Amazon shoppers rave about this 22-in-1 screwdriver set that's down to $18 today
If you purchase an independently reviewed product or service through a link on
our website, we may receive an affiliate commission.
Have you ever heard of a brand of tools called Nanch? It's obviously not as big as companies like Craftsman and Black & Decker. But over the years, BGR Deals readers have grown to love this specialized tool maker. As a matter of fact, it's not just our readers who have made Nanch a top screwdriver brand on Amazon.
Nanch has essentially become synonymous with high-quality multi-piece tool sets. They feature surprisingly good construction at prices that are so low, they often seem like mistakes. This company's screwdriver sets have helped to unclutter thousands upon thousands of our readers' toolboxes over the years. And Nanch's best-sellers are getting more and more popular by the day. Each and every new product that the company releases ends up finding new ways to improve upon earlier models, which is impressive since those earlier models are already so great. And there's no question that's the case with the new Nanch H8 22-in-1 precision screwdriver set. The previous model is still among the best screwdriver sets we've ever tested. But the updated version is somehow even better — and it's on sale right now for just $17.99 at Amazon!
Nanch's H8 22-in-1 precision screwdriver set features an even better design than the model it replaces, and the construction is still just as solid as it was before. This set uses S2 steel bits with a hardness rating of HRC 58-62. Plus, they have a special treatment that prevents rusting. Also of note, these bits are all magnetized. That way, you won't lose anything when you're working with tiny screws.
This new H8 model is so impressive that it already has over 2,600 5-star ratings on Amazon. Despite the fact that it's just a few months old. The refreshed handle design fits comfortably in your palm and the end swivels smoothly for effortless turning. For working on anything that has small screws like smartphones, laptops, desktop computers, this set is perfect.
The Nanch H8 22-in-1 precision screwdriver set is already a bargain at its full retail price of $28. As a matter of fact, there might not be a better value on Amazon in the tool section. Today, however, a deep discount slashes the price to $17.99.
Nanch H8 22-in-1 precision screwdriver set Price:
Buy Now Available from Amazon, BGR may receive a commission
Here are the main takeaways:
Nanch's H8 22-in-1 screwdriver set includes 22 magnetic screwdriver bits
Don't worry because the bits aren't over-magnetized, so they won't damage small electronics
All bits are made from S2 steel alloy with a hardness rating of

HRC 58-62

Special anti-rust treatment ensures that this set stays free of any rusting
Ergonomic screwdriver handle is comfortable yet durable, with a special grip surface to prevent slipping
Perfect for performing repairs on all sorts of

electronics and more, such as laptops, smartphones, computers, watches, eyeglasses, toys, video game consoles, and more

2-year warranty
Nanch H8 22-in-1 precision screwdriver set Price:
Buy Now Available from Amazon, BGR may receive a commission
Go here to see this month's best deals on Amazon!
---
Follow @BGRDeals on Twitter to keep up with the latest and greatest deals we find around the web. Prices subject to change without notice and any coupons mentioned above may be available in limited supply.
Here's how much money you can get right now between stimulus checks and tax credits
By the time we get to the end of this year, the federal government will have sent millions of Americans a bonus, of sorts, this year that totals almost $3,500. That's according to a new stimulus update from the Institute on Taxation and Economic Policy, which has calculated that a mix of new stimulus checks and tax credits is having a big impact. To the tune, in fact, of an average of $3,450 for Americans making $65,000 or less annually.
These figures focus on the third stimulus checks that millions of Americans have already started to receive. As well as the expansion of two tax credits — the child tax credit, as well as the earned income tax credit. They stem from the stimulus legislation that President Biden signed in March. But, remember, that bill was also chock-a-block with other benefits for Americans, including an increased health care subsidy and an extra $300/week to help jobless workers.
Today's Top Deal
Control your garage door from anywhere with your smartphone or Alexa! List Price:$29.98 Price:$19.98 You Save:$10.00 (33%)
Buy Now Available from Amazon, BGR may receive a commission Available from Amazon BGR may receive a commission
New stimulus update
Before taking a closer look at these benefits, let's also remember what else that the federal government, as well as state officials, are doing in response to the economic pain of the coronavirus pandemic. More than one emergency coronavirus relief bill passed by Congress, as we noted yesterday, also included billions in stimulus rental assistance. Unfortunately, though, there's evidence that enough Americans still don't seem to be aware of that fact.
Another expanded tax credit is the Child and Dependent Care Credit. It can net taxpayers up to 50% of up to $8,000 of child care and similar costs for a child under 13, a spouse or parent who can't care for themselves, or another dependent. And up to $16,000 of expenses for two or more dependents.
That brings us to where things stand with the institute's assessment of what millions of the neediest Americans can get from some of the other myriad stimulus benefits available.
The data
The following data from the institute, via CNBC, shows how much Americans at a variety of income levels can earn from the new stimulus benefits: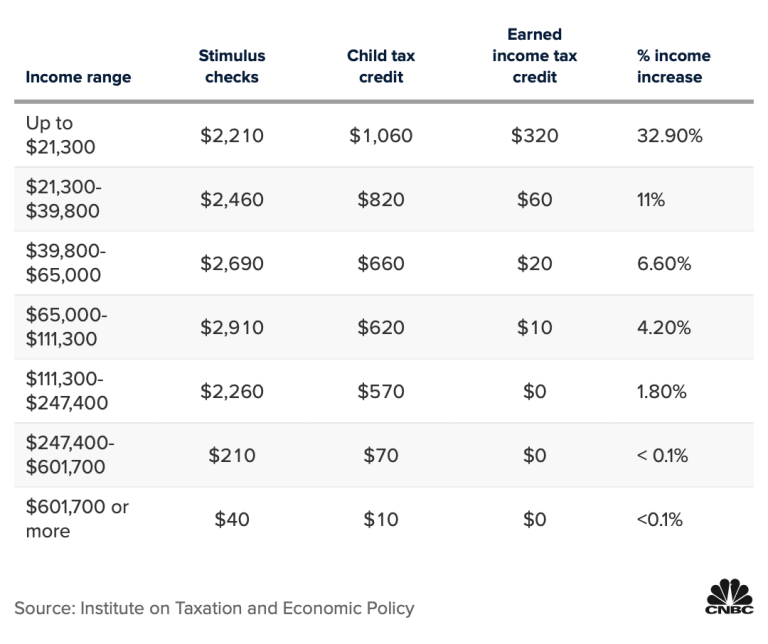 Earlier this month, the IRS started distributing the first of six expanded federal child tax credit payments. Normally, that credit maxes out at $2,000. Because of the pandemic, that amount got bumped up to $3,600. The credit is also structured so that recipients get half of it starting now and half next year.
Other details to keep in mind as part of this new stimulus update:
Regarding the half of that tax credit you can get now, families with children under age 6 are getting monthly checks for up to $300 for each eligible child. Between ages 6 and 17, the amount is $250 for each child. These six checks will add up to half of the family's approved child tax credit payment. The other half is coming next year as a normal tax credit.
Today's Top Deal
Echo Buds have noise cancellation just like AirPods Pro — but they're on sale for $100 less! List Price:$119.99 Price:$89.99 You Save:$30.00 (25%)
Buy Now Available from Amazon, BGR may receive a commission Available from Amazon BGR may receive a commission