Summer is here at last. But just because the weather is getting warmer, you shouldn't feel like you have to go far if you're looking for a laugh. Netflix is shoring up its summer lineup of films with a selection of the greatest comedy movies from the past and present. While Netflix primarily concentrates on its original films these days, the streaming service still has access to an incredible selection from other studios. There are so many terrific comedies that it's hard to know where to begin. That's why we've already put together this list of the best comedies you can stream on Netflix right now.
There's more to streaming than Netflix. Fortunately, we've also rounded up the best comedies on Amazon Prime Video and the best comedies on Hulu.

The Big Lebowski (1998)
"The Dude abides." If you've seen The Big Lebowski, then you know why those words are oddly comforting. You may also recall that Jeffrey "The Dude" Lebowski (Jeff Bridges) is not the titular "Big" Lebowski. That honor belongs to the other Jeffrey Lebowski (David Huddleston). Thanks to their identical names, the Dude finds himself swept into an extortion scheme involving the Big Lebowski's trophy wife, Bunny (Tara Reid), porn kingpin Jackie Treehorn (Ben Gazzara), and even a group of nihilists. Everyone except the Dude wants the money, but all he wants is a replacement for his damaged rug and the chance to go bowling with his buddies.
Rotten Tomatoes: 83%
Stars: Jeff Bridges, John Goodman, Julianne Moore, Steve Buscemi, David Huddleston, John Turturro
Director: Joel Coen, Ethan Coen
Rating: R
Runtime: 117 minutes
Back to the Future (1985)
It's probably for the best that director Robert Zemeckis and his co-writer, Bob Gale, are so steadfastly opposed to any remake of Back to the Future. How could a modern reboot improve on this classic sci-fi comedy? Michael J. Fox stars as Marty McFly, a teenager who befriended Hill Valley's local mad scientist, Emmett "Doc" Brown (Christopher Lloyd). Moments after learning that Doc created a time machine housed in a stylish DeLorean sports car, Marty is forced to go back in time three decades. Only the young Doc can get Marty home, if he doesn't wreck the future by inadvertently splitting up his parents, Lorraine (Lea Thompson) and George (Crispin Glover), before they can become a couple.
Rotten Tomatoes: 96%
Stars: Michael J. Fox, Christopher Lloyd, Lea Thompson, Crispin Glover, Thomas Wilson
Director: Robert Zemeckis
Rating: PG
Runtime: 116 minutes
Starsky & Hutch (2004)
While many remakes of TV shows from the '70s abandon the decade that spawned them, Starsky & Hutch fully embraces its native time frame. Everything including the music, hairstyles, cars, and fashion scream 1975 as Detectives David Starsky (Ben Stiller) and Ken "Hutch" Hutchinson (Owen Wilson) are forced to team up as they build a case against local drug lord Reese Feldman (Vince Vaughn). Snoop Dogg co-stars as Huggy Bear Brown, the duo's primary source on the streets. Neither detective is particularly sharp, but they're all that stands between the public and Reese's new untraceable cocaine.
Rotten Tomatoes: 62%
Stars: Ben Stiller, Owen Wilson, Vince Vaughn, Juliette Lewis, Snoop Dogg
Director: Todd Phillips
Rating: PG-13
Runtime: 101 minutes
Vampires vs. the Bronx (2020)
Vampires vs. the Bronx may have skipped a theatrical release, but this Netflix original has earned its place on this list. As the title implies, gentrification isn't the only evil thing to worry about, as Miguel Martinez (Jaden Michael) and his friends, Bobby Carter (Gerald W. Jones III) and Luis Acosta (Gregory Diaz IV), discover that the pale Europeans taking over the neighborhood literally want to suck out their blood. Realizing that the vampires are real and proving it are two different matters. The only guide these kids have to fighting vamps is the original Blade movie. But when push comes to shove, the people of the Bronx aren't going to let some creatures of the night take their blood — or their homes.
Rotten Tomatoes: 89%
Stars: Jaden Michael, Gerald W. Jones III, Gregory Diaz IV, Sarah Gadon
Director: Oz Rodriguez
Rating: PG-13
Runtime: 86 minutes
Zombieland (2009)
Action meets horror meets angst meets comedy in this ridiculous zombie romp. After a virus turns most of the world into zombies, the world's surviving humans are in an unending quagmire against the undead. And against one another. But there's a rumored safe haven in Los Angeles that's attracting survivors from all over the country. Desperate for safety, Tallahassee (Woody Harrelson), Columbus (Jesse Eisenberg), Wichita (Emma Stone), and Little Rock (Abigail Breslin) join forces to pave a bloody trail to LA.
Rotten Tomatoes: 89%
Stars: Jesse Eisenberg, Emma Stone, Woody Harrelson
Director: Ruben Fleischer
Rating: R
Runtime: 87 minutes
The Whole Nine Yards (2000)
The worst thing The Whole Nine Yards did was offend critics by coming out less than a year after another fish-out-of-water mob story, Analyze This. Admittedly, the two stories are a bit similar, but they each have their own charm. In The Whole Nine Yards, Jimmy "The Tulip" Tudeski (Bruce Willis), a mob hitman-turned-informant moves to suburban Montreal to make a new start. His next-door neighbor is the mild-mannered, unhappily married dentist Nick "Oz" Oseransk (Matthew Perry), who instantly recognizes Jimmy from newspaper stories about his mob testimony. Despite trying to stay as far away from The Tulip as possible, Oz's life is soon turned completely upside down.
Rotten Tomatoes: 44%
Stars: Bruce Willis, Matthew Perry, Rosanna Arquette
Director: Jonathan Lynn
Rating: R
Runtime: 101 minutes
Legally Blonde (2001)
Whenever a comedy inspires a musical, you know it's pretty good. And Legally Blonde is one of the most beloved and quotable comedies of the early aughts. Reese Witherspoon became a superstar for her portrayal of preppy, spoiled SoCal child Elle Woods, who has everything except the title of Mrs. Warner Huntington III. After Warner dumps her for being "too blonde" and not serious enough about life after college, Elle rallies all of her resources and persistence to earn admission to Harvard Law (what, like it's hard?) to prove to Warner that she's serious.
Rotten Tomatoes: 79%
Stars: Reese Witherspoon, Luke Wilson, Selma Blair
Director: Robert Luketic
Rating: PG-13
Runtime: 96 minutes
My Best Friend's Wedding (1997)
One of the better rom-coms of the '90s, My Best Friend's Wedding shines on the strength of its young all-star cast: Julia Roberts, Dermot Mulroney, and Cameron Diaz. Julianne Potter (Roberts) and Michael O'Neal (Mulroney) are childhood friends who made a pact to marry each other if they were still single by age 28. Four days before Julianne's 28th birthday, Michael announces he's marrying 20-year-old Kimberly (Diaz). The announcement triggers something in Julianne, who realizes she's deeply in love with Michael. She vows to stop the wedding at all costs, which becomes more complicated when she is appointed maid of honor.
Rotten Tomatoes: 73%
Stars: Julia Roberts, Dermot Mulroney, Cameron Diaz
Director: P.J. Hogan
Rating: PG-13
Runtime: 105 minutes
Crazy, Stupid, Love (2011)
Cal Weaver (Steve Carell) is living a seemingly perfect, all-American life. He has a great job, a loving wife, and a happy family. But it all falls apart when he finds out his wife is actually cheating on him and wants a divorce. Suddenly single in his 40s, Cal struggles when he's thrown back into the dating pool. Feeling desperate, he enlists the help of self-styled ladies' man Jacob Palmer (Ryan Gosling) to find some more success. But Jacob's currently having his own romantic problems that have surprising consequences for Cal.
Rotten Tomatoes: 79%
Stars: Steve Carell, Ryan Gosling, Emma Stone, Julianne Moore
Director: Glenn Ficarra, John Requa
Rating: PG-13
Runtime: 118 minutes
Tenacious D in The Pick of Destiny (2006)
Jack Black and Kyle Gass' Tenacious D made a name for itself through hilarious lyrics, low-budget music videos, and building an entire sub-culture beyond the music. Case in point: The Pick of Destiny, the movie adaptation of Tenacious D's storied quest to become the greatest rock band in the world. In The Pick of Destiny, the righteous duo pursues a legendary guitar pick that possesses supernatural powers that is sure to put them over the hump.
Rotten Tomatoes: 85%
Stars: Jack Black, Kyle Gass, Tim Robbins
Director: Liam Lynch
Rating: R
Runtime: 97 minutes
Beverly Hills Ninja (1997)
Beverly Hills Ninja is a screwball comedy that's essential viewing for any Chris Farley fan. If you're not a fan, you can probably pass. Farley plays Haru, a young man who, as a baby, washed ashore near a village populated by Japanese warriors. The warriors raise the child as one of their own and instruct him in the ways of ninjitsu. Unfortunately, he grows up to be overweight and inept — although it does not daunt his enthusiasm. When Haru receives his first assignment — protecting a beautiful Californian woman — he travels with her to Beverly Hills where he gets his first taste of Western culture.
Rotten Tomatoes: 14%
Stars: Chris Farley, Nicollette Sheridan, Chris Rock
Director: Dennis Dugan
Rating: PG-13
Runtime: 88 minutes
The Death of Stalin (2017)
There has been no shortage of satire at the expense of Soviet Russia but The Death of Stalin strikes an outstanding balance between crackpot comedy and genuine political intrigue. After Joseph Stalin dies in 1953, his parasitic cronies square off to become the next Soviet leader. Dweebish Georgy Malenkov (Jason Isaacs), wily Nikita Khrushchev (Steve Buscemi), and sadistic Lavrentiy Beria (Simon Russell Beale) are the chief contenders, and each hates each other as much as they covet the prime position. As they bumble and back-stab their way toward power, the question lingers: Who is actually in charge of the Soviet Union right now?
Rotten Tomatoes: 95%
Stars: Steve Buscemi, Andrea Riseborough, Jason Isaacs
Director: Armando Iannucci
Rating: R
Runtime: 107 minutes
The Disaster Artist (2017)
James Franco directed and stars in this unusual dramedy that earned a Best Picture nomination. The Disaster Artist tells the true story of Hollywood outsider and all-time curiosity Tommy Wiseau as he and his best friend make the infamously bad cult classic The Room. Refusing to take no for an answer and convinced of his film's genius, Tommy embarks on a hilarious odyssey to make his dreams a reality.
Rotten Tomatoes: 91%
Stars: James Franco, Dave Franco, Seth Rogen
Director: James Franco
Rating: R
Runtime: 103 minutes
The Naked Gun (1988)
While it's not Leslie Nielsen's masterpiece (Airplane! anyone?), The Naked Gun is still an absolutely uproarious spoof on cop movies. Nielsen plays Frank Drebin, a clueless police detective who sets out to foil a plot that turns innocent people into assassins through mind control. His investigations lead him to business tycoon Vincent Ludwig (Ricardo Montalban), but Frank has no evidence against Ludwig until Ludwig's assistant, Jane Spencer (Priscilla Presley), very conveniently falls in love with Frank.
Rotten Tomatoes: 88%
Stars: Leslie Nielsen, O.J. Simpson, Priscilla Presley
Director: David Zucker
Rating: PG-13
Runtime: 85 minutes
30 Minutes or Less (2011)
Nick (Jesse Eisenberg) leads an ordinary, boring life as a pizza delivery boy. But when he crosses paths with two aspiring criminal masterminds (Danny McBride, Nick Swardson), they kidnap him, strap a bomb to his chest, and force him to rob a bank for them. It's a lot! Nick has 30 minutes to pull off the task, so he enlists his estranged friend Chet (Aziz Ansari) to help him navigate the many obstacles ahead of him.
Rotten Tomatoes: 45%
Stars: Jesse Eisenberg, Danny McBride, Aziz Ansari
Director: Ruben Fleischer
Rating: R
Runtime: 83 minutes
Hail, Caesar! (2016)
Yes, it's another Coen brothers movie on the list. That's because they're very good at making funny movies, even with a dash of drama. Hail, Caesar! takes place in the '50s and puts the spotlight on a real Hollywood fixer, Eddie Mannix (Josh Brolin), and puts him through a wild fictionalized story that includes a Communist abduction of movie star Baird Whitlock (George Clooney). There are a lot of familiar faces in this film, including Scarlett Johansson as a starlet, DeeAnna Moran, whose pregnancy causes some potential PR problems. It's all Eddie can do to keep his head above water during the constant insanity in his life. But you can laugh at him, and with him.
Rotten Tomatoes: 85%
Stars: Josh Brolin, George Clooney, Scarlett Johansson, Channing Tatum, Frances McDormand
Director: Joel Coen, Ethan Coen
Rating: PG-13
Runtime: 106 minutes
A Futile and Stupid Gesture (2018)
This Netflix original movie tends to get buried under more high-profile releases, but A Futile and Stupid Gesture is a strongly constructed comedy biopic about Douglas Kenney (Will Forte), the co-founder of National Lampoon. Martin Mull co-stars as an older Doug while looking back at his career with his comedy partner-in-crime, Henry Beard (Domhnall Gleeson). Together, Douglas and Henry helped revolutionize comedy, and also paved the way for Animal House. But Doug's struggle with addiction destroys nearly all of his relationships in the process.
A very talented supporting cast including Joel McHale, Ed Helms, Matt Lucas, Thomas Lennon, Rick Glassman, and more also play some comedy legends who came to prominence thanks to Doug and Henry. This is a story that needed to be told, even though Doug's legacy has largely been forgotten.
Rotten Tomatoes: 67%
Stars: Will Forte, Domhnall Gleeson, Martin Mull
Director: David Wain
Rating: TV-MA
Runtime: 101 minutes
Stranger Than Fiction (2006)
Stranger Than Fiction is about a man named Harold Crick (Will Ferrell), who discovers that his life will soon end thanks to the wishes of an author, Karen Eiffel (Emma Thompson). Harold isn't fictional, but his fate is somehow tied into Karen's new novel. Despite his best efforts and the newfound love of Ana Pascal (Maggie Gyllenhaal), Harold just can't seem to escape the dark destiny that he desperately doesn't want. Even when faced with death, Harold still finds moments of joy and reflection. But can he convince Karen to write him a better ending?
Rotten Tomatoes: 73%
Stars: Will Ferrell, Maggie Gyllenhaal, Dustin Hoffman
Director: Marc Forster
Rating: PG-13
Runtime: 113 minutes
Scott Pilgrim vs. the World (2010)
Although Scott Pilgrim vs. the World didn't find success in theaters, it's become a cult classic in the ensuing decade. Based on Bryan Lee O'Malley's graphic novel series, Scott Pilgrim is a gleefully weird movie that embraces comic book tropes and video game imagery for its own unique narrative. Michael Cera stars as the perpetually put-upon loser, Scott Pilgrim, who finally meets the girl of his dreams, Ramona Flowers (Mary Elizabeth Winstead).
To win Ramona's heart, Scott has to face her seven evil exes in battle. That includes Chris Evans in a hysterical turn as action star Lucas Lee, shortly before he became Captain America on the big screen. Scott Pilgrim deserved to have greater success, but it's still readily available for viewers to discover its charms.
Rotten Tomatoes: 82%
Stars: Michael Cera, Mary Elizabeth Winstead, Jason Schwartzman
Director: Edgar Wright
Rating: PG-13
Runtime: 112 minutes
Monty Python and the Holy Grail (1975)
Even 45 years after its initial release, Monty Python and the Holy Grail is one of the most quotable comedies of all time. "'Tis but a flesh wound!" is among many famous lines in the film as the legendary British comedy troupe, Monty Python, dive into Arthurian lore as only they can. This movie mocks everything from its own low budget to the traditional heroics of a Grail quest. Not everyone is going to get the humor. But if you're willing to run with the zaniness, keep an eye out for that rabbit. It's a killer!
Rotten Tomatoes: 97%
Stars: Graham Chapman, John Cleese, Terry Gilliam, Eric Idle, Michael Palin, Terry Jones
Directors: Terry Gilliam, Terry Jones
Rating: PG
Runtime: 92 minutes
Superbad (2007)
Possibly the defining high school movie for the Millennial generation, Superbad is a raunchy comedy with heart. Written by Seth Rogen and Evan Goldberg, the movie is based on their own relationship as high school seniors primed to head off to different colleges. Jonah Hill and Michael Cera play co-dependent high school seniors with high hopes to get to a graduation party. So when their friend Fogle scores the worst fake ID in the history of fake IDs, they decide to volunteer to get the booze for the in-crowd's party. Things get complicated.
Rotten Tomatoes: 88%
Stars: Michael Cera, Jonah Hill, Christopher Mintz-Plasse, Bill Hader, Seth Rogen
Director: Greg Mottola
Rating: R
Runtime: 113 minutes
Lady Bird (2017)
Greta Gerwig's solo directorial debut, Lady Bird, works equally well as both a comedy and a drama. Saoirse Ronan stars as the titular Lady Bird. It's the name adopted by Ronan's character, Christine McPherson, as she starts openly rebelling against her Catholic high school and her mother, Marion (Laurie Metcalf). Over the course of Lady Bird's senior year, she redefines herself through her friends, new and old, as well as her ambitions for college and her quest for love. Gerwig didn't shy away from showing Lady Bird's mistakes and growing pains, but those are some of the qualities that make her story so endearing to watch.
Rotten Tomatoes: 99%
Stars: Saoirse Ronan, Laurie Metcalf, Tracy Letts
Director: Greta Gerwig
Rating: R
Runtime: 94 minutes
The Muppets (2011)
Disney has had trouble figuring out what to do with Jim Henson's signature creations since buying the Muppets in 2004. But The Muppets feature film is not only hilarious but also firmly understands what made the franchise great in the first place. Jason Segel co-wrote the film and stars as Gary, a long-time fan of the Muppets who has a Muppet brother, Walter, with a bit of an identity crisis. Amy Adams is also very charming in the film as Mary, Gary's girlfriend, and longtime romantic partner. But the Muppets and Walter are at the heart of the story, as they get one last chance to make a comeback and save the historic theater where they filmed The Muppet Show. This is great fun for kids of all ages.
Rotten Tomatoes: 95%
Stars: Jason Segel, Amy Adams, Rashida Jones
Director: James Bobin
Rating: PG
Runtime: 102 minutes

Dolemite Is My Name (2019)
All hail the return of Eddie Murphy! Murphy plays Rudy Ray Moore in this Netflix original. Moore was a washed-up musician who transformed himself into the 1970's blaxploitation character named Dolemite, becoming a cult star in the process. An ode to extremely independent filmmaking with a subtler touch than Bowfinger, this film features additional, outstanding performances from Wesley Snipes and Keegan-Michael Key.
Rotten Tomatoes: 97%
Stars: Eddie Murphy, Wesley Snipes, Kodi Smit-McPhee
Director: Craig Brewer
Rating: R
Runtime: 118 minutes

Monty Python's Life of Brian (1979)
A person doesn't truly love Monty Python unless they love Life of Brian. Well, and Flying Circus. There's much more to Monty Python than Holy Grail. While Grail is the better-known film, Life of Brian is more ambitious, cynical, and downright crazier for a very simple reason: It parodies Jesus Christ rather than King Arthur. Well, Christ's neighbor, Brian Cohen, played by Graham Chapman. The film follows a case of mistaken identity as Brian is treated as a prophet, blasphemer, and enemy of the state in a series of events meant to skewer the Bible. It was, needless to say, not popular with the Church upon its release, but it's still darn funny and encourages everyone to "Always Look On the Bright Side of Life."
Rotten Tomatoes: 95%
Stars: Graham Chapman, John Cleese, Terry Gilliam, Eric Idle, Michael Palin, Terry Jones
Director: Terry Jones
Rating: R
Runtime: 92 minutes

The Artist (2011)
There are elements of drama and romance, but at its core, The Artist is a comedy. Once you move through the black-and-white barrier, you enter a world of cinematic nostalgia unparalleled in film today. While old, silent films can be difficult on modern sensibilities, The Artist never stops trying to surprise with visual and audio tricks, along with humorous title cards and visceral acting. The 2011 film won five Academy Awards, including Best Picture, and closes with a rollicking dance scene that rivals anything Fred Astaire created during his heyday.
Rotten Tomatoes: 95%
Stars: Jean Dujardin, Bérénice Bejo, John Goodman
Director: Michel Hazanavicius
Rating: PG-13
Runtime: 100 minutes
Related Topics: Netflix | Hulu | Amazon Prime | More Streaming Services
Editors' Recommendations
Unlock your door the same way you unlock your phone with eufy's stunning Smart Lock Touch
If you purchase an independently reviewed product or service through a link on
our website, we may receive an affiliate commission.
Anker's latest smart lock lineup from its smart home brand eufy is called the eufy Security Smart Lock Touch. This awesome model is easily the most stylish option that we have come across in our many, many years of testing smart locks. Just take one look and you'll agree. Equally as important, however, is the fact that Anker's eufy brand values function just as much as form. This lock also happens to be among the most feature-rich models we've ever tested, offering four different unlock methods including our favorite… fingerprint unlock.
That's right, you can unlock your front door in an instant with the same tech you use to unlock your smartphone!
Everyone on the BGR Deals team is a huge fan of this smart lock, but there was always one problem that kept the original model from being perfect. The good news is that eufy has solved that problem and created a lock that is as close to perfect as we've ever seen.
Today's Top Deal
AirPods Pro just sold out — now they're back in stock at Amazon's lowest price of 2021! List Price:$249.00 Price:$197.00 You Save:$52.00 (21%)
Available from Amazon, BGR may receive a commission Buy Now Available from Amazon BGR may receive a commission
As we mentioned, we seriously love the eufy Security Smart Lock Touch. It retails for $200 (though it's on sale right now at Amazon for just $169.99) and it is awesome. Beyond the gorgeous design and sturdy construction, this smart lock by Anker's smart home brand eufy is also one of the most feature-rich models out there. With eufy's Smart Lock Touch, you can unlock your door in four different ways — including our favorite by far, which allows you to unlock your door with a quick fingerprint scan. It works so quickly and it lets you unlock your door in the most natural way possible, without having to mess with keys or even your smartphone. How cool is that?!
Nearly everything about the Smart Lock Touch is great, but there was one issue we had with it: locking and unlocking it remotely requires a separate Wi-Fi bridge. Now, however, eufy has released a brand new model that finally solves this problem. Thankfully, there is now a newer version of this awesome smart lock called the eufy Security Smart Lock Touch & Wi-Fi. As the name suggests, this new model is exactly like the earlier version that we love so much in terms of both design and functionality. The only difference, of course, is that Wi-Fi is now built right into the lock itself so you don't have to worry about buying another piece of hardware.
We have no doubt whatsoever that this lock is as close to perfection as we've ever seen, and it's currently back in stock after having sold out recently — and it's on sale with a discount. Don't miss out!
eufy Security Smart Lock Touch, Fingerprint Scanner, Keyless Entry Door Lock, Bluetooth Electro… List Price:$199.99 Price:$169.99 You Save:$30.00 (15%)
Available from Amazon, BGR may receive a commission Buy Now

eufy Security Smart Lock Touch & Wi-Fi, Fingerprint Scanner, Keyless Entry Door Lock, Smart Wi-… List Price:$249.99 Price:$229.99 You Save:$20.00 (8%)
Available from Amazon, BGR may receive a commission Buy Now
Here are the key takeaways:
The fastest way to unlock your door — the integrated fingerprint scanner reads your print in 0.3 seconds and unlocks your door in just 1 second
Sleek and stylish design adds flair to any entryway
Made of sturdy zinc alloy and stainless steel for solid construction and durability
IP65 water and dust resistance
Control your lock from anywhere with built-in Wi-Fi connectivity (newer version) or with the additional Wi-Fi bridge (older version)
eufy Security Smart Lock Touch, Fingerprint Scanner, Keyless Entry Door Lock, Bluetooth Electro… List Price:$199.99 Price:$169.99 You Save:$30.00 (15%)
Available from Amazon, BGR may receive a commission Buy Now

eufy Security Smart Lock Touch & Wi-Fi, Fingerprint Scanner, Keyless Entry Door Lock, Smart Wi-… List Price:$249.99 Price:$229.99 You Save:$20.00 (8%)
Available from Amazon, BGR may receive a commission Buy Now
---
Follow @BGRDeals on Twitter to keep up with the latest and greatest deals we find around the web. Prices subject to change without notice and any coupons mentioned above may be available in limited supply.
Windows 11 leaks reveal new design, taskbar, and Start menu
Microsoft has been dropping subtle hints in the weeks leading up to its June 24th event, but the big surprise might have already been spoiled. On Tuesday, purported screenshots of a Windows 11 beta appeared on the Chinese site Baidu, offering up our first look at the new user interface that Microsoft would be bringing to its popular operating system.
Within hours, the build began making the rounds, and several publications had installed Windows 11 onto their computers to give it a test run. PCWorld's hands-on was among the most comprehensive — here are some of the most interesting revelations from their report.
Today's Top Deal
Add hands-free Alexa to your car for $14.99 instead of $50 with this crazy early Prime Day deal! Price:$14.99
Available from Amazon, BGR may receive a commission Buy Now Available from Amazon BGR may receive a commission
According to PCWorld, installing the ISO on a Surface Pro 7+ tablet took 20 minutes or so and involved several reboots. Unlike with a fresh Windows 10 installation, Cortana didn't start shouting at the team during the setup process to ask them about their preferences. Rather, the software seemed to be drawing upon what it already knew as Windows 11 finished installing.
Once Windows 11 has finished installing, it boots directly to the home screen, complete with a new default desktop background. The most obvious change comes in the taskbar, where the app icons — as well as the Start button — are now centered the same way they would be on a macOS or a Chrome OS device. The Start menu has received a sleek makeover as well, doing away with the Live Tiles and replacing them with a list of pinned and recommended apps.
One of the many changes that PCWorld saluted in its hands-on preview was the implementation of PowerToys' FancyZones into every windowed app. If you hover your cursor over the "Maximize" icon on any app, you will see a feature that will allow you to align the app in a variety of configurations all over the screen. This should make it easier to organize apps on your display.
Another notable change is the addition of Widgets icon in the taskbar. The Widgets drawer appears to be a rebranded version of the News and Interests feature that hit Windows 10 earlier this year. The Widgets drawer slides in from the left side of the screen and takes over most of the display, offering updates on the weather, recent headlines, stocks, and sports scores.
Based on this hands-on report and several others that have popped up since the leak, Windows 11 is more than just a simple UI refresh, but not by much. While the taskbar and Start menu have been reworked, many of the other menus look the same as they did in Windows 10. Of course, this isn't the final version of Windows 11, and PCWorld ran into plenty of bugs that will likely be fixed before the update rolls out to the public, but anyone who was expecting Microsoft to completely revolutionize its desktop OS might want to temper those expectations.
If you want to see the build in action, here's a hands-on video from Windows Central:
Today's Top Deal
Add hands-free Alexa to your car for $14.99 instead of $50 with this crazy early Prime Day deal! Price:$14.99
Available from Amazon, BGR may receive a commission Buy Now Available from Amazon BGR may receive a commission
Apple hints AirPods might get an awesome hidden feature soon
When you think of AirPods, you think of yet another Apple product that redefined an industry. Apple's desire to create an all-screen iPhone prompted it to remove the headphone jack from the iPhone 7 series in 2016. That's when Apple announced the first-gen AirPods, which were one of the "fixes" Apple proposed to iPhone buyers for dealing with the absence of the 3.5mm audio port. The AirPods became instant best-sellers when they launched, forcing all of Apple's rivals to follow Apple's lead and come up with AirPods alternatives.
Apple upgraded the AirPods with a second-gen model that got better internals and wireless charging and then released the AirPods Pro, which featured a new design and active noise cancelation support. Apple is expected to upgrade the AirPods and AirPods Pro further this year, with several rumors already detailing the expected design and feature changes. While the AirPods' main purpose will remain to deliver audio wirelessly from nearby devices, an Apple exec seemed to confirm that the earphones might be getting an awesome hidden feature.
Today's Top Deal
Add hands-free Alexa to your car for $14.99 instead of $50 with this crazy early Prime Day deal! Price:$14.99
Available from Amazon, BGR may receive a commission Buy Now Available from Amazon BGR may receive a commission
Apple announced a few novel AirPods features at WWDC 2021 that will be available soon, including Dolby Atmos support, spatial audio for FaceTime conversations, and better Find My support. But Apple didn't say anything about health-related features it is considering for the wireless earphones.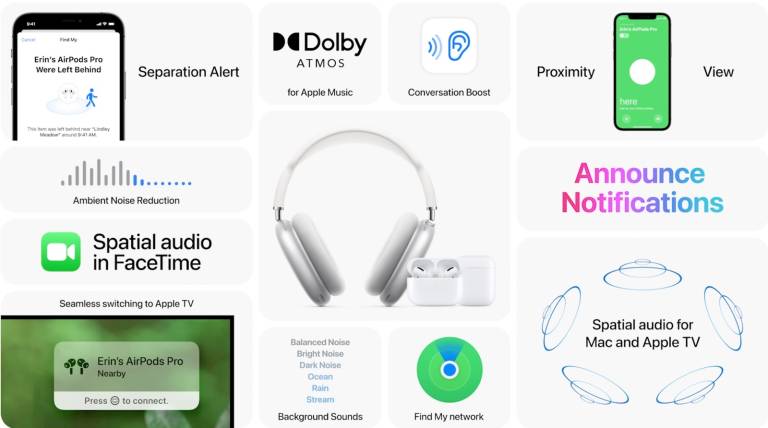 Reports in previous months did indicate that Apple has been looking at adding health monitoring features to the AirPods. Well-known Ming-Chi Kuo and Bloomberg's Mark Gurman have made such claims in previous research notes and reports, respectively. Gurman's latest update on the AirPods Pro 2 claimed that they'd include "updated motion sensors with a focus on fitness tracking."
Apple's vice president of technology, Kevin Lynch, who routinely hosts Apple Watch segments during Apple's events, spoke with TechCrunch about Apple's increased interest in health and how the company got there with the help of the Apple Watch.
Towards the end of the interview, after going through the Watch's early days at monitoring health and explaining the more recent walking steadiness feature that will be available when iOS 15 and watchOS 8 rollout, Lynch had this to say about sensor fusion and whether AirPods will be used in that approach to gathering health data:
"We already do sensor fusion across some devices today, and I think there's all kinds of potential here."
Lynch did not outright say that AirPods will collect health data points that could be used to tweak health parameters monitoring, but his answer came in response to a question about the wireless earphones. Walking steadiness relies on Apple Watch and iPhone data, but it could also harness data points from AirPods in the future. This is what sensor fusion refers to, using multiple sensors on different devices to monitor health parameters.
Today's Top Deal
Add hands-free Alexa to your car for $14.99 instead of $50 with this crazy early Prime Day deal! Price:$14.99
Available from Amazon, BGR may receive a commission Buy Now Available from Amazon BGR may receive a commission