Need to know
What is it? A point-and-click game where what you point at makes you say "eurgh".
Expect to pay: $15/£12
Developer: Wormwood Studios
Publisher: Wadjet Eye Games
Reviewed on: AMD Ryzen 5 3550H, GeForce GTX 1650, 8 GB RAM
Multiplayer: No
Link: Official site
Efforts to build a sense of unease begin immediately in this dark point-and-click adventure. Your nameless character, who is wearing an untied straitjacket, finds himself in a surreal landscape. Standing at the top of a narrow path surrounded by an abyss, the only way forward is down this path to a huge, talking clown head. After telling you a dark joke, it lets you enter through its mouth, and the game proper in this twisted carnival world begins.
Publisher Wadjet Eye has a reputation for great modern point-and-clicks, both developing its own titles (Unavowed, The Blackwell Legacy) and shepherding other developers' projects to launch (Primordia, Technobabylon). Strangeland feels at home in that stable, but it struggles to live up to the company's better efforts.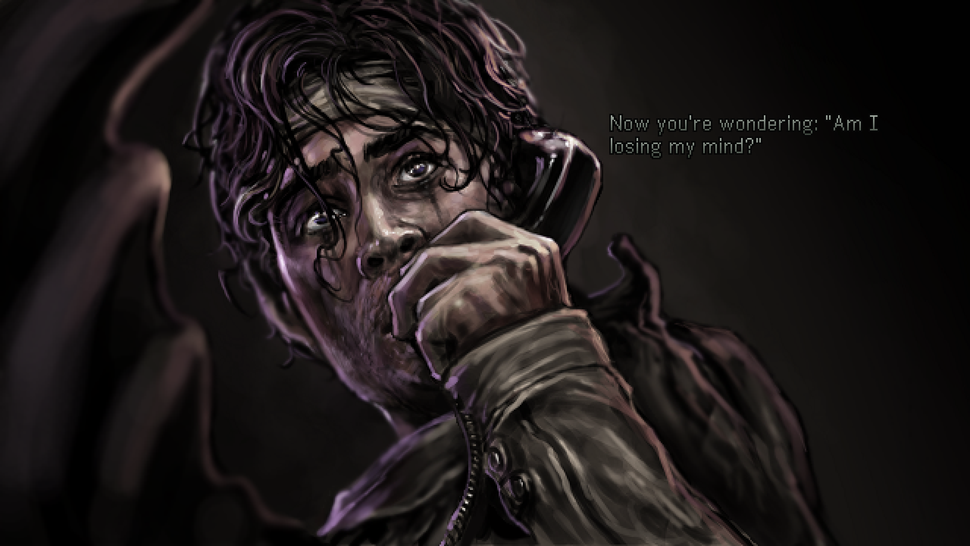 It certainly has its own style, however. The art mostly uses a dark and miserable palette, which is entirely appropriate; this is not a happy place. The music, too, fits the scene nicely. There's a kernel of carnival music in there somewhere, but the joy and warmth have been warped beyond all recognition. The notes have been inverted and twisted until the game sounds as disturbing as it looks.
Upon entering the carnival, you find a woman tearfully throwing herself down a well. Although your character's memory is gone, he knows that she means something to him, and so the objective of the game is, ostensibly, to save her. You'll repeatedly see her jump in, each time unable to stop her, and as you progress she haunts your journey.
Strangeland walks a darker path than you might typically expect from the genre, but it still follows certain rules. You have an inventory, you can combine items before using them, there are puzzles typical of the genre—it's all very familiar, despite the grim atmosphere.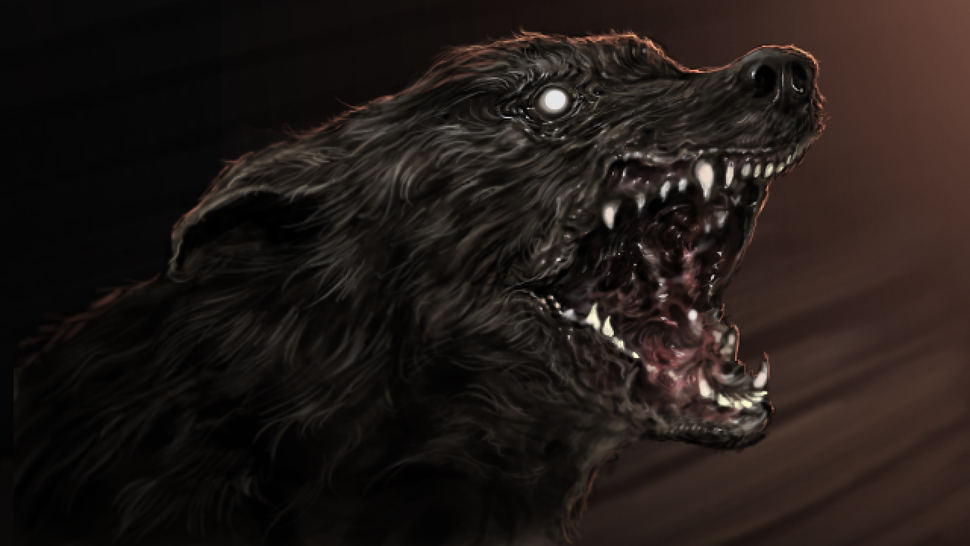 People are strange
The dark heart of Strangeland, both for better and for worse, is a determination to stay true to its artistic vision. It's a world of metaphor and allegory. Characters that you try to speak with usually send the conversation into a dead end, refusing to give a straight answer. But in this world that makes perfect sense. Never embarrassingly blunt nor pretentiously opaque, Strangeland balances its weirdness impressively well through its 4-5 hour runtime. The atmosphere and storytelling are excellent.
It's the 'game' bit where the experience wobbles. The art is superb. Anything that isn't run down or twisted is strangely organic; the environments are flavoured with a hint of HR Giger. The darkness means it can be hard to discern fine detail, though, which means that objects you can pick up or interact with are easy to miss. This is sometimes the greatest challenge that a puzzle presents, as most of them are otherwise pretty simple.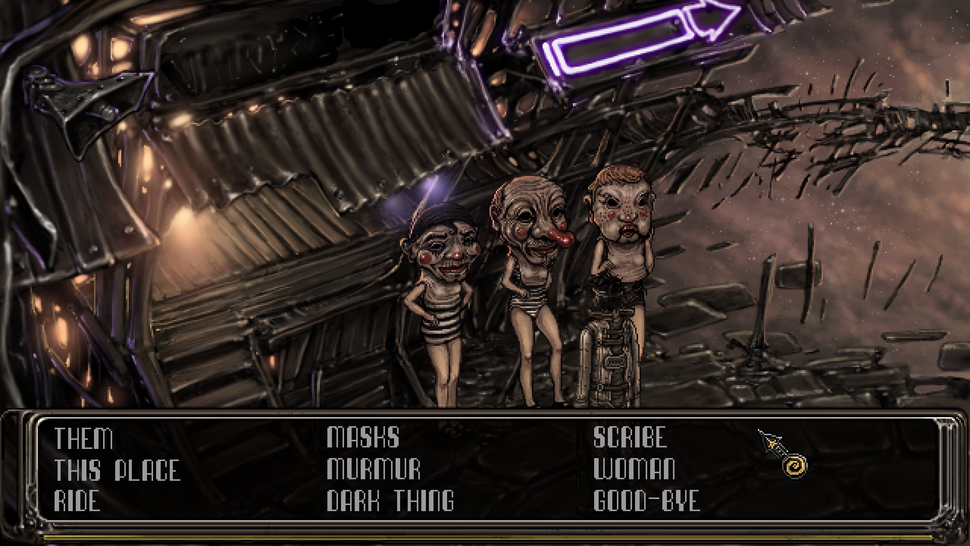 For a game that boldly carves out its own path in terms of subject matter and atmosphere, the puzzle design overall is rather disappointing. A carnival shooting gallery is simply a matter of clicking targets with your mouse, and in a world where I can talk to birds, a furnace, and a disembodied head, it's slightly disappointing to find myself making a grappling hook.
The most infuriating challenge in the game is one of those tiresome tile puzzles (or, here, a board of lights) where pressing one activates or deactivates those around it, until the board is complete. Through a combination of skill and luck, it didn't take me too long to get past, but it's a good example of how the puzzles lack the imagination of the worldbuilding. Should you get stuck there's at least an in-game hint system via a payphone, where in typically odd fashion you receive hints from a hateful, angry version of yourself.
Hope and glory
I've avoided spoilers, but it's worth noting that Strangeland explores death, grief, and regret, as well as self-harm and suicide, and in quite explicit terms.
There are moments of dark humour, which are perfectly appropriate, but there are also a few examples of optional dialogue where the aim seems to be a more lighthearted laugh. Had this been a regular occurrence, it might have worked as a comment on the strange and unpredictable ways that human beings react to trauma and tragedy. In isolated pockets, however, it's simply out of place.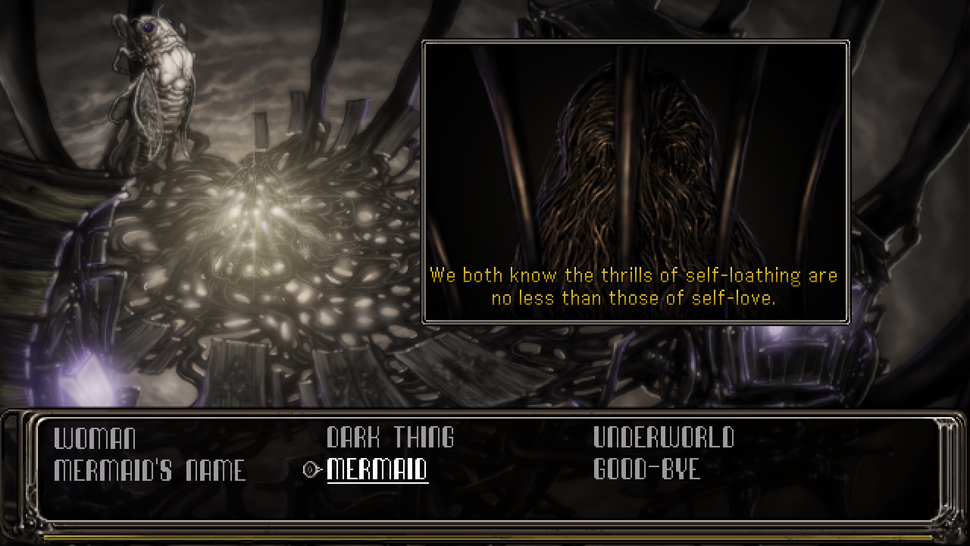 While there's an enormous amount to unpack and interpret, you don't have to take a scholarly approach to enjoy the game. If you're just looking for a surreal horror adventure, Strangeland can absolutely deliver that. However, the further you stray from interpreting its message, the more difficult it is to enjoy. Considered purely as a point-and-click game, Strangeland is not great. Considered purely as an artful exploration of difficult subjects, it's largely a success. The truth of the situation, of course, is that it's a mix of the two, which makes for an uneven experience.
I'm very glad for Strangeland: It's smart, unapologetically creepy and gloomy, and knows exactly what it wants to do. Should other games follow Strangeland's deep dark footsteps however, they'll need to do a better job of telling their stories with sharp and compelling game design.
How To Find Mutagel In Ark Genesis Part 2?
After a long wait, Studio Wildcard has finally released the final storyline for Ark: Survival Evolved. With the arrival of Ark: Genesis Part 2, several new creatures, weapons, and other items have appeared in the game.
In order to fulfill their missions, players need to find several items in the game that helps in upgrading or creating other items in the game.
One such item is Mutagel In Ark: Genesis Part 2 which players need to find in order to progress in the story.
In this guide, we shall take a look at how to find Mutagel in Ark and how to use it to create Mutagen.
MORE: Ark Genesis Part 2 – All New Dinos And Creatures
Mutagel Location In Ark Genesis Part 2
The Mutagen is a resource that enables the survivor to further evolve their existing tames in Ark: Genesis Part 2. It can also be used to improve the statistics of non-bred dinos in the game.
Mutagel can also be crafted into Mutagen at a Chemistry bench, which can be used later to tame Stryders. It takes 800 Mutagel to make 1 Mutagen so make sure you collect lots of it.
To get Mutagel from rocks, you can head over to the space area where you can find different rocks depending on the time of the day.
Next, you need to look for orange/golden colored rocks in the space area to mine Mutagel. These rocks are scattered in the area and they contain both Mutagel and Ambergris inside it.
You can use a pickaxe to break the rocks and collect Mutagen from it.
Alternatively, you can obtain Mutagel in Rockwell's Innards biome from a Mutagen plant. It yields 1 Mutagel and 1 Plant Species R Seed. It can also trigger a defense against multiple Summoner and their minions.
Have something to tell us about this article?
Genshin Impact 1.6 Kazuha Banner 4 Star Characters, Release Date
Last year was filled with a number of highly anticipated titles, but Genshin Impact managed to come out on top amidst all of that. By the end of the year, it had over 40 million players.
When it comes to updates, there are only a few games that are as consistently updates as Genshin Impact. With a new update releasing every six weeks, fans always have tons of new content to look forward to.
MORE: Genshin Impact 1.6 Livestream Officially Announced
With the release of the next update drawing closer, the community is quite eager to know what new stuff we will be getting in the 1.6 Update. So far, we have got to know that we will finally be getting costumes, something fans have been asking for quite a while now.
Apart from that, a new region known as Summer Islands and character, Kazuha, will be joining the game.
Genshin Impact 1.6 Kazuha Banner 4 Star Characters, Release Date
Today, a new leak has given us the details of the Kazuha banner. The leak comes from popular Genshin Impact leaker Lumie and it states that the Kazuha banner will be featuring Rosaria, Bennett, and Razor.
This is in line with the leaks which surfaced almost a month ago, so it seems quite likely that this is true. Do note that unless official information is out, this should be taken with a grain of salt.
Apart from that, the Klee banner will also be arriving as per leaks. It will be featuring "Klee – Fischl – Sucrose – [No Trial]", according to Wangsheng Funeral Parlor. It will be interesting to see if we actually end up getting the same characters. However, considering that leaks in the past have been quite accurate, there is high chance of this being true. As far as the release date is concerned, Kazuha might be the first banner arriving in 1.6, followed by Klee.
Have something to tell us about this article?
First Biomutant patch will tackle dialogue problems alongside combat Biomutant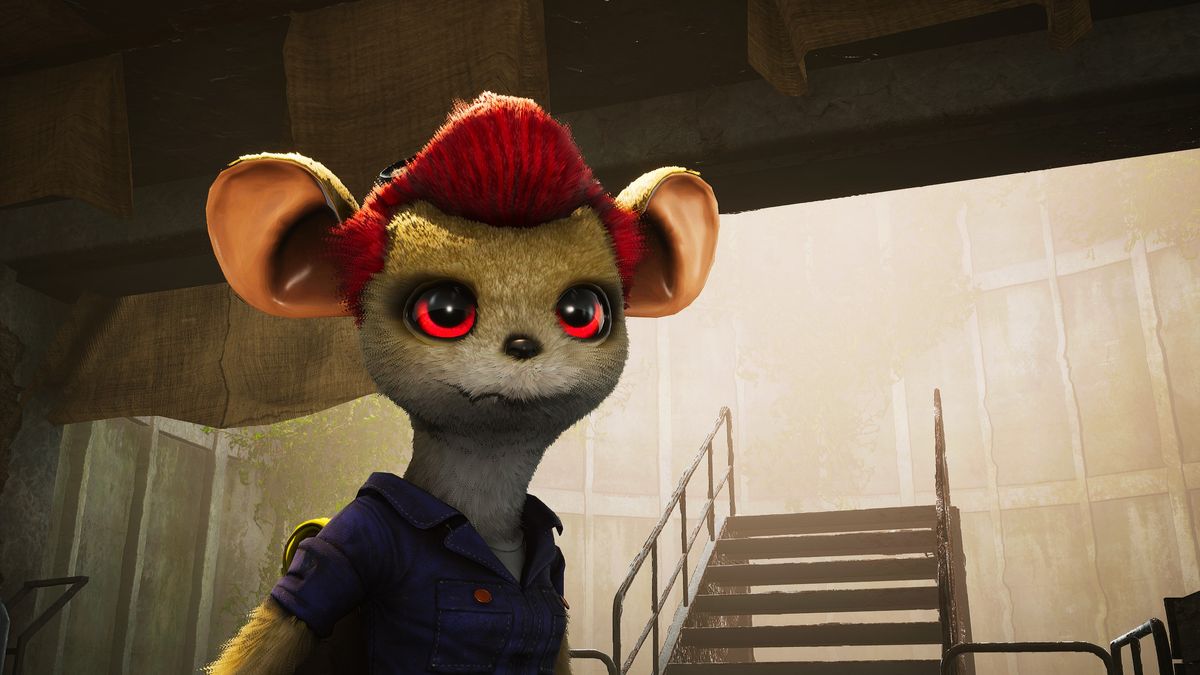 We are working on an update for #Biomutant which we will hope to get into players' hands soon.Most likely we will be able to deliver the update to PC platforms first and then to consoles. The update will include bug fixes and changes based on community feedback.May 29, 2021
See more
The developers at Experiment101 have announced they're working on an update for Biomutant, naturally, that they "hope to get into players' hands soon." The update will include work on some of the community's most persistent bugbears, like "the pacing of dialogues, narrator settings, difficulty settings, video settings like depth of field and motion blur, loot and enemy tuning as well as sound and combat."
Weird dialogue pacing, as well as the persistent and constant narration, have been key notes from many players. Though you can turn down the constant chatter from the narrator, you can't turn it off.
Key for some people, me included, is a promise to change video settings like depth of field and motion blur. Some people don't like those. I do not like them. For now, you can go and find some mods to change those—they're already out there.
Reviewer James Davenport found Biomutant to have a charming world, but lackluster gameplay, in our review. "Biomutant feels like it's going to be much more," he said, "but in practice it's an endless stream of new ideas that go nowhere and beautiful, toxic landscapes with little to offer except an excuse to use photo mode."
Nonetheless, James did give out some hot tips for making the most of Biomutant.
We are working on the pacing of dialogues, narrator settings, difficulty settings, video settings like depth of field and motion blur, loot and enemy tuning as well as sound and combat.May 29, 2021
See more