A new generation of gaming is here. While Sony launches iterations of its gaming consoles every few years, it only releases truly next-generation upgrades every seven or eight years. For both Sony and Microsoft, last year was that year. With Microsoft launching the angular Xbox Series S and Series X, Sony has taken a slightly more unique approach with the PS5.
Despite the fact that the PS5 has been out for a while now, it's still relatively unavailable. That's thanks to a combination of the global chip shortage, scalpers buying up stock, and so on. But when the time comes, should you buy a PS5?
Easy. Yes. Not because it will bring with it a complete visual overhaul just yet, but because it feels better than any PlayStation before it, and will support all the fancy high-end features on your next TV. And, down the line, it will likely feel like more of a generational leap.
Sony PS5 design and ports
The Xbox Series S and X consoles take a classic approach that allows the consoles to blend into their environments, at least somewhat. Sony has taken the exact opposite approach with the PS5. The console is huge, oddly shaped, and frankly, absurd-looking.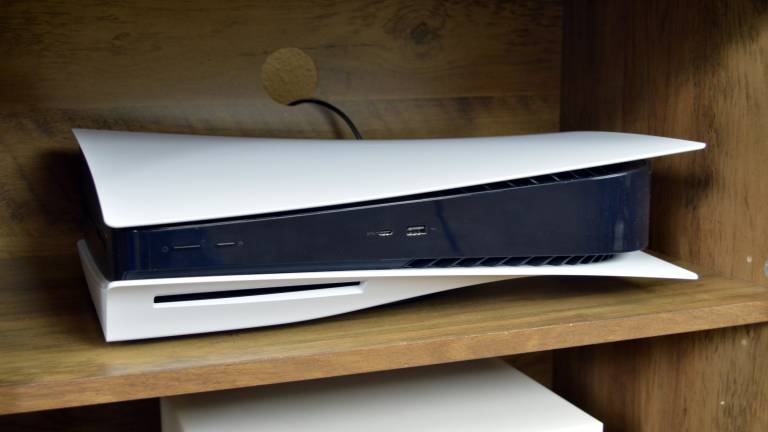 Absurdity doesn't necessarily equate to ugly though. The curved lines and white color make for a relatively eye-catching console that I actually think looks pretty cool. It looks like it comes from a future where tech is more unique, and in a world of tech conformity, I'm all for it.
Despite the fact that the console looks cool, it won't necessarily fit very well into your setup. At 15.4 inches tall, 10.2 inches deep, and 4.1 inches tall, it's huge. I have a relatively large entertainment center and was able to fit it in. But I could easily see people having to set up a dedicated table for the device. That's especially true for those who want to set it up vertically. Despite some of the photos you'll see in this review, most of the time I set the device up horizontally.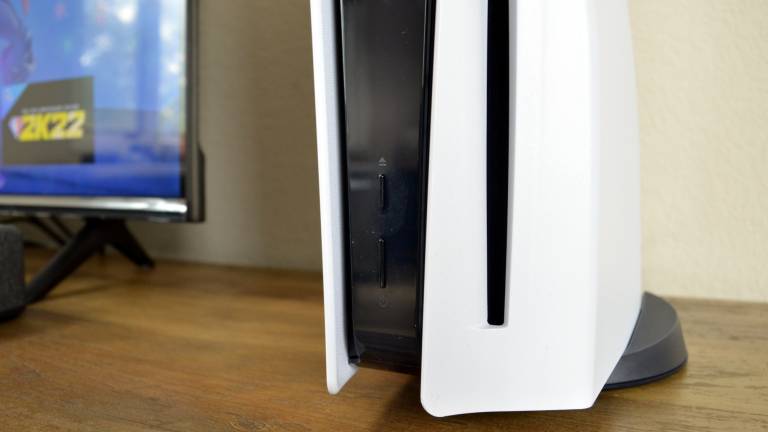 On the front of the console is where you'll get a USB-A port, a USB-C port, a power button, and an eject button. If you get the Digital Edition, that's it. If you get the standard model, the front is also where you'll find the disc slot. On the back are the rest of the ports, including two more USB-A ports, and an Ethernet port. Honestly, there are more than enough ports here for most.
Sony PS5 DualSense controller
Perhaps even more important than the design of the console itself is the design of the new DualSense controller. It's a pretty major overhaul, especially when you look at the design history of PlayStation controllers. It's bulkier, kind of like an Xbox controller, but it keeps all the buttons and controls that you're used to, save for the Home button, which is now a PlayStation logo instead of a circle.
The changes to the controller experience aren't just visual though. In fact, the biggest changes are under the hood. The new DualSense controller now offers adaptive triggers with a variable physical resistance that can change depending on what you're doing in a game. That means that developers can make using the trigger feel more like pulling the trigger on a gun, or like slinging a web in Spider-Man: Miles Morales. It's really cool.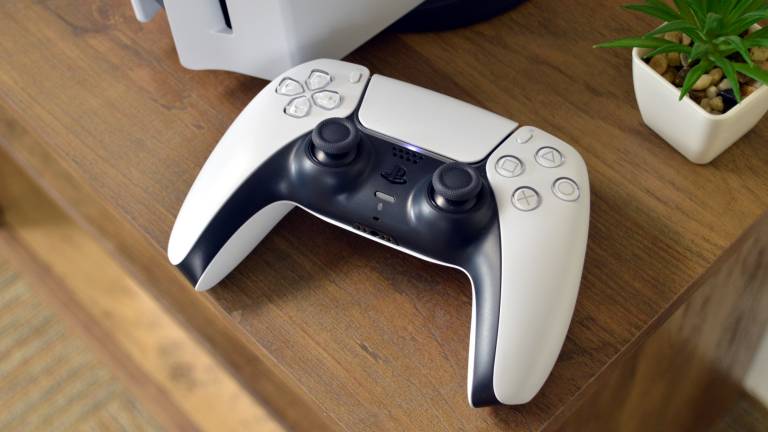 Equally as cool are the improvements Sony has made to haptics. It sounds like a small change, but the haptics in the DualSense controller are just a whole lot more precise than before, and thus able to make you feel much more like you're in the game. A perfect showcase for this is the bundled Astro's Playroom, in which the different sides of the controller subtly vibrate as you take steps. It can range from extremely light, to super heavy. It really does make a huge difference. The only complaint I would have is that the haptics can get a little loud at times. You won't notice that when you're playing at any decent volume.
As cool as the improvements to the controller are, they will require developers to actually take advantage of them. At this point it's unclear if they will. Of course, there are some games that showcase the new abilities, like Astro's Playroom. We'll have to wait and see if developers are still building the new features into their games in, say, two years. I hope they do.
Sony PS5 software
The software experience on the PlayStation 5 is smooth and intuitive, though if you're used to the PlayStation 4's software, it will take some getting used to.
Generally speaking, it looks modern and is laid out in a way that's easy to navigate. Your games show up in order based on when you've played them, and you can easily access your full library towards the end of that list. Select a game, and you can see all kinds of information about it — from your progress, to the trophies you've collected, to recent news about it. I rarely actually make use of these things — I just hit "Play" and continue on my journey. But it's still nice that they're there, and others may make more use of them.
Perhaps the biggest change compared to the PlayStation 4's interface is what happens when you hit the "Home" button. If you're playing a game and tap "Home," a menu appears at the bottom of the display. This allows you to perform a range of quick tasks and turn off your system, without ever actually seeing the Home Screen. Here you can check battery levels, tweak audio settings, and more. If you actually want to go home, you can also tap a button to be brought back to the main interface. It's a nice touch, especially for those who tend to stick with one game at a time, and play it for weeks on end. That's me. I often went weeks without seeing the main interface at all.
The only thing that's not simple is the Settings menu. That's not to say it's badly designed, but there's a lot to take in. There are some new settings to go through too. Notably, you can now set default difficulty levels for games, and choose whether games are in "Performance" or "Resolution" modes by default (we'll go into the difference later). You can even select the camera positioning for first-person shooters. It's a super handy feature, especially for those who find themselves having to change these settings regularly.
Sony PS5 performance
The performance of the PS5 may be one of the first things you wonder about — but ultimately, it's not necessarily the thing that makes the biggest difference just yet. It does play into the experience, but next-gen performance may matter more in a year or two rather than right now.
There are some big benefits to the performance on offer by the PS5 though. Now, the console can output games at 120 frames per second, with HDR enabled, and variable refresh rates. Of course, your TV has to support these things. Considering the fact that you'll probably keep your console for some time, you may well eventually have a TV that does.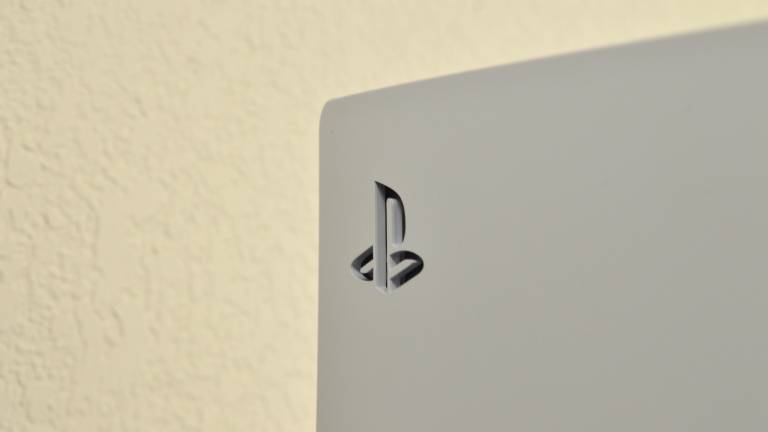 The PS5 also supports features like ray tracing. That makes for a more realistic look overall, especially in reflections. Some games force you to choose between ray tracing and a higher frame rate. However, we'll have to see if that becomes a standard for PS5 games, or if you'll normally get both. Miles Morales, for example, originally made you choose, but then enabled a new mode that offered ray tracing and a higher frame rate.
One of the biggest immediate improvements comes in the form of much lower load times. I didn't have a PS4 on hand to compare the two, but the PS5 certainly seemed a lot faster.
Generally, the PS5 offers a number of new features that should make gaming more immersive. They're not always super groundbreaking, but they do make for a more refined experience, plus they let you spend less time waiting and more time gaming.
Sony PS5 games
The PlayStation 5 is now approaching its first birthday, and as such there are actually quite a few great games available to it. Of course, that's not to mention the massive library that was already available, considering the fact that the console supports almost all major PS4 titles.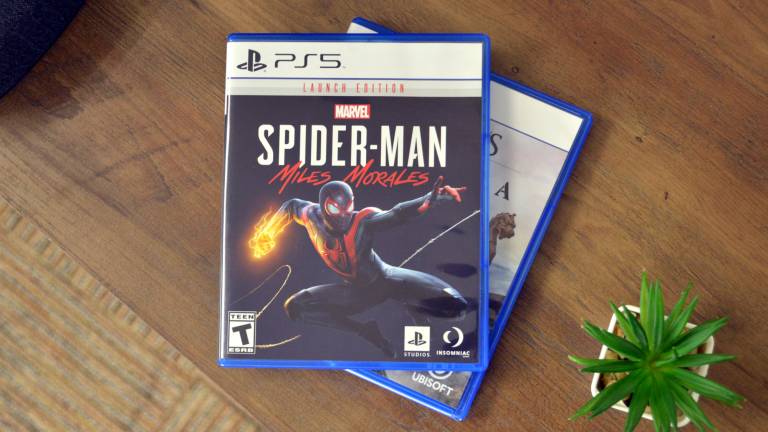 At launch, titles like Spider-Man: Miles Morales already made a serious case for the console. Since then, we've seen games like Assassin's Creed Valhalla, Demon's Souls, and Ratchet and Clank: Rift Apart. We're heading towards some other huge releases too. Perhaps the one I'm most excited about is Horizon: Forbidden West, which is due later this year. Next year, we should get God of War: Ragnarok, among others.
Safe to say, if you're not already impressed by the PS5's catalog, you should be soon. Most games are still also coming to PS4, but that will eventually change.
Conclusions
The PS5 looks like a generational leap, but for now, it feels more iterative. That will change. Games will slowly get better and better, and take advantage of more and more of the console's horsepower. In a few years, comparing a PS5 game to a PS4 one should reveal a huge difference.
That's not to say that you can't get a lot out of the console right now though. The new controller makes for a much better experience, load times are much lower, and so on. The PS5 is better than the PS4 in pretty much every way. It's just that for now, it's only a little better.
But, if you're enticed by the new games, better performance, and awesome controller, it's worth buying. You just have to find one.
The competition
Perhaps the biggest competition for Sony comes from the Xbox Series S and Xbox Series X. I'm not so sure there are many considering switching platforms, but if you're new to gaming, you might be deciding between the two. If that's the case, it's definitely a tough decision.
If you're into the idea of game-streaming, Xbox is currently light years ahead. I expect Sony will catch up eventually, but Xbox Game Pass Ultimate allows you to play many games anywhere you want — including your Xbox.
If, however, you want to feel like you're playing next-generation games, the importance of the DualSense controller can't be understated — and that's why I think the PS5 is the better option.
Should I buy a PS5?
Yes. The PS5 may not completely change the game, but it's still a meaningful step forward in almost every way.
10 deals you don't want to miss on Saturday: Alexa in your car for $19.99, $200 Chromebook, $13 string lights, $190 AirPods Pro, more
If you purchase an independently reviewed product or service through a link on
our website, we may receive an affiliate commission.
There are so many fantastic deals on Amazon this weekend. We sifted through them all to find the very best ones. After all, you should be relaxing this weekend, not digging for discounts! Here are the 10 best deals we can find right now:
Scroll through all of today's best bargains below.
Echo Auto – Hands-free Alexa in your car (Certified Refurbished) List Price:$44.99 Price:$19.99 You Save:$25.00 (56%)
Buy Now Available from Amazon, BGR may receive a commission

Samsung Galaxy Chromebook 4 11.6-inch 64GB eMMC, 4GB RAM List Price:$249.99 Price:$199.99 You Save:$50.00 (20%)
Buy Now Available from Amazon, BGR may receive a commission

Hyundai HyFlip 11.6-Inch Touchscreen Laptop & 128GB MicroSD Card Bundle List Price:$259.99 Price:$229.99 You Save:$30.00 (12%)
Buy Now Available from Amazon, BGR may receive a commission

TP-Link Kasa mini smart plugs with Alexa and Google (4 Pack) List Price:$26.99 Price:$23.99 You Save:$3.00 (11%)
Buy Now Available from Amazon, BGR may receive a commission

Tuff & Co. Crystal Clear iPhone Case Military-Grade Drop Tested Price:$15.99
Buy Now Available from Amazon, BGR may receive a commission

Apple AirPods Pro List Price:$249.00 Price:$189.99 You Save:$59.01 (24%)
Buy Now Available from Amazon, BGR may receive a commission

DEPSTECH Wireless Borescope Inspection Camera, IP67 Waterproof List Price:$36.99 Price:$28.85 You Save:$8.14 (22%)
Buy Now Available from Amazon, BGR may receive a commission

Echo Dot (4th Gen) + Amazon Smart Plug | Charcoal List Price:$74.98 Price:$59.99 You Save:$14.99 (20%)
Buy Now Available from Amazon, BGR may receive a commission

Afirst Outdoor String Lights 20FT with 22 Edison Bulbs Vintage Bistro Lights List Price:$25.95 Price:$13.47 You Save:$12.48 (48%)
Buy NowCoupon Code: 508C5I7I Available from Amazon, BGR may receive a commission

True Luxury 1000-Thread-Count 100% Egyptian Cotton Bed Sheets, 4-Pc Queen List Price:$107.99 Price:$53.99 You Save:$54.00 (50%)
Buy Now Available from Amazon, BGR may receive a commission
Go here to see this month's best deals on Amazon!
---
Follow @BGRDeals on Twitter to keep up with the latest and greatest deals we find around the web. Prices subject to change without notice and any coupons mentioned above may be available in limited supply.
New Gorilla Glass for camera lenses will improve smartphone photography
Most people rely on their smartphones for photos and videos. Thanks to the various advancements from smartphone vendors each year, there's almost no point in getting a point-and-shoot camera. But smartphone cameras have become increasingly large and more prone to accidental damage. The smartphones that deliver excellent photo quality have more than one camera on the back. Those phones also have significant camera protrusions (or "bumps"). That's the compromise smartphone vendors have to make to improve camera performance. These developments can increase the risk of damage. That's why Corning made its new Gorilla Glass DX and DX+ lens covers.
Today's Top Deal
Amazon's #1 best-selling portable Bluetooth speaker is down to the lowest price of 2021! List Price:$34.99 Price:$22.09 You Save:$12.90 (37%)
Buy Now Available from Amazon, BGR may receive a commission Available from Amazon BGR may receive a commission
Corning is a well-known name in the mobile industry. Many of the current and past smartphones feature strong Corning Gorilla Glass panels protecting the displays. Gorilla Glass is quite durable and will safeguard devices against most accidents. Glass is still glass, however, so the risk of accidental damage remains.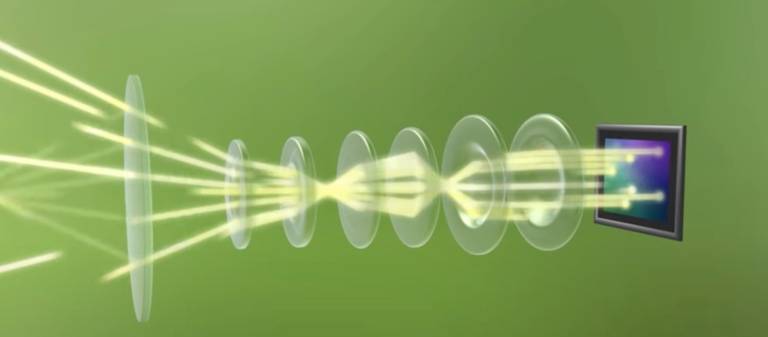 The company's next glass component for smartphones targets cameras. The new Gorilla Glass DX and Gorilla Glass DX+ will provide better scratch resistance than other alternatives and allow more light to reach the camera sensor in the process.
Gorilla Glass DX and DX+ coming first to Samsung phones
The new Gorilla Glass DX and DX+ lenses will feature a new anti-reflective coating that will allow 98% of light to pass through. More light leads to better photography, and Corning says its new durable glass lenses will do better than existing solutions. The video below shows that other lens covers allow between 92% and 95% of light to pass through.
The upgrade to 98% might not seem like much. But it might make a world of difference for low-light and night photography.

Aside from improving photography, the new Gorilla Glass DX and DX+ will offer better scratch resistance than other solutions. The video below says that Gorilla Glass DX and DX+ covers will be almost as scratch-resistant as sapphire glass. Apple has been using the latter for protecting iPhone cameras and the Apple Watch. Corning used the DX and DX+ technology on smartwatches before.
Samsung will be the first company to employ Corning's Gorilla Glass DX and DX+ camera covers. It's unclear what Samsung smartphones might make use of the new Corning camera parts. But the timing of Corning's announcement might suggest that some of Samsung's next flagships will feature the new DX and DX+ lens technology. It so happens that Samsung announced a press event for August 11th, where it'll unveil the Galaxy Z Fold 3 and Flip 3 foldable handsets.
Today's Top Deal
Control your garage door from anywhere with your smartphone or Alexa! List Price:$29.98 Price:$21.99 You Save:$7.99 (27%)
Buy Now Available from Amazon, BGR may receive a commission Available from Amazon BGR may receive a commission
Apple Watch Series 7: All there is to know about Apple's next watch
The Apple Watch has completely changed the wearable world. Sure, there were smartwatches before the Apple Watch, but none as impactful, influential, and well-implemented. The Apple Watch Series 6 was Apple's best effort yet. Rumors indicate that Apple will take things to the next level with the Apple Watch Series 7.
Traditionally, Apple launched a redesign for its iPhone and Apple Watch every three years. For the Apple Watch, this is the year. As a result, we're expecting the Apple Watch Series 7 to bring a number of changes.
Excited for the Apple Watch Series 7? Or just want to learn more about the upcoming smartwatch? Here's everything we know about Apple's next smartwatch so far.
Apple Watch Series 7 design
As mentioned, Apple brings a redesign to its mobile devices every three years — and this is the year for the Apple Watch. Rumors indicate that the device will get a flat-edged design that brings it more in line with the iPhone, higher-end iPad, and iMac.
This has been corroborated by serial leaker Jon Prosser. Prosser claims to have seen renders of the upcoming device, and has created his own images based on those renders. Prosser also says that the device will come in a series of colors and that there may be smaller bezels around the display than previous-generation Apple Watches.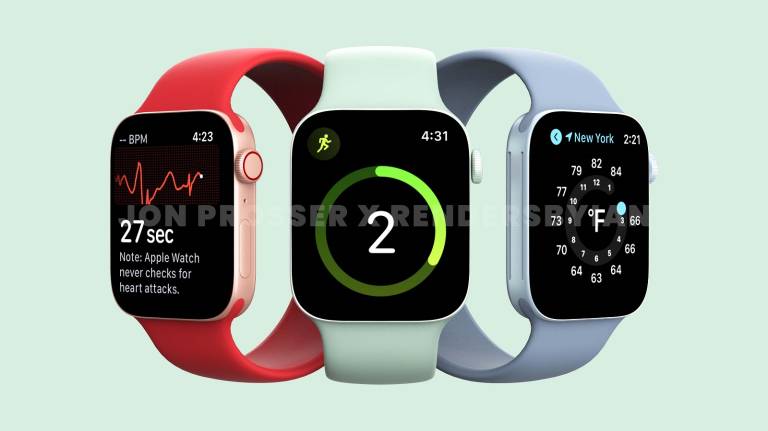 Bloomberg's Mark German agrees with this speculation, saying that the Apple Watch Series 7 will sport thinner bezels and that Apple has been testing a new "lamination technique" that will bring the display closer to the top cover of the Apple Watch. Gurman's sources also note that the watch may be "slightly thicker," but that it won't be a noticeable difference. If it means a larger battery, we're completely fine with that trade-off.
Apple Watch Series 7 health tracking
Apple has emphasized health tracking on the Apple Watch since its release, and that's unlikely to change any time soon. The device will sport the same fitness-tracking features as on the Series 6, but it may add some new ones too. Chief among those could be blood glucose monitoring.
Rumors about blood glucose monitoring on the Apple Watch have been swirling for a few years now. It's clear that Apple is working on bringing that tech to the Watch. But there are conflicting rumors as to whether it will be on the Series 7. A report from ETNews notes that blood glucose monitoring will be a standout feature of the Apple Watch Series 7, however, a newer report from Bloomberg instead suggests that the tech may not be ready for the Series 7.
Some rumors have been hinting at the idea that Apple might be working on blood pressure monitoring as well. The Samsung Galaxy Watch 3 has a sensor for blood pressure monitoring, so it wouldn't be that surprising to see it — especially given the fact that we've seen related patents from Apple.
Apple Watch Series 7 specs
The Apple Watch is already an incredibly functional smartwatch, and it takes years for the device to slow down and not be able to handle new software updates. Like in previous years, the Apple Watch Series 7 will likely get a spec-bump that makes it even more capable, and able to keep up with watchOS 8 and other related features from Apple.
Some rumors, like a report from DigiTimes, suggest that the new S7 chip will support a new double-sided System in Package (or SiP), which could give the device a serious battery life boost. We don't really expect the battery to be larger, though.
Apple Watch Series 7 price and availability
The device is expected to be released at around the same time as previous Apple Watch models. That's to say, Apple will likely announce the device sometime around mid-September. Usually, Apple's keynotes are on a Tuesday.
When it comes to pricing, the device will probably be a similar price as previous-generation models. In other words, it will start at around $399 for the entry-level 40mm model, or $429 for the 44mm model.