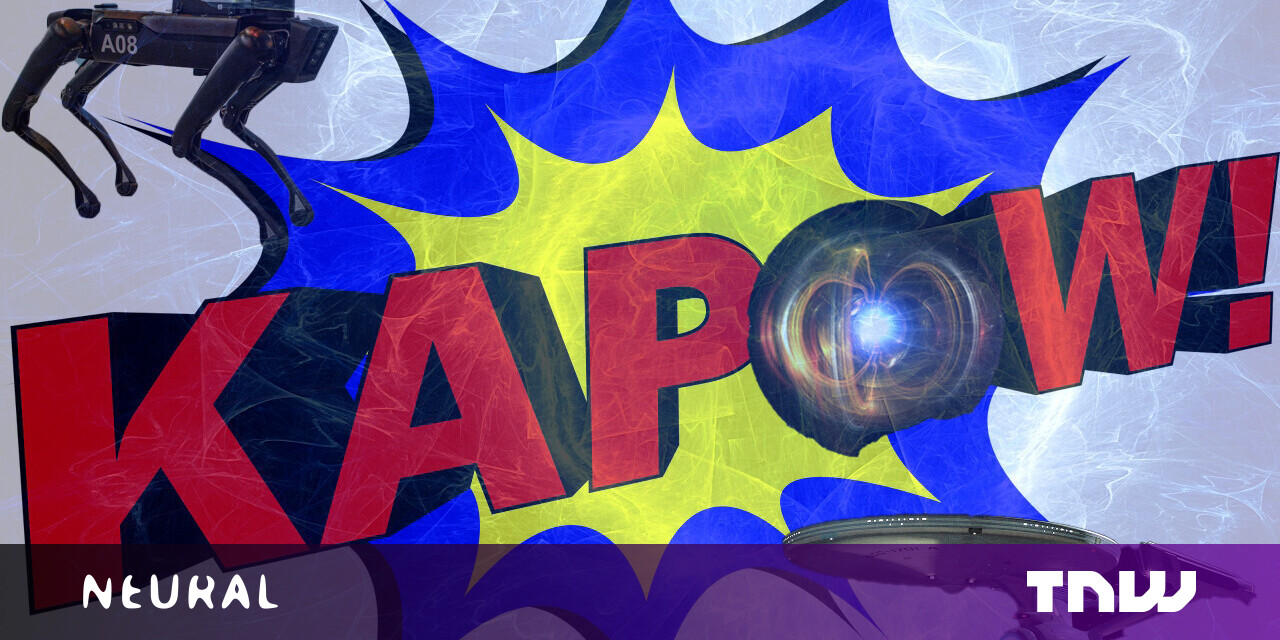 Meanwhile, back in North America…
The western seaboard is boiling beneath an angry yellow sun and the good people of Earth exist precariously on the edge of heat-induced psychosis. At any moment the tension could erupt into chaos.
And maybe that's your thing.
We try not to judge here at Neural. After all, planet Earth is currently at the mercy of at least half a dozen billionaires who could destroy life as we know it with the metaphorical wave of their hand.
Anyone ever wonder what would happen if Jeff Bezos hit a killswitch on Amazon Web Services?
Does anyone really think Elon Musk is the right person to be in charge of space ships, brain computer interfaces, and bleeding edge AI?
And we won't even mention the fact that Bill Gates is the biggest owner of private farmland in the US and, conceivably, has backdoor access to the vast majority of the world's computers.
Democratizing evil
All of that just goes to show you: the gatekeepers in STEM have an iron grip on the future. It's up to each and every one of us to loudly declare to the Gates', Bezos', and Musks of the world that rich people aren't the only ones who can be supervillains.
But you'll still need financing. One of the hallmarks of supervillainy – as opposed to regular, everyday evil – is that it's big and showy. It's hard to be gaudy on a budget.
And that brings us to our first tip: cryptocurrency.
Crypto may not be as popular for criminal enterprises as regular old cash, but the current tax laws are so dumb you can legally hold millions in crypto assets without paying a dime. It'd be silly not to run your criminal enterprise on cryptocurrency.
There's such a thing as too evil
If the horrors of cryptocurrency are simply too evil for your tastes, there are other ways to become a supervillain that don't require such… icky stuff.
Like, for example, you could use cold fusion to destroy everyone on the planet. Arguably you could just use the threat of cold fusion to collect Bitcoin from everyone – but keep in mind that you can't stack crypto in a warehouse and then light it on fire to prove how edgy and dark you are.
Also, you might get lonely if you destroy everyone. Luckily, there are other ways we can exploit physics to punish the do-gooders and take our rightful place as supreme ruler of the cosmos.
Here's a few primers to get you started, but you'll need some imagination. The science is strong, but it's up to you to figure out how stopping or traveling through time, having a spaceship with a warp drive, or placing entire planets in quantum superposition will help you achieve your nefarious agenda.
You can't spell villain without AI
Maybe you're not a physics nerd. Perhaps controlling the very fabric of the universe is a bit too much responsibility for you. Or, maybe you just don't like to get your hands dirty. May I suggest artificial intelligence?
Sure, killer robots aren't really a thing, but you can do so much more evil with AI than just use it to shoot, stab, and squish people.
Tip number 4: Learn to love the Matrix
Unfortunately, AI isn't always a viable solution. What if another supervillain rises before you, exploits quantum mechanics, and sends us all back to the stone age? Even Iron Man couldn't tech his way out of a world without synthetics.
In this case, you'll have to exploit more than just the fabric of our universe. And machine intelligence is useless in a world without electricity or digital networking.
Well, with one big exception: what if we're all just bits of data living inside a computer simulation?
If that's the case, you're going to need to figure out how to expose and access the real universe beyond our simulation.
You're actually going to need to follow the first three tips in order to pull this strategy off. Because, if comic books have taught us anything, you'll probably need a spaceship with a warp drive and an AI system. You're going to have to fly through a supermassive black hole.
How to handle superheroes
Assuming you've managed to live through your origin story, developed a deep-seeded hatred for… something (the world, humanity, pop up ads, it doesn't really matter what) and decided how you're going to conquer the galaxy, you'll need to be ready for those pesky superheroes.
Inevitably, you'll get some tights-wearing do-gooders who wish for nothing more than to see you brought to justice.
While this will largely be a reactionary endeavor – you'll need to respond to whatever the powers of justice throw at you – the best defense is to not be there.
To that end, we suggest you strongly consider setting up a base of operations off-planet and ensuring that your physical body isn't the single point of failure that can upend your life's work.
We here at Neural hope you've found this article insightful and, perhaps, even inspiring.
Becoming the supervillain you've always wanted to be isn't an easy task. It requires dedication, fervor, and just the right amount of psychopathy.
But we also know that not everyone has the time or patience to become a quantum physicist or to revolutionize the fields of AI and robotics. And, realistically, there's more money in being a regular science villain than a super one (see: Google, Facebook).
Don't let that stop you from following your evil dreams though. You can still help. Just remember to always follow the YouTube algorithm wherever it takes you, spend as much time on Facebook and Twitter as possible, and, most importantly, idolize tech billionaires and their trillion-dollar companies.
In these ways, we can all do our part to support supervillainy.
iOS 14.7.1 now available with fix for Apple Watch unlock bug
Apple rolled out iOS 14.7.1 to the public on Monday — exactly one week after iOS 14.7 debuted. This is a minor update that addresses a bug that was introduced in iOS 14.7. As Apple noted, iOS 14.7 "affects the ability of iPhone models with Touch ID to unlock Apple Watch." Once the update has been applied, this issue should be resolved, and everything should unlock correctly.
Today's Top Deal
Super-popular TP-Link Kasa mini Alexa smart plugs just hit a new all-time low price of $6 each! List Price:$26.99 Price:$23.99 You Save:$3.00 (11%)
Buy Now Available from Amazon, BGR may receive a commission Available from Amazon BGR may receive a commission
Which devices work with iOS 14.7.1?
If you're wondering whether or not your device is compatible with iOS 14.7.1 or iPadOS 14.7.1, here's a full list below with every compatible device. If your device is there, you're good to go:
iPhone 12
iPhone 12 mini
iPhone 12 Pro
iPhone 12 Pro Max
iPhone 11
iPhone 11 Pro
iPhone 11 Pro Max
iPhone XS
iPhone XS Max
iPhone XR
iPhone X
iPhone 8
iPhone 8 Plus
iPhone 7
iPhone 7 Plus
iPhone 6s
iPhone 6s Plus
iPhone SE (1st generation)
iPhone SE (2nd generation)
iPod touch (7th generation)
iPad Pro 12.9-inch (4th generation)
iPad Pro 11-inch (2nd generation)
iPad Pro 12.9-inch (3rd generation)
iPad Pro 11-inch (1st generation)
iPad Pro 12.9-inch (2nd generation)
iPad Pro 12.9-inch (1st generation)
iPad Pro 10.5-inch
iPad Pro 9.7-inch
iPad (7th generation)
iPad (6th generation)
iPad (5th generation)
iPad mini (5th generation)
iPad mini 4
iPad Air (3rd generation)
iPad Air 2
Here is Apple's full list of release notes for iOS 14.7:
MagSafe Battery Pack support for iPhone 12, iPhone 12 mini, iPhone 12 Pro and iPhone 12 Pro Max
Apple Card Family adds the option to combine credit limits and share one co-owned account with an existing Apple Card user
Home app adds the ability to manage timers on HomePod
Air quality information is now available in Weather and Maps for Canada, France, Italy, Netherlands, South Korea, and Spain
Podcasts library allows you to choose to see all shows or only followed shows
Share playlist menu option missing in Apple Music
Dolby Atmos and Apple Music lossless audio playback may unexpectedly stop
Battery service message that may have disappeared after reboot on some iPhone 11 models is restored
Braille displays could show invalid information while composing Mail messages
How to download and install iOS 14.7.1
Installing a new update on your iPhone, iPad, or iPod touch is an incredibly simple process. Navigate to Settings > General > Software Update and then tap "Download and Install" at the bottom of that page. If you prefer, you can also install the update through iTunes by connecting your iOS device to a computer. Whichever method you choose, just make sure to back up your device before installing an update so that you don't risk losing any of your data during the procedure.
Today's Top Deal
Control your garage door from anywhere with your smartphone or Alexa! List Price:$29.98 Price:$22.50 You Save:$7.48 (25%)
Buy Now Available from Amazon, BGR may receive a commission Available from Amazon BGR may receive a commission
This pro-grade 4K camera drone is $430 at Amazon, and it beats $800+ rivals
If you purchase an independently reviewed product or service through a link on
our website, we may receive an affiliate commission.
Do you want a professional-grade quadcopter drone from a big-name brand? Sadly, it can easily set you back $1,000 or even more. At best, you're going to spend $800 if you want decent features and a 3-axis gimbal. That's one of several reasons why we're such big fans of the Potensic Dreamer Pro. It's a relatively new model from a popular brand with a 4K camera and a 3-axis gimbal. Plus, it can easily go toe-to-toe with drones in the $800-$1,000+ range. But instead of having to pay $1,000 or more, this quadcopter retails for a fraction of that sky-high price.
That's especially true right now, thanks to a surprisingly good deal you can take advantage of for a limited time. Amazon has a coupon you can clip today that will slash the Dreamer Pro from $460 to $429.99. That's about half what you'll pay for a comparable drone from the top brand in the quadcopter market. How awesome is that?!
Anyone who knows anything at all about drones can probably name the go-to pro-grade quadcopter drone for amateurs and professionals on a budget. You also know that it costs $800 minimum. It's a high-quality quadcopter with pretty much all the key features you need. That includes a 4K camera that captures stunning video. Plus, you get a 3-axis gimbal that stabilizes video and still images captured during flight. On top of that, intelligent software and flight features round out the experience.
It should go without saying that not everyone has an extra $800 lying around. Especially not that they're willing to spend on a drone, no matter how great it is. If you're looking for a terrific alternative that checks all the same main boxes for much less money, you've definitely come to the right place.
Potensic's Dreamer Pro offers professional-grade quality and features at a fraction of what you'd pay for a comparable model from other companies. You get 28 minutes of flight time per charge, plus a stunning 4K camera with a high-quality Sony sensor. Additionally, you'll get a 3-axis gimbal for outstanding video and image stabilization. On top of all that, the Dreamer Pro is packed full of smart features that will help with any content you might be shooting. One example is a "follow me" mode that tracks moving objects and people. There's also a circle mode that flies in a perfect circle around any center point. Path mode lets you draw out a flight pattern the drone will fly on its own. Also, this drone has an impressive 2-kilometer transmission range and so much more.
This excellent Potensic drone is absolutely on par with the market leader and other quadcopters that fall into the $800 – $1,200 price range, yet the Potensic Dreamer Pro 4K camera drone with 3-axis gimbal retails for just $460. That's about half the price of comparable models from leading brands. Head over to Amazon and pick one up now, however, and you can save an extra $30 thanks to the clippable coupon. You definitely don't want to miss out on this great deal.
Potensic Dreamer Pro 4K camera drone with 3-axis gimbal Price:$429.99
Buy Now Available from Amazon, BGR may receive a commission
Here are the main takeaways you need to know about:
The 4K camera with a

1/3-inch SONY CMOS sensor

and the 3-axis gimbal combine capture stunning video that is stable and free from shakes and jitters
Capture and record aerial footage or stream live to your smartphone with a transmission range of up to 1.24 miles
Potensic's exclusive

PowerAC dynamic system

creates bursts of 3x power that are great for tricks
Advanced stabilization system makes it easy to fly smoothly in still conditions or with a light breeze
Includes a 32GB SD card and a special carrying case
Potensic Dreamer Pro 4K camera drone with 3-axis gimbal Price:$429.99
Buy Now Available from Amazon, BGR may receive a commission
Go here to see this month's best deals on Amazon!
---
Follow @BGRDeals on Twitter to keep up with the latest and greatest deals we find around the web. Prices subject to change without notice and any coupons mentioned above may be available in limited supply.
This stimulus program gets you up to $25,000, but no one seems to know about it
One of many extraordinary steps the federal government took to combat the coronavirus pandemic, in addition to approving billions of dollars in direct cash payments to Americans, was a temporary ban on the eviction of renters. Additionally, more than one emergency coronavirus relief bill passed by Congress included billions in stimulus rental assistance. Unfortunately, though, there's evidence that enough Americans still don't seem to be aware of that fact.
For example, both the stimulus bill that President Biden signed in March and the one President Trump signed in December set aside a total of $46.6 billion in emergency rental assistance stimulus aid. However, a mere $1.5 billion of that was reportedly paid out in June. The stimulus checks certainly have sky-high awareness among members of the public. But let's take a closer look at this effort which too few people still seem to know about.
Today's Top Deal
Amazon's Fire TV Stick 4K just got a surprise 20% discount! List Price:$49.99 Price:$39.99 You Save:$10.00 (20%)
Buy Now Available from Amazon, BGR may receive a commission Available from Amazon BGR may receive a commission
Stimulus rental assistance
First, we should note that the national ban on evictions is set to end on July 31. Meaning, they can resume as normal after that.
The National Low Income Housing Coalition maintains a list of a few hundred rental assistance programs around the country that can help get a chunk of the federal rental assistance stimulus money to people who need it. Generally, you have to be a renter who's having a hard time paying your rent and/or your utility bills because of the pandemic. Perhaps, for example, the pandemic caused you to lose your job.
The way this funding is supposed to work is that it's distributed to people in need by over 400 local and state agencies. The problem, however, is that while the problem may be uniform, the response isn't. For example, all of those agencies in charge of parceling out the stimulus rental assistance have different technology. Many of them also have different staffing levels.
And it's not clear who ought to be doing a better job of alerting renters to the aid that's available. Although, what is clear is that someone needs to do so. Because it's not happening really at all at the moment. Per the Census Bureau, around 7 million households were behind on their rent as of late May. But between April and June, only 550,000 people had received any of this stimulus rental aid.
Additional details
"There is still much further work to do to ensure tenants and landlords take advantage of the historic funding available to help cover rent, utilities, and other housing costs and keep people in their homes," the US Treasury department said in a recent news release.
Here are some examples of the kind of stimulus rental assistance that's available. Be aware that things are pretty different from one state to the next. And your local or state housing agency should be consulted from benefits that apply in your area. In Illinois, the state's Housing Developing Authority is overseeing the administration of $1.5 billion in rental assistance. There, tenants and landlords can apply for grants of up to $25,000 to cover as many as 15 months of rent payments between June of last year through August of this year.
Texas, meanwhile, has been offering help with unpaid rent and utilities going as far back as March 13, 2020. Use the National Low Income Housing Coalition's website to start a search for the housing authority nearest you. That's where you'll apply for this funding.
Today's Top Deal
Behold: Apple AirPods Pro just hit Amazon's lowest price of 2021! List Price:$249.00 Price:$189.99 You Save:$59.01 (24%)
Buy Now Available from Amazon, BGR may receive a commission Available from Amazon BGR may receive a commission