Even a casual follower of the news over the last few years is likely to have encountered stories about research showing that digital technologies like social media and smartphones are harming young people's mental health. Rates of depression and suicide among young people have risen steadily since the mid-2000s, around the time that the first smartphones and social media platforms were being released. These technologies have become ubiquitous, and young people's distress has continued to increase since then.
Many articles in the popular and academic press assert that digital technology is to blame. Some experts, including those recently featured in stories by majornewsoutlets, state that excessive use of digital technology is clearly linked to psychological distress in young people. To deny this connection, according to a prominent proponent of the link, is akin to denying the link between human activity and climate change.
In an effort to protect young people from the harms of digital tech, some politicians have introduced legislation that would, among other things, automatically limit users' time spent on a social media platform to 30 minutes a day. If the evidence is so definitive that digital technology is harming America's youth in such substantial ways, then reducing young people's use of these devices could be one of the most important public health interventions in American history.
There's just one problem: The evidence for a link between time spent using technology and mental health is fatally flawed.
Know thyself – easier said than done
Absent from the discussion about the putative harms of digital tech is the fact that practically all academic studies in this area have used highly flawed self-report measures. These measures typically ask people to give their best guesses about how often they used digital technologies over the past week or month or even year. The problem is that people are terrible at estimating their digital technology use, and there's evidence that people who are psychologically distressed are even worse at it. This is understandable because it's very hard to pay attention to and accurately recall something that you do frequently and habitually.
Researchers have recently begun to expose the discrepancy between self-reported and actual technology use, including for Facebook, smartphones, and the internet. My colleagues and I carried out a systematic review and meta-analysis of discrepancies between actual and self-reported digital media use and found that self-reported use is rarely an accurate reflection of actual use.
This has enormous implications. Although measurement isn't a sexy topic, it forms the foundation of scientific research. Simply put, to make conclusions – and subsequent recommendations – about something you're studying, you must ensure you're measuring the thing you're intending to measure. If your measures are defective, then your data is untrustworthy. And if the measures are more inaccurate for certain people – like young people or those with depression – then the data is even more untrustworthy. This is the case for the majority of research into the effects of technology use over the past 15 years.
Imagine that everything known about the COVID-19 pandemic was based on people giving their best guesses about whether they have the virus, instead of highly reliable medical tests. Now imagine that people who actually have the virus are more likely to misdiagnose themselves. The consequences of relying on this unreliable measure would be far-reaching. The health effects of the virus, how it's spreading, how to combat it – practically every bit of information gathered about the virus would be tainted. And the resources expended based on this flawed information would be largely wasted.
The uncomfortable truth is that shoddy measurement, as well as other methodological issues including inconsistent ways of conceiving of different types of digital tech use and research design that falls short of establishing a causal connection, is widespread. This means that the putative link between digital technology and psychological distress remains inconclusive.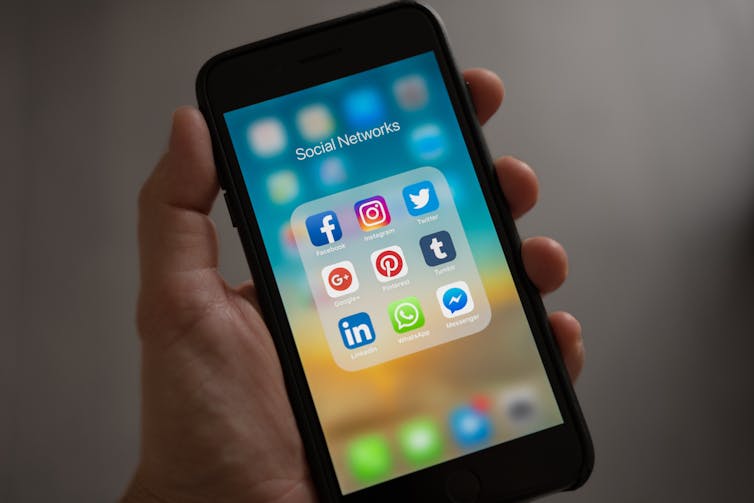 In my own research as a doctoral student in social work, I found that the link between digital technology use and mental health was stronger when self-report measures were used than when objective measures were used. An example of an objective measure is Apple's "Screen Time" application, which automatically tracks device use. And when I used these objective measures to track digital technology use among young adults over time, I found that increased use was not associated with increased depression, anxiety, or suicidal thoughts. In fact, those who used their smartphones more frequently reported lower levels of depression and anxiety.
From believer to skeptic
That the link between digital tech use and psychological distress is inconclusive would have come as a big surprise to me five years ago. I was shocked by the levels of depression and thoughts of suicide among the students I treated when I worked as a mental health therapist at a college counseling center. I, like most people, accepted the conventional narrative that all these smartphones and social media were harming young people.
Wanting to investigate this further, I left clinical practice for a Ph.D. program so I could research why these technologies were harmful and what could be done to prevent these harms. As I dove into the scientific literature and conducted studies of my own, I came to realize that the link between digital technology and well-being was much more convoluted than the typical narrative portrayed by popular media. The scientific literature was a mess of contradiction: Some studies found harmful effects, others found beneficial effects and still others found no effects. The reasons for this inconsistency are many, but flawed measurement is at the top of the list.
This is unfortunate, not just because it represents a huge waste of time and resources, or because the narrative that these technologies are harmful to young people has been widely popularized and it's hard to get the cat back in the bag, but also because it forces me to agree with Mark Zuckerberg.
Getting at the truth
Now, this doesn't mean that any amount or kind of digital technology use is fine. It's fairly clear that certain aspects, such as cyber-victimization and exposure to harmful online content, can be damaging to young people. But simply taking tech away from them may not fix the problem, and some researchers suggest it may actually do more harm than good.
Whether, how and for whom digital tech use is harmful is likely much more complicated than the picture often presented in popular media. However, the reality is likely to remain unclear until more reliable evidence comes in.
Article by Craig J.R. Sewall, Postdoctoral Scholar of Child and Adolescent Mental Health, University of Pittsburgh
This article is republished from The Conversation under a Creative Commons license. Read the original article.
Facebook is making glasses with Ray-Ban — but don't expect AR features
While we don't know what kind of devices the company will release under the program, it told The Verge that it's planning to launch a pair of smart glasses in partnership with Ray-Ban. However, there won't be any integrated display, so don't expect any AR shenanigans.
Facebook told the publication that these glasses would be a step in its overall AR work. The company's VP of reality labs, Andrew Bosworth, gave a statement describing a vision of the smart glasses, but it doesn't tell us much:
We're passionate about exploring devices that can give people better ways to connect with those closest to them. Wearables have the potential to do that. With EssilorLuxottica we have an equally ambitious partner who'll lend their expertise and world-class brand catalogue to the first truly fashionable smart glasses
Last year, Facebook gave us a glimpse into its AR vision through prototype hardware called Project Aria. However, because of the lack of a display, the firm called it a "sensor platform," instead of calling it a pair of AR glasses.
In contrast, the new Facebook and Ray-Ban glasses are unlikely to host too many sensors. My hunch is that they might have only as many functions as Snap Spectacles, which capture video and take images. These glasses could be the first step for Facebook to gauge how people react to smart glasses and their features, and tune their first AR glasses product accordingly.
Did you know we have a newsletter all about consumer tech? It's called Plugged In – and you can subscribe to it right here.
How to create an activity trail for your school
Want to transform your tired schoolyard into a play haven?
With the school holidays approaching, now is the perfect time to start looking at new school playground equipment and asking your pupils what apparatus they'd like to see, come September.
Whilst you could choose a challenging climbing frame with a slide to whizz down, more and more primary schools are opting for adventure trails. Perhaps you could do the same?
These trails can be tailored to suit your exact specifications and allow pupils to practice a broad range of skills. For example, Early Years Foundation Stage (EYFS) can develop low-level balancing and coordination skills whilst Key Stages 1 and 2 can challenge their physical and mental strength with climbing activities.
In this article, you can get some pointers on how to create a fun-filled activity trail for your school children.
Four factors to think about when designing an activity trail
Space
Though trails can be linear in shape, they are great for joining irregular spaces in the playground. That means, if you have any unused spaces, you can transform them with exciting new school playground equipment.
How much available space you have can also determine what type of components your trail consists of, which leads us on to the next point.
From balancing beams and stepping logs to scrambling nets, rope bridges, monkey bars, climbing walls, and tunnels, you can make your activity trail as challenging as you like.
Of course, you want to encourage youngsters to set themselves targets – but you need to be realistic, so keep in mind their ages and abilities to ensure they can use the activity trail safely.
When investing in any new playground apparatus, you need to think carefully about how much you can afford to spend.
It's worth arranging a meeting with the board of governors to explain your ideas and to explore your fundraising options. Alternatively, you may consider applying for a grant.
Although it's perfectly possible to install an adventure trail directly onto grass, it's advised that you opt for some type of safety surfacing – i.e. rubber mulch, synthetic grass, rubber bark, mats, or matting.
In doing so, you can relax knowing that your students can play safely in wet weather, without the play area becoming flooded or waterlogged.
Seek expert advice
By far the best thing you can do when investing in new play equipment for your school – be it a single unit or an activity trail – is to arrange a consultation with playground specialists, like Setter Play.
They have been designing, manufacturing and installing playground equipment for schools in Bedfordshire and the surrounding area for more than 20 years, and consider no job too big or too small.
During the consultation, you can share your initial ideas with their design team, and they will create a plan – taking into consideration you and your pupils' requests. They can even offer tips and recommendations in this appointment to ensure that you create the most exciting activity trail for your students.
So, why not get in touch with them today?
This is the Marvel-DC crossover movie that James Gunn wants to make
There's a new Suicide Squad movie coming out next week, and people seem to love it. Many reviews are praising James Gunn's work on the famous team of DC villains. Now that Gunn is done with his Suicide Squad reboot, he's returning to the Marvel universe, where he will end his Guardians trilogy with Vol. 3, which is set to launch in May 2023. Gunn might work on other comic book projects in the future. We have no idea what his schedule entails. But the writer/director just revealed that he would love to do a Marvel-DC crossover movie. That might sound impossible right now, as these are two separate universes belonging to two different corporations. But Gunn already knows what his Marvel-DC film would be. And he even pitched the idea.
Today's Top Deal
Echo Buds have noise cancellation just like AirPods Pro — but they're on sale for $100 less! List Price:$119.99 Price:$89.99 You Save:$30.00 (25%)
Buy Now Available from Amazon, BGR may receive a commission Available from Amazon BGR may receive a commission
There's no question that Marvel's MCU is the more exciting superhero ecosystem right now. Warner Bros. stumbled along the way, rushing out its own superhero team-up movie before it even introduced all of the heroes. But DC still has plenty of potential, as Gunn's The Suicide Squad seemingly shows. And Warner has several DC movies in the works, including its own big multiverse story that might rival Marvel's.
Bridging the two worlds with a Marvel-DC film or a series of movies would give fans the kind of event that we'd never expect. Marvel and DC superhero teams could fight teams of Marvel and DC supervillains. The sky is the limit. Bu the red tape makes it sound nearly impossible.
Gunn's Marvel-DC movie pitch
Talking to YouTube channel Jake's Takes, Gunn explained that he pitched a Marvel-DC film to the heads of the two studios. He said that he would love to do a Harley Quinn and Groot movie:
Well, I would be really happy to do a Harley Quinn and Groot movie. That would be exciting for me. And not only have I thought about that but I've actually talked about that to the heads of both Marvel and DC. But, you know, it's like, they… you know, everybody's open to everything, but whether anything would ever happen, who knows? But the idea of being able to bring Marvel and DC together in a movie is, that would be really fun for me.
Gunn acknowledged the "Berlin wall of lawyers" that he and other people partial to the idea of connecting Marvel and DC heroes via films:
And I know it's exciting for even the heads of Marvel and DC to think about. Kevin Feige over at Marvel and Toby Emmerich over at Warner Bros. You know, it's something we all like to dream about. Whether we could ever get through the barrage, the Berlin Wall of lawyers we would need to get through to ever make something like that happen, I don't know, but it would be a blast.
Gunn also put forward a second idea that he could get behind for a Marvel-DC movie: A team-up between Rocket and Groot for Marvel and King Shark and Weasel for DC.
While we wait for these pipe dreams to come true, The Suicide Squad launches in theaters and HBO Max next week. Gunn's interview with Jake's Takes follows below:
Today's Top Deal
Behold: Apple AirPods Pro just hit Amazon's lowest price of 2021! List Price:$249.00 Price:$189.99 You Save:$59.01 (24%)
Buy Now Available from Amazon, BGR may receive a commission Available from Amazon BGR may receive a commission