Profit Connect has been shut down by the SEC.
The regulator alleges mother and son founders, Brent Carson Kovar and Joy Irene Kovar (86), were behind a $12 million dollar Ponzi scheme.
As alleged by the SEC, from mid 2018 the Kovars "raised at least $12 million from over 277 investors through their company, Profit Connect".
Defendants promised investors that their money would be invested in securities, bitcoin and other cryptocurrencies based on recommendations made by an "Artificial intelligence supercomputer."

Profit Connect claims that its supercomputer consistently generates enormous returns, which in turn allows Profit Connect to guarantee investors fixed returns of 20%-30% per year with monthly compounding interest.

However, Profit Connect is a fraud. The majority of funds received by Profit Connect did not come from any investments or profits generated by a "supercomputer."

Instead, over 90% of Profit Connect's funds came from investors.
This is in line with BehindMLM's Profit Connect review, published December 2020.
One thing I'm confused about however is Eddie Kona citing himself as Profit Connect's founder.
I initially thought Brent Kovar was an alias for Kona, but they are in fact two different people.
Kona is still citing himself as "founder/owner" of Profit Connect: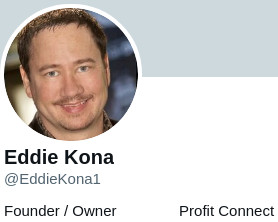 He was also promoting Profit Connect on social media, right up until mid May:

Kona isn't mentioned in the SEC's lawsuit. I'm not sure what's going on there (anyone?).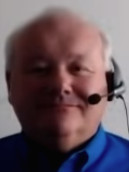 Personally I hadn't heard of Brent Kovar (right) until today, and there's a very good reason for that.
In 2010, the SEC obtained a permanent injunction, a penny stock bar, and an officer and director bar against B. Kovar for his role in a pump-and-dump offering fraud.
To lure new investors in, Brent Kovar represented Profit Connect had a magic trading bot. Through this bot investors were promised fixed annual returns of up to 30%.

Here's what actually happened:
Defendants misused investor money by, among other things, transferring millions of dollars to J. Kovar's personal bank account, paying millions of dollars to promoters who brought investors to the Profit Connect website to invest, and making payments to other investors in a Ponzi-like fashion.

Profit Connect bank accounts do not show any revenue or profits being generated.
Brent Kovar misappropriated "almost $353,000" of investor funds. He also purchased a house to live in, putting it in Profit Connect's name.
In addition to being the recipient of stolen Profit Connect investor funds, Joy Kovar's name was used to set it up.
Profit Connect Wealth Services Corp. is a Nevada corporation formed on May 2, 2018. Its principal place of business is Las Vegas, Nevada. Profit Connect was formed by J. Kovar, who has served as its president and treasurer since its inception.

Joy Irene Carson Kovar, age 86, resides in Las Vegas, Nevada. J. Kovar formed Profit Connect on May 2, 2018 with herself as its president, treasurer, secretary and director.

In April 2019, J. Kovar named her son B. Kovar as the director of Profit Connect in her place.

J. Kovar remained the president and treasurer of Profit Connect and she holds those positions today. J. Kovar has opened at least eight bank accounts in the name of Profit Connect at three different banks.

J. Kovar was the sole signatory on six of the Profit Connect bank accounts, including the primary account that received investor funds, until she recently added her son, B. Kovar, as a signatory to two existing Profit Connect bank accounts and to two new bank accounts in the name of Profit Connect.
Here's the specific breakdown of funds invested into Profit Connect over the years:
Over $3 million of investor funds was used to make payments to various promoters who solicited investors in Profit Connect using their social media platforms.

Approximately $1 million went to other individuals associated with Profit Connect, including individuals who have been issued credit cards in the name of Profit Connect.

As of April 12, 2021, J. Kovar had used at least $1.679 million of investor funds for her own use, including for credit card purchases, in-person cash withdrawals, and an automobile.

Very recent bank records show that between April 21, 2021 and June 9, 2021, J. Kovar made ten transfers of at least $120,000 each from the Profit Connect Investor Account to her own personal bank account – for a total of more than $1.2 million in less than two months.

Over $250,000 went to charges for photography, apparel and a charity related to B. Kovar.

At least $629,000 was used to repay other investors.

At least $440,000 was used to purchase a residential home in January 2021 which B. Kovar facilitated by signing the grant deed.

$1.6 million of investor funds went to make payments on a number of different credit cards, including a credit card in the name of Profit Connect.

These credit card charges included almost $353,000 charged on the Profit Connect credit card assigned to B. Kovar for expenses related to restaurants, grocery stores, Amazon and Costco between June 9, 2020 and April 8, 2021.

On April 2, 2021 alone, B. Kovar charged over $23,500 at Costco.
Profit Connect wasn't even a "good" Ponzi scheme. $12 million in, $629,000 out in returns.
By March 2021 Profit Connect was still bringing close to $2 million a month.
In March 2021, the Profit Connect Investor Account received $1,841,227.31 in deposits.

At least $1,745,269.66 of the deposits (94.7%) were from individuals who appear to be investors. $90,648 of these deposits (4.9%) were from other individuals or entities.
Of that amount
Brent Kovar paid $519,400 to himself;
$172,340 was used to pay Profit Connect credit cards;
$67,657 was used to pay Profit Connect investors (approx 5%); and
$54,340 was used to pay MLM pyramid commissions (approx 4%).
Forensic accounting conducted by the SEC revealed that, despite offering affiliates a "money back guarantee", by March 2021
Profit Connect had less than 20% of the total investor funds raised in its bank accounts and could not possibly return all investor funds.
The SEC alleges 'the Wealth Builder accounts offered by Profit Connect are securities'.
The regulator has charged Brent and Joy Kovar with five violations of the Securities and Exchange Act.
The SEC's sealed complaint, motion for a TRO and motion for a preliminary injunction were filed on July 8th.
On July 14th the court granted the SEC an emergency ex parte TRO, freezing Profit Connect's and the Kovar's assets.
The Profit Connect case was unsealed on July 16th.
The Kovar's attorney, representing both of them and Profit Connect, entered an appearance on July 19th.
Stay tuned for updates as we continue to track the case.
Update 21st July 2021 – It seems the reason Eddie Kona is missing from the SEC's lawsuit is because he died in late May or early June.
This is a post from a publicly available Profit Connect Facebook group: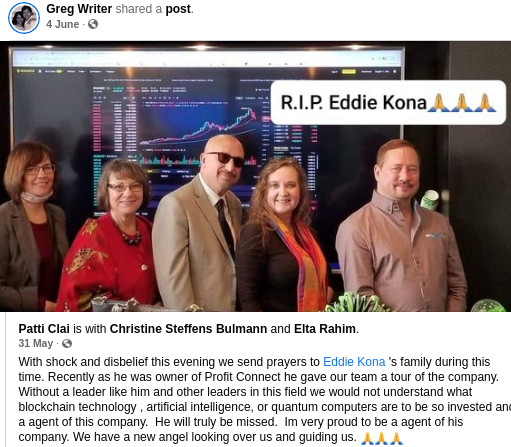 The SEC's lawsuit does mention an unnamed "secretary";
In April 2019, J. Kovar named her son B. Kovar as the director of Profit Connect in her place. She also named another individual as the secretary of Profit Connect.
This could be a reference to Kona. It's still a bit odd though that Kona wasn't mentioned in the complaint.
In addition to reviewscenter.net will try to provide their observations and make the best review here. But this monitoring is not complete without your comments, messages and reports. So post your comments on the investment system provided at the end of each post or email reviewscenter.net@gmail.com
NOTE:
reviewscenter.net is not a financial and investment system and it never enter into the investment services's area.
Our main task is to provide the correct payment for hyips and their related data.
reviewscenter.net has no responsibility for your investments.
Do your investment with more observation and investigation.
Is investaxa.com Scam or Not?
Read articles you may want:
everything a beginner needs to know
how to start investing in bitcoins
Bitcoin Analysts Regard a Short-Squeeze, Crypto Market Analyze
The funding rate scales the cost to fund long positions in the market for bitcoin ever lasting changes. In another word, a type of derivative in the cryptocurrency markets look like futures contracts in traditional markets.
Since June, total assets under management across exchange-traded. And also over the counter traded digital asset investment products dropped by 14% to $34.8 billion.
Weighed up with traditional asset classes, digital asset markets still own a "long way to go before more risk-averse investors are fully at ease,". Based on a report by CryptoCompare.
NFT effect on Ether
As NFTs obtain reputation regardless of an overall bearish sentiment in the crypto market. Some NFT critics inside the market took to Twitter blaming the non-crypto natives who withdrew their Ether at once after NFT sales for the uninspired price movement of the second-largest cryptocurrency by market capitalization.
However, based on multiple analysts and market contributors, the effect of NFT sales, stays a nonfactor on Ether's prices. Instead, the complaint showcases many traders and investors' frustrations in a slow market.
The guess"is more like a reflection of the current market sentiment,". Daniel Lv, co-founder of China-based blockchain Nervos Network, told Muyao Shen through a representative.
The blame, though, isn't all irrational since growth in the NFT market has not quite slowed down partly because of the large number of confirmations, got from non-crypto celebrities.
Celebrities Who Have Invested in Bitcoin
Bitcoin, and cryptocurrency in general, is an ever-growing phenomenon in the 21st century. Since the invention of Bitcoin in 2009, Bitcoin stocks have grown rapidly. People today are becoming more and more accepting of Bitcoin, with seventeen percent of the American adult population admitting to having invested in Bitcoin, and even more admitting that they've invested in other cryptocurrencies.
It isn't just regular, everyday people who have shown an interest in Bitcoin, and crypto, though. Many major celebrities have embraced digital currency, and have made quite a pretty penny out of it. In this article, we will take a look at a few celebrities who have invested in Bitcoin and the profits they have made.
But first, let us take a look at how Bitcoin investment works, and how you can profit off of it.
How to Profit off of Bitcoin
The best way to profit from any form of digital currency is to make an account at one of the many crypto trading sites. These sites offer an interface that is easy to use for beginners and allow new investors to purchase or sell their digital assets. Most trading sites require little else than a password, email, and username.
One of the sites which offer these benefits is Bitcoin Power. Not only is it easy to use, but it also provides a safe and secure network, allowing you to track your earnings at any point in the day, in real-time. Also, these sites use new Artificial Intelligence technology to read and predict the volatility and fluctuation of the crypto stock market and allow you, as an investor, to make the best investments and maximize your profit.
Now let's take a look at a few celebrities who have embraced cryptocurrency as a viable method of profit, and how it went for them.
Paris Hilton
Hotel heiress, actress, and social media influencer, Paris Hilton has admitted to dabbling in Bitcoin and NFTs. Last year, Ms. Hilton admitted to purchasing stocks in Bitcoin, and subsequently, she changed her social media profile images to feature laser eyes. The laser eye meme is associated with the rise of the stock of Bitcoin.
When questioned further about bitcoin and NFT's in the interview, Ms. Hilton claimed Bitcoin is the future, and she is very excited about the opportunities it can provide. In March of 2020, Ms. Hilton won the NFT Charity Award for her first NFT, which subsequently blew up and has been very exciting for the young heiress.
Mike Tyson
Bitcoin has become quite a popular form of currency in the boxing world, with many professional boxers, such as Floyd Mayweather looking into, or already investing in the cryptocurrency. But, in 2016, ex-heavyweight champion, Mike Tyson, took his interest in Bitcoin a step further, with the launch of his very own digital wallet. A year prior, Mr. Tyson had sponsored a Bitcoin ATM, an ATM that allows Bitcoin investors to trade real cash into cryptocurrency. After this proved successful, the ex-heavyweight champion took it further by releasing a digital wallet.
A digital wallet, for those who may not know, is a software system that allows for the safe storage of user information regarding numerous payment methods, including Bitcoin. This move has inspired other professional boxers, such as Tyson Fury to get into the world of cryptocurrency and NFTs.
50 Cent
American rapper, actor, TV, and music producer 50 Cent, real name Curtis Jackson, made the controversial decision to accept Bitcoin payments for his album "Animal Ambition" in 2014. At the time, Mr. Jackson got about 700 Bitcoin, which in 2014 was worth around $500.000. A few years later, however, in 2019, the price of Bitcoin skyrocketed, earning the rap legend an astonishing $8.000.000.
Jackson, in an Instagram post, claimed that he is proud of himself, thought that he had forgotten all about selling his album for bitcoins.