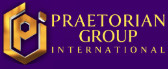 After failing to initiate an exit-scam through Nui's Kala shitcoin, Praetorian Group International has pulled its website offline.
PGI Global's website was pulled roughly 48 hours ago. I held off reporting the collapse in case it was just a technical error.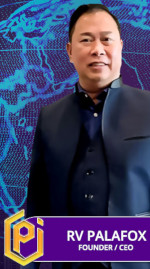 PGI Global's collapse has seen the company censor comments on its official Facebook page.
The company's last post is dated June 27th, detailing a broadcast related to PGI Global's shell company in Estonia.
As per BehindMLM's PGI Global review, the Ponzi scheme is run by Ramil Ventura Palafox (aka RV Palafox).
Originally from the Philippines, Palafox is believed to have obtained US citizenship.
A November 2016 report covering an immigration bust details the arrest of "Ramil Palafox" in the Philippines.
The Bureau of Immigration (BI) recently apprehended an American citizen who allegedly acted as a courier of a human trafficking syndicate and tried to smuggle six Filipinas out of the country.

In a statement issued yesterday, Commissioner Jaime Morente said Ramil Palafox and the Filipinas were intercepted at the Ninoy Aquino International Airport (NAIA) Terminal 2 on Nov. 18 just as they were about to board a Philippine Airlines flight to Hong Kong.

During questioning, the six women, whose names the BI did not disclose, told the bureau that their actual destination was Dubai, where they would have worked as domestic helpers.

A report from the BI's travel control and enforcement unit said the passengers claimed that Palafox was in possession of their United Arab Emirates visas.

He later reportedly took out the visas from his hand-carried bag after initially denying that he had them.
As I understand it Palafox fled to Dubai earlier this year.
Due to its lack of regulation and extradition treaties, over the past two years Dubai has emerged as the MLM scam capital of the world.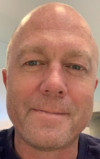 Palafox's partner in crime, Australian based Mark Davis (right), abandoned his social media accounts in October 2020. Davis' personal website has also been pulled offline.
An unverified list doing the round details PGI Global management and country specific net-winners:
PGI FOUNDERS

Ramil Ventura Palafox – PGI founder/CEO

Mark Davis – Vice President, PGI Global and COO

Raquel Paulino – Co founder, Philippines

Rosario Austria, MD – Vice President, Health & Well being

PGI PRESIDENTS – ENABLERS

Helen L Graham- PGI Global President

Shofi Ullah- PGI President Europe

Bako Faysal – PGI President Asia

Benny Akiki Mwesigwa – PGI President Africa

Philip Ndungu – PGI President Latin America

Mingthoy Mendez – PGI President Latin America

Miguel Lopez – PGI President Latin America

Mielli Motsepe – PGI President South Africa

Harrison Omojafo – PGI President UK

Swimm Oma-Pharooq – PGI President UK

Julie Ladycoin – PGI President Nigeria

Shaida Kareem – PGI President Iraq

Dr Rose Okpara – PGI President North America

Claire Wilkinson – Helen Graham's Secretary

Denise Skeels – Ramil Ventura Palafox's PA/Liaison Officer

Pastor Edson – Master Distributor UK

Sarah Louise (PGI recruiter)
The majority of PGI Global victims are believed to be from the US. Alexa currently pegs the US as the largest source of traffic to PGI Global's website at 47.9%.
MyCOM Review: Failed ecom platform turns to crypto fraud

Owing to MyCOM intentionally omitting details of their MLM opportunity in their marketing, this isn't a typical BehindMLM review.
Hiding information is a common occurrence across the various facets of parent company Tesora Financial's operations, which made putting together this review a headache.
On that basis alone I'd recommend avoiding MyCOM and Tesora Financial. MLM companies only go to these lengths to hide information when they're up to no good.
If you want to know what exactly MyCOM and Tesora Financial are up to, read on.
MyCOM is headed up by founder and CEO Jaime Villagomez.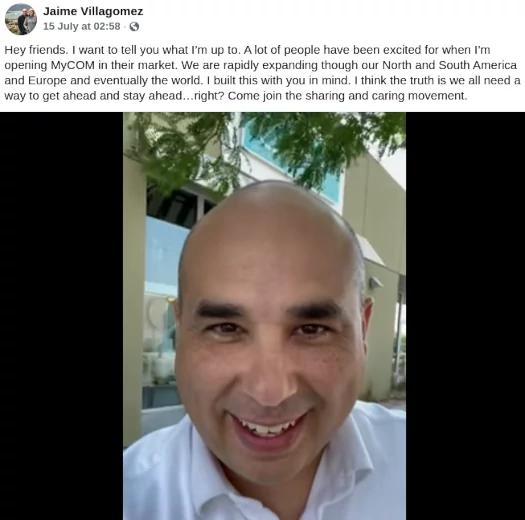 Villagomez is also founder and CEO of Tesora Financial Group (dba Tesora International) and all its attached shell companies.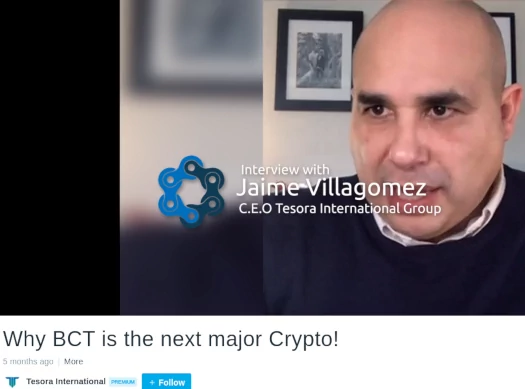 Villagomez runs MyCOM and Tesora Financial Group from Utah in the US.
MyCOM launched in 2017 as an ecommerce platform MLM company.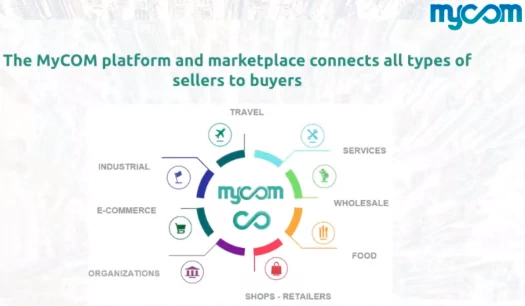 Four years later, here's how that's going: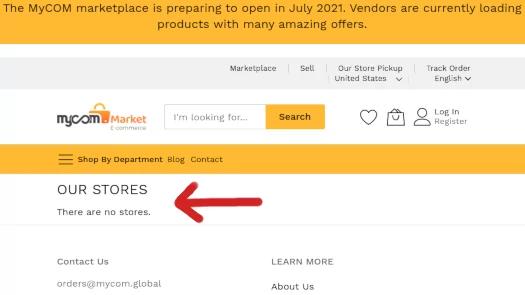 MyCOM's marketplace is a failure on every measurable metric. Thus it's not surprising Tesora Financial and Villagomez have jumped on the crypto bandwagon.
Before we get into that though I want to go over what MyCOM is pitched as.
Essentially you're looking at the usual closed ecommerce portal with cashback. As opposed to actual cashback, affiliates, customers and businesses are paid in COMS – which Villagomez stresses "isn't a cryptocurrency".
That's disingenuous though, because at some point there does appear to have been a crypto component to COM points:

That distinction aside, COMS might as well be an in house MyCOM cryptocurrency.
Retail customers receive COMS when they purchase products on MyCOM's empty marketplace. They can't cash them out.
Retail merchants are paid in COMS, which they can cash out.
Whether MyCOM affiliates can cash out COMS isn't specified, which likely means they can (hush hush).
Oh and for some reason COMS can be directly invested into, which makes no sense other than as a money spinner for MyCOM.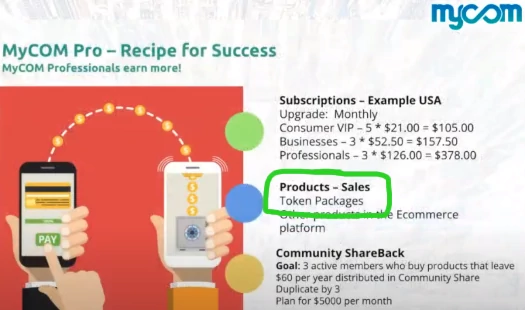 On the MLM side of things whether commissions are paid on MyCOM investment isn't specified.
What we do know is MyCOM charges merchants fees, which funds the cashback (referred to as "shareback" because reasons).
Of this collected cashback fee from the merchant, MyCOM keeps 30% and pays
30% to the purchaser
1% to 4% to the referring MyCOM affiliate (based on how much they're paying in fees)
4% to the MyCOM Pro Advisor assigned to the store
15% to "regional managers"
20% through a ten-level deep unilevel team
MyCOM intentionally hides this unilevel compensation structure. You won't find it anywhere on the internet or in their marketing videos.
The reason I've seen cited for the deception is because MyCOM doesn't want to be seen as an MLM company. They feel this will better position them to attract merchants (see screenshot above, that's going swell).
Shady business practices aside, MyCOM's Marketplace failed because it's an outdated model.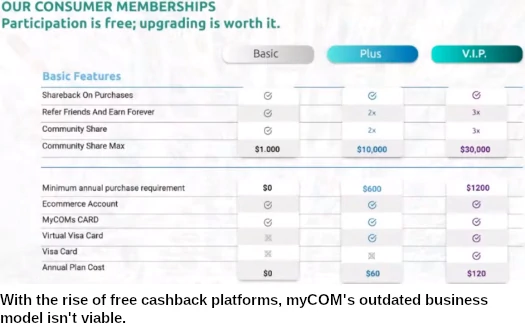 MyCOM charges customers for access based on a three-tier pricing model:
Basic – no cost
Plus – $60 annually
VIP – $120 annually
The more you pay the more COM points you can earn.
Oh and as a potential customer, you have to be referred by an existing MyCOM affiliate.
That's going up against the multitude of free apps and browser cashback/voucher extensions – all of which provide vastly superior coverage of available merchants.
No fees, no restrictive ecosystem to buy into, and some of them actually offer cashback.
That's what MyCOM's Marketplace business model is competing against. So it's no wonder the concept failed.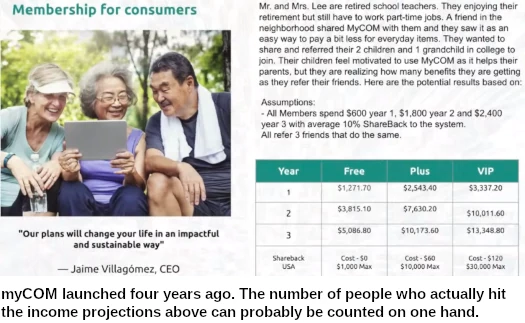 This is the Achilles' heel of every MLM ecommerce cashback platform. Fees have the be charged somewhere or there's no commissions to pay out.
With respect to affiliate fees, MyCOM charges:
Business Consultant – $360 annually
Professional Rep – $600 annually
MyPoint Pro – $900 annually
Again, how much you spend directly impacts earning potential.
MyCOM's business fees are:
Free – no cost, capped at $500 Shareback
Plus – $100 annually, capped at $50,000 Shareback
VIP – $300 annually, capped at $150,000 Shareback
Same story.
MyPoint membership is $900 annually or $75 a month. It appears to be a purely "upgrade your income potential" membership fee.
Whether commissions are paid out on the above membership fees is not disclosed. I'd assume so, otherwise what else is MyCOM doing with those fees?
Anyway now that we've established what MyCOM is and why it failed, let's move onto the next phase of Tesora Financial: crypto shitcoins.
There are a ton of shell companies within Tesora Financial, only a few of which have been elaborated on.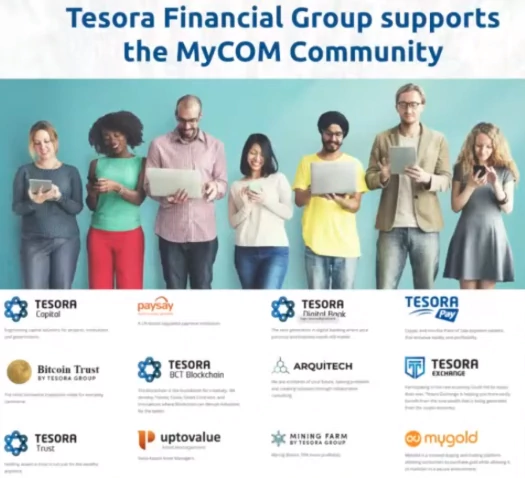 The primary companies we're going to reference are Bitcoin Trust, Tesora Trust, Tesora Custody and Tesora Exchange.
Tesora Financial's primary shitcoin is Bitcoin Trust.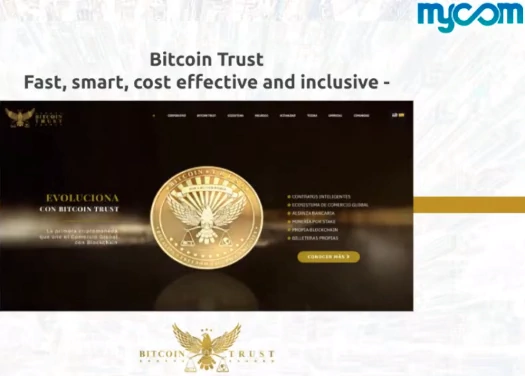 Based on the company's roadmap, Bitcoin Trust (BCT) is an ERC-20 shitcoin.

ERC-20 shitcoins can be set up in five minutes or so on the ethereum blockchain, at little to no cost.
MyCOM affiliates invest directly into BCT through their backoffice.

As per the above example from Jaime Villagomez's backoffice, Tesora Financial sells BCT to affiliates for 0.9994 USDT each.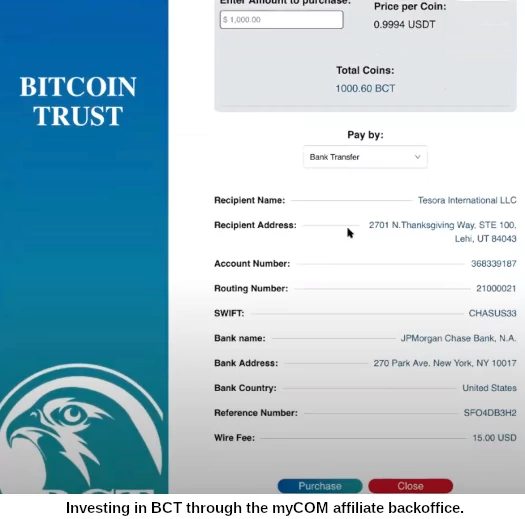 The primary reason for BCT investment, as per Tesora Financial's own marketing, is the implication that affiliate investors will eventually be able to withdraw more than they invested.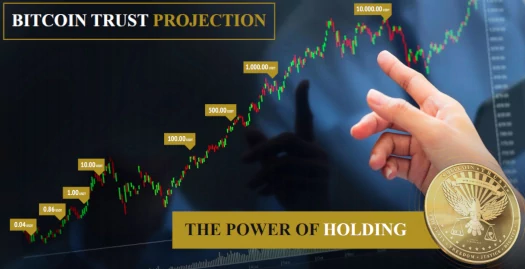 Due to aforementioned secrecy, I wasn't able to ascertain whether commissions are paid on BCT investment.
Once invested in, BCT is parked with the company. In exchange for doing this, Tesora Financial rewards affiliate investors with more BTC. Internal value goes up, and thus affiliates cash out more than they invested.

In other words BCT is your typical MLM crypto passive investment scheme.
Built into this a shitcoin factory (why stop at one shitcoin), purportedly attached to themed smart-contracts.
One of these shit tokens is "mobility token":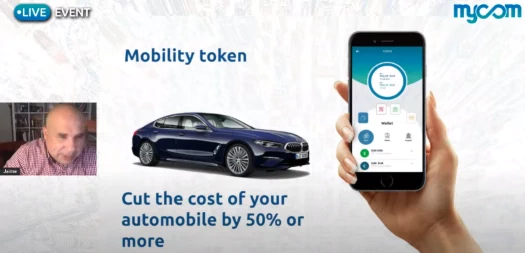 In a mobility token promo video uploaded in August 2020, My ECOM pitches "you can drive you dream car, for free".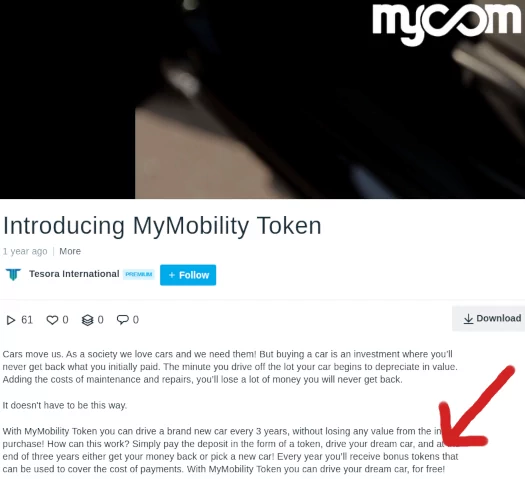 The idea is affiliates invest in mobility tokens, get more mobility tokens as a return, cash out other people's money and that money is used to pay off the car loan.
The mobility token scheme has a place on Tesora Financial's website under "AutoMobility".

There you find a link to another website, "automobility.it".
As far as I can tell, Auto Mobility is an independent Italian business that predated MyCOM.
Naturally there's nothing about a mobility token on Auto Mobility's website.
The only reference I found was one post on Auto Mobility's official Facebook page, dated August 2020.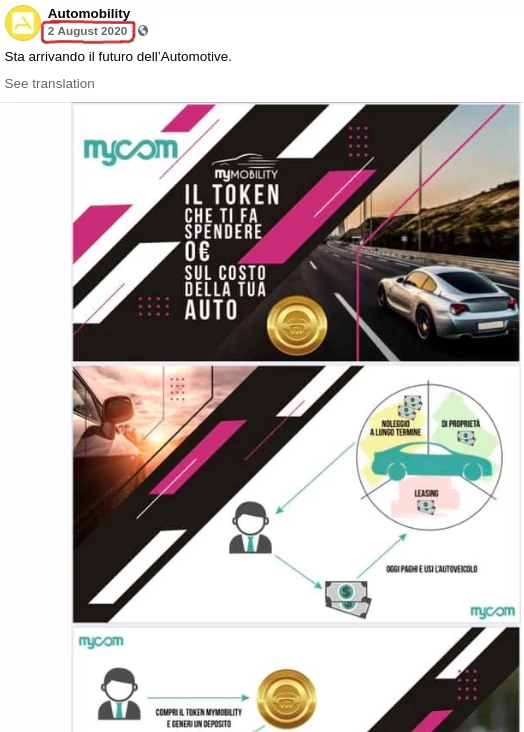 Seems kind of odd Auto Mobility isn't advertising free cars all over its website.
Other themed shit tokens Tesora Financial pushes is a business startup (power start) and real estate (power house). Same nonsense, invest in tokens, park tokens, get more tokens, cash out – free everything.
Tesora Trust is a secret passive investment opportunity. It has a place on myCOM's website but the company is intentionally opaque about specifics: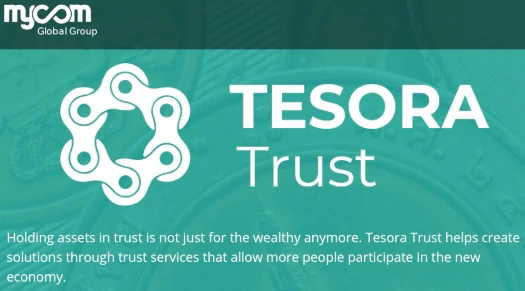 "Holding assets" sounds like another avenue to park tokens, get more tokens and cash out through.
The linked website domain, "tesora.io", naturally doesn't work.
Tesora Custody is a passive bitcoin investment opportunity, accessible through myCOM.

Deposit your bitcoin into Tesora Custody and earn more coins!

There is no sense in holding your bitcoins without trading, place them on deposit, and make them work for you!
Sounds like your typical crypto trading Ponzi scheme ruse.
Finally we have "Mining Farm by Tesora Group", another passive investment opportunity.

Mining Farm by Tesora Group allows through Tesora tokens [sic] for community members to participate without having to manage the technology.
This is the only reference to a "tesora token" I came across.
By offering multiple passive investment opportunities through their MLM opportunity or otherwise, Tesora Financial Group and Jaime Villagomez have created and are promoting multiple securities offerings.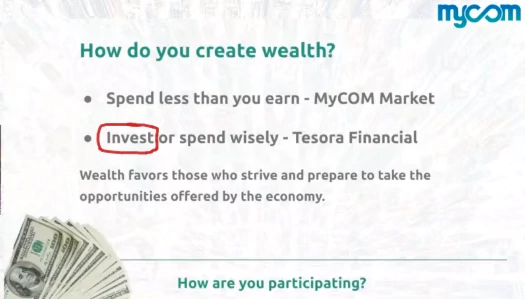 With all of this going down in the US, this means myCOM and Tesora Financial Group need to register their securities offerings with the SEC.
Neither MyCOM, Tesora Financial Group, any of the known shell companies or Jamie Villagomez are registered with the SEC.
And now you know why this is all kept secret and quietly marketed behind closed doors.
To recap;
myCOM is a failed ecommerce platform MLM company that hides the fact its an MLM company;
parent company Tesora Financial Group has jumped on the crypto bandwagon, launching several passive investment schemes;
neither myCOM or Tesora Financial Group are registered with the SEC, meaning the company is committing securities fraud and operating illegally.
You know the drill. This won't end well.
In addition to reviewscenter.net will try to provide their observations and make the best review here. But this monitoring is not complete without your comments, messages and reports. So post your comments on the investment system provided at the end of each post or email reviewscenter.net@gmail.com
NOTE:
reviewscenter.net is not a financial and investment system and it never enter into the investment services's area.
Our main task is to provide the correct payment for hyips and their related data.
reviewscenter.net has no responsibility for your investments.
Do your investment with more observation and investigation.
Is hypertech.pro Scam or Not?
Read articles you may want:
everything a beginner needs to know
how to start investing in bitcoins
In addition to reviewscenter.net will try to provide their observations and make the best review here. But this monitoring is not complete without your comments, messages and reports. So post your comments on the investment system provided at the end of each post or email reviewscenter.net@gmail.com
NOTE:
reviewscenter.net is not a financial and investment system and it never enter into the investment services's area.
Our main task is to provide the correct payment for hyips and their related data.
reviewscenter.net has no responsibility for your investments.
Do your investment with more observation and investigation.
Is expertbtctrade.com Scam or Not?
Read articles you may want:
everything a beginner needs to know
how to start investing in bitcoins