A report from the US task force dedicated to investigating UFOs — or, in the official jargon, UAPs (Unidentified Aerial Phenomena) — has neither confirmed nor rejected the idea such sightings could indicate alien visits to Earth.
On Friday June 25, the Office of the Director of National Intelligence (ODNI) released its eagerly awaited unclassified intelligence report, titled "Preliminary Assessment: Unidentified Aerial Phenomena".
The document is a brief nine-page version of a larger classified report provided to the Congressional Services and Armed Services Committees. It assesses "the threat posed by unidentified aerial phenomena (UAP) and the progress the Department of Defence Unidentified Aerial Phenomena Task Force has made in understanding this threat".
The report certainly does not, as many were hoping, conclude UFOs are alien spacecraft. Rather, it shows the task force hasn't made much progress since first being set up ten months ago. Perhaps this is unsurprising, given its task.
However, the task force's very existence would have been unthinkable to many people just one year ago. It's unprecedented to see the broader policy shift towards the acknowledgment of UFOs as real, anomalous physical phenomena that are worthy of extended scientific and military analysis.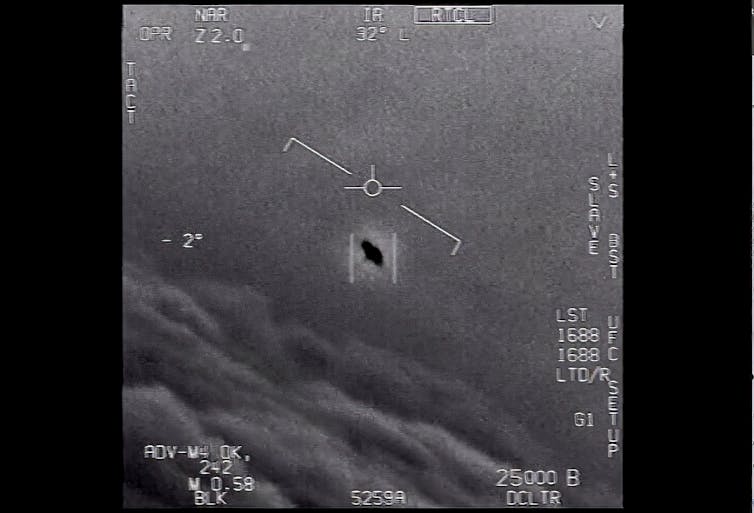 Seemingly advanced technologies
The report withholds specific details of its data sample, which consists of 144 UFO reports made mostly by military aviators between 2004 and 2021. Its bombshell finding is that "a handful of UAP appear to demonstrate advanced technology".
This "handful" — 21 of the 144 reports — represents classic UFO enigmas. These objects:
appeared to remain stationary in winds aloft, move against the wind, maneuver abruptly, or move at considerable speed, without discernible means of propulsion. In a small number of cases, military aircraft systems processed radio frequency (RF) energy associated with UAP sightings.
These characteristics indicate some UAP may be intelligently controlled (because they aren't blown around by the wind) and electromagnetic (as they emit radio frequencies).
In March, Former Director of National Intelligence John Ratcliffe told Fox News some reports describe objects "traveling at speeds that exceed the sound barrier without a sonic boom". Sonic booms are sound waves generated by objects breaking the sound barrier.
No known aircraft can travel faster than sound without creating a sonic boom. NASA is currently developing "quiet supersonic technology", which may allow planes to break the sound barrier while issuing a subdued "sonic thump".
Some have claimed the objects are probably secret, advanced Russian or Chinese aircraft. However, global aerospace development has failed to match the flight characteristics of objects reported since the late 1940s. And it seems counterproductive to repeatedly fly secret aircraft into an adversary's airspace where they can be documented.
How did we get here?
The report's release is a profoundly important moment in the history of the UFO mystery, largely because of its institutional context. To fully appreciate what this moment might mean for the future of UFO studies, we have to understand how the UFO problem has been historically "institutionalized".
In 1966, the US Air Force was facing increasing public pressure to resolve the UFO problem. Its effort to do so, then known as Project Blue Book, had become an organizational burden and a public relations problem.
It funded a two-year scientific study of UFOs based at the University of Colorado, headed by prominent physicist Edward Condon. The findings, published in 1969 as the Final Report on the Scientific Study of Unidentified Flying Objects, allowed the Air Force to end its UFO investigations.
Condon concluded nothing had come from the study of UFOs in the past 21 years that added to scientific knowledge. He also said, "further extensive study of UFOs probably cannot be justified in the expectation that science will be advanced thereby".
Nature, one of the world's most reputable scientific journals, described the Condon Report as a "sledgehammer for nuts". But by then the Air Force had collected 12,618 reports as part of Project Blue Book, of which 701 sightings were categorized as "unidentified".
Unlike the new Pentagon report, the Condon Report didn't find any UFOs that appeared to demonstrate advanced technology. The most problematic cases were resolved by being categorized ambiguously. Here's one example:
This unusual sighting should therefore be assigned to the category of some almost certainly natural phenomenon which is so rare that it apparently has never been reported before or since.
With this strategic category in the toolkit, there was no need to acknowledge seemingly advanced technology exhibited by UAPs. Indeed, they were deliberately filtered from institutional knowledge.
Recovering from 'institutional forgetting'
For most of their postwar history, UFO reports have been regarded by state institutions as knowledge out of place, or "information pollution" — something to be excluded, ignored, or forgotten.
The Pentagon's UAP task force represents an abrupt reversal of this long-standing organizational policy. UFO reports, made primarily by military personnel, are no longer pollutants. They are now important data with national security implications.
That said, they do still represent "uncomfortable knowledge". As the late Oxford University anthropologist Steve Rayner observed, knowledge can be "uncomfortable" for institutions in two ways.
First, Rayner said, "acknowledging potential information by admitting it to the realm of what is 'known' may undermine the organizational principles of a society or organization".
Meanwhile, he said "not admitting such information may also have serious deleterious effects on institutions, either directly or by making them prone to criticism from other parts of society that they 'ought' to have known". Both aspects describe the institutional context of UFO information.
The US Department of Defence has confirmed UFOs threaten flight safety, and potentially, national security. In doing so, it has exposed a weakness in its organizational principles. It has admitted it's not very good at knowing what UFOs are.
It also faces the criticism that seven decades after UFOs first appeared on the radar, it ought to know what they are. The new Pentagon report doesn't compel us to accept the reality of alien visitation. But it does compel us to take UFOs seriously.

Article by Adam Dodd, Tutor, The University of Queensland
This article is republished from The Conversation under a Creative Commons license. Read the original article.
iOS 14.7.1 now available with fix for Apple Watch unlock bug
Apple rolled out iOS 14.7.1 to the public on Monday — exactly one week after iOS 14.7 debuted. This is a minor update that addresses a bug that was introduced in iOS 14.7. As Apple noted, iOS 14.7 "affects the ability of iPhone models with Touch ID to unlock Apple Watch." Once the update has been applied, this issue should be resolved, and everything should unlock correctly.
Today's Top Deal
Super-popular TP-Link Kasa mini Alexa smart plugs just hit a new all-time low price of $6 each! List Price:$26.99 Price:$23.99 You Save:$3.00 (11%)
Buy Now Available from Amazon, BGR may receive a commission Available from Amazon BGR may receive a commission
Which devices work with iOS 14.7.1?
If you're wondering whether or not your device is compatible with iOS 14.7.1 or iPadOS 14.7.1, here's a full list below with every compatible device. If your device is there, you're good to go:
iPhone 12
iPhone 12 mini
iPhone 12 Pro
iPhone 12 Pro Max
iPhone 11
iPhone 11 Pro
iPhone 11 Pro Max
iPhone XS
iPhone XS Max
iPhone XR
iPhone X
iPhone 8
iPhone 8 Plus
iPhone 7
iPhone 7 Plus
iPhone 6s
iPhone 6s Plus
iPhone SE (1st generation)
iPhone SE (2nd generation)
iPod touch (7th generation)
iPad Pro 12.9-inch (4th generation)
iPad Pro 11-inch (2nd generation)
iPad Pro 12.9-inch (3rd generation)
iPad Pro 11-inch (1st generation)
iPad Pro 12.9-inch (2nd generation)
iPad Pro 12.9-inch (1st generation)
iPad Pro 10.5-inch
iPad Pro 9.7-inch
iPad (7th generation)
iPad (6th generation)
iPad (5th generation)
iPad mini (5th generation)
iPad mini 4
iPad Air (3rd generation)
iPad Air 2
Here is Apple's full list of release notes for iOS 14.7:
MagSafe Battery Pack support for iPhone 12, iPhone 12 mini, iPhone 12 Pro and iPhone 12 Pro Max
Apple Card Family adds the option to combine credit limits and share one co-owned account with an existing Apple Card user
Home app adds the ability to manage timers on HomePod
Air quality information is now available in Weather and Maps for Canada, France, Italy, Netherlands, South Korea, and Spain
Podcasts library allows you to choose to see all shows or only followed shows
Share playlist menu option missing in Apple Music
Dolby Atmos and Apple Music lossless audio playback may unexpectedly stop
Battery service message that may have disappeared after reboot on some iPhone 11 models is restored
Braille displays could show invalid information while composing Mail messages
How to download and install iOS 14.7.1
Installing a new update on your iPhone, iPad, or iPod touch is an incredibly simple process. Navigate to Settings > General > Software Update and then tap "Download and Install" at the bottom of that page. If you prefer, you can also install the update through iTunes by connecting your iOS device to a computer. Whichever method you choose, just make sure to back up your device before installing an update so that you don't risk losing any of your data during the procedure.
Today's Top Deal
Control your garage door from anywhere with your smartphone or Alexa! List Price:$29.98 Price:$22.50 You Save:$7.48 (25%)
Buy Now Available from Amazon, BGR may receive a commission Available from Amazon BGR may receive a commission
This pro-grade 4K camera drone is $430 at Amazon, and it beats $800+ rivals
If you purchase an independently reviewed product or service through a link on
our website, we may receive an affiliate commission.
Do you want a professional-grade quadcopter drone from a big-name brand? Sadly, it can easily set you back $1,000 or even more. At best, you're going to spend $800 if you want decent features and a 3-axis gimbal. That's one of several reasons why we're such big fans of the Potensic Dreamer Pro. It's a relatively new model from a popular brand with a 4K camera and a 3-axis gimbal. Plus, it can easily go toe-to-toe with drones in the $800-$1,000+ range. But instead of having to pay $1,000 or more, this quadcopter retails for a fraction of that sky-high price.
That's especially true right now, thanks to a surprisingly good deal you can take advantage of for a limited time. Amazon has a coupon you can clip today that will slash the Dreamer Pro from $460 to $429.99. That's about half what you'll pay for a comparable drone from the top brand in the quadcopter market. How awesome is that?!
Anyone who knows anything at all about drones can probably name the go-to pro-grade quadcopter drone for amateurs and professionals on a budget. You also know that it costs $800 minimum. It's a high-quality quadcopter with pretty much all the key features you need. That includes a 4K camera that captures stunning video. Plus, you get a 3-axis gimbal that stabilizes video and still images captured during flight. On top of that, intelligent software and flight features round out the experience.
It should go without saying that not everyone has an extra $800 lying around. Especially not that they're willing to spend on a drone, no matter how great it is. If you're looking for a terrific alternative that checks all the same main boxes for much less money, you've definitely come to the right place.
Potensic's Dreamer Pro offers professional-grade quality and features at a fraction of what you'd pay for a comparable model from other companies. You get 28 minutes of flight time per charge, plus a stunning 4K camera with a high-quality Sony sensor. Additionally, you'll get a 3-axis gimbal for outstanding video and image stabilization. On top of all that, the Dreamer Pro is packed full of smart features that will help with any content you might be shooting. One example is a "follow me" mode that tracks moving objects and people. There's also a circle mode that flies in a perfect circle around any center point. Path mode lets you draw out a flight pattern the drone will fly on its own. Also, this drone has an impressive 2-kilometer transmission range and so much more.
This excellent Potensic drone is absolutely on par with the market leader and other quadcopters that fall into the $800 – $1,200 price range, yet the Potensic Dreamer Pro 4K camera drone with 3-axis gimbal retails for just $460. That's about half the price of comparable models from leading brands. Head over to Amazon and pick one up now, however, and you can save an extra $30 thanks to the clippable coupon. You definitely don't want to miss out on this great deal.
Potensic Dreamer Pro 4K camera drone with 3-axis gimbal Price:$429.99
Buy Now Available from Amazon, BGR may receive a commission
Here are the main takeaways you need to know about:
The 4K camera with a

1/3-inch SONY CMOS sensor

and the 3-axis gimbal combine capture stunning video that is stable and free from shakes and jitters
Capture and record aerial footage or stream live to your smartphone with a transmission range of up to 1.24 miles
Potensic's exclusive

PowerAC dynamic system

creates bursts of 3x power that are great for tricks
Advanced stabilization system makes it easy to fly smoothly in still conditions or with a light breeze
Includes a 32GB SD card and a special carrying case
Potensic Dreamer Pro 4K camera drone with 3-axis gimbal Price:$429.99
Buy Now Available from Amazon, BGR may receive a commission
Go here to see this month's best deals on Amazon!
---
Follow @BGRDeals on Twitter to keep up with the latest and greatest deals we find around the web. Prices subject to change without notice and any coupons mentioned above may be available in limited supply.
This stimulus program gets you up to $25,000, but no one seems to know about it
One of many extraordinary steps the federal government took to combat the coronavirus pandemic, in addition to approving billions of dollars in direct cash payments to Americans, was a temporary ban on the eviction of renters. Additionally, more than one emergency coronavirus relief bill passed by Congress included billions in stimulus rental assistance. Unfortunately, though, there's evidence that enough Americans still don't seem to be aware of that fact.
For example, both the stimulus bill that President Biden signed in March and the one President Trump signed in December set aside a total of $46.6 billion in emergency rental assistance stimulus aid. However, a mere $1.5 billion of that was reportedly paid out in June. The stimulus checks certainly have sky-high awareness among members of the public. But let's take a closer look at this effort which too few people still seem to know about.
Today's Top Deal
Amazon's Fire TV Stick 4K just got a surprise 20% discount! List Price:$49.99 Price:$39.99 You Save:$10.00 (20%)
Buy Now Available from Amazon, BGR may receive a commission Available from Amazon BGR may receive a commission
Stimulus rental assistance
First, we should note that the national ban on evictions is set to end on July 31. Meaning, they can resume as normal after that.
The National Low Income Housing Coalition maintains a list of a few hundred rental assistance programs around the country that can help get a chunk of the federal rental assistance stimulus money to people who need it. Generally, you have to be a renter who's having a hard time paying your rent and/or your utility bills because of the pandemic. Perhaps, for example, the pandemic caused you to lose your job.
The way this funding is supposed to work is that it's distributed to people in need by over 400 local and state agencies. The problem, however, is that while the problem may be uniform, the response isn't. For example, all of those agencies in charge of parceling out the stimulus rental assistance have different technology. Many of them also have different staffing levels.
And it's not clear who ought to be doing a better job of alerting renters to the aid that's available. Although, what is clear is that someone needs to do so. Because it's not happening really at all at the moment. Per the Census Bureau, around 7 million households were behind on their rent as of late May. But between April and June, only 550,000 people had received any of this stimulus rental aid.
Additional details
"There is still much further work to do to ensure tenants and landlords take advantage of the historic funding available to help cover rent, utilities, and other housing costs and keep people in their homes," the US Treasury department said in a recent news release.
Here are some examples of the kind of stimulus rental assistance that's available. Be aware that things are pretty different from one state to the next. And your local or state housing agency should be consulted from benefits that apply in your area. In Illinois, the state's Housing Developing Authority is overseeing the administration of $1.5 billion in rental assistance. There, tenants and landlords can apply for grants of up to $25,000 to cover as many as 15 months of rent payments between June of last year through August of this year.
Texas, meanwhile, has been offering help with unpaid rent and utilities going as far back as March 13, 2020. Use the National Low Income Housing Coalition's website to start a search for the housing authority nearest you. That's where you'll apply for this funding.
Today's Top Deal
Behold: Apple AirPods Pro just hit Amazon's lowest price of 2021! List Price:$249.00 Price:$189.99 You Save:$59.01 (24%)
Buy Now Available from Amazon, BGR may receive a commission Available from Amazon BGR may receive a commission