On Ramping or off Ramping Large Amounts of Crypto? Here Is How to Avoid Pitfalls in Today's Market
Converting large amounts of crypto to fiat and vice-versa may be a complicated task, especially for those who are not accustomed to dealing with exchanges, Bitcoin wallets, and decentralized apps on a daily basis. What's more, you may have never known that these obstacles existed until you had to face them first-hand.
We are going to describe popular methods of on-ramping and off-ramping large amounts of crypto, obstacles one may come across and existing solutions to overcome them.
Centralized Exchange On Ramp/Off Ramp
Binance, Huobi, Kraken, and other popular centralized exchanges may seem to be the most obvious solution for exchanging cryptocurrencies.
However, the target audience of these platforms mainly consists of small and mid-size investors and traders. The sums they operate with rarely exceed $100k. If you try to convert a larger amounts, you may face the following issues:
Not all exchanges support fiat. Typically, they may offer alternatives in the form of stable coins such as USDT or USDC. However, this option is good only if you don't plan to cash out in the near future.
Strict KYC requirements. Those exchanges that deal with fiat are usually subject to tighter control from the local authorities, therefore they set up strict verification rules for their users. To set up an account, you will have to provide them with a big variety of personal documents while the onboarding procedure may take up to a few months.
Withdrawal limitations. Typically, exchanges set up their own withdrawal limits, especially for wire and SEPA transfers. For example, one of the most popular exchanges, Binance allows a maximum withdrawal of EUR 50k per day. Also, you may have to wait three to five days before you see the funds credited to your bank account.
Geo limitations. There is practically no exchange that accepts users from all over the world, there are always some geographical restrictions. Finding an exchange that would support fiat withdrawals and deposits in a given region may be a challenge.
A large transaction can swing the market. To avoid the previous issue, you may buy all the offers from the order book one by one, but that will result in a very inefficient exchange rate. Other participants of the market will see that someone executes all the orders that appear in the book and will increase their prices.
On Ramp or Off Ramp Using The OTC?
Platforms that allow exchanging cryptocurrencies "over-the-counter" or, shortly, OTC markets are an alternative solution for those who want to bypass all the obstacles of centralized exchanges
OTCs serve institutional investors in a better way than centralized exchanges due to the lack of transactional limits. One can buy and sell big amounts of crypto via a user-friendly and simple interface, however, there is a flip side to this approach as well. The list of challenges include:
Worse rate and higher fees
While on a traditional exchange you set up the price yourself and clearly see the fees, OTCs are not that transparent. Your order will be executed regardless of the sum you specify, but the rate will be much worse and the hidden fees will be much higher.
Typically, OTCs operate through centralized exchanges just the same so they face the same issues that standalone users do. If you want to exchange a really big amount of money, OTC will search across all the platforms that it operates with in order to get the required sum. Therefore, the time of the operation will be increased.
Some OTCs have arcane KYC processes
If the service is represented by a centralized exchange, in most cases, only verified users can make use of it. ShapeShift implemented obligatory KYC in 2018 under the pressure of local authorities. Other OTCs still roam wild and free, but it's the question of time when governments will turn their attention towards them.
SWIFT transfers may be blocked
If you withdraw fiat to certain bank accounts using SWIFT, the transaction may be blocked. Authorities automatically flag large sums of money transferred by unverified users and have to take necessary precautions.
Some OTCs don't cover a large range of regions either. It is especially difficult for US residents to find a platform that would let them exchange funds as the regulations are more strictly defined in this country than anywhere else.
Cryptocurrency Clubs For On Ramping or Off Ramping?
Yes! Lifestyle clubs such as Aurae Lifestyle can resolve not only all the pains associated with storing and liquidating large amounts of crypto, but also provide their members with various concierge services. Steven Hatzakis, senior writer Forexbrokers.com and Aurae Lifestyle member adds:
"The services provided by Aurae Lifestyle have really simplified many aspects of cryptocurrency payments for me. The prefunded debit card that they provide is the best card among the similar options represented in the market. The high limits that they offer to their VIP clients are incomparable with other options while the tailored services make managing big amounts of crypto proceeds much easier."
Club Swan is a lifestyle club designed for moderately affluent crypto enthusiasts with lifestyle needs ranging from travel, attending specialized events and ancillary buy and sell services for cryptocurrencies. Similar to Aurae Lifestyle, Club Swan members can counterparty sell large sums of crypto depending upon their membership tier. Proceeds from liquidation go directly to the Club Swan prepaid debit card and transfers occur relatively quickly.
This solution mitigates timing and spend limit problems with liquidation while providing an environment of like-minded individuals.
MyCOM Review: Failed ecom platform turns to crypto fraud

Owing to MyCOM intentionally omitting details of their MLM opportunity in their marketing, this isn't a typical BehindMLM review.
Hiding information is a common occurrence across the various facets of parent company Tesora Financial's operations, which made putting together this review a headache.
On that basis alone I'd recommend avoiding MyCOM and Tesora Financial. MLM companies only go to these lengths to hide information when they're up to no good.
If you want to know what exactly MyCOM and Tesora Financial are up to, read on.
MyCOM is headed up by founder and CEO Jaime Villagomez.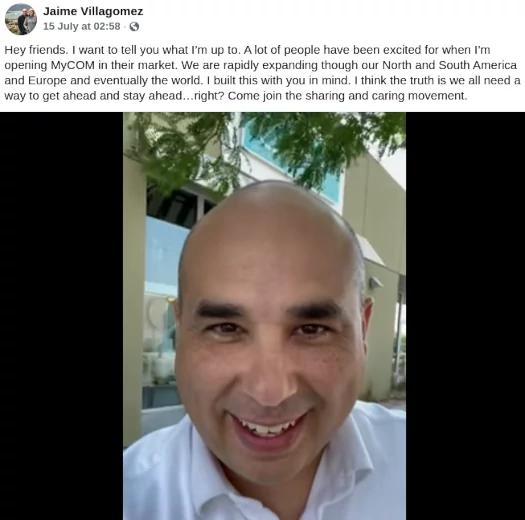 Villagomez is also founder and CEO of Tesora Financial Group (dba Tesora International) and all its attached shell companies.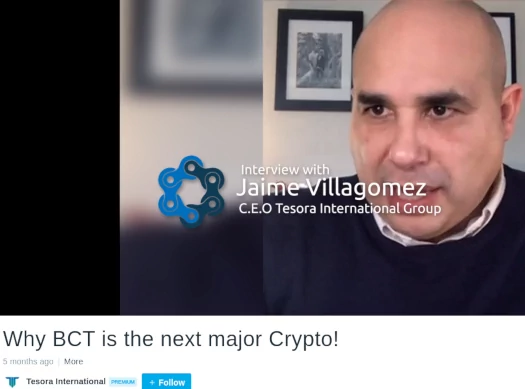 Villagomez runs MyCOM and Tesora Financial Group from Utah in the US.
MyCOM launched in 2017 as an ecommerce platform MLM company.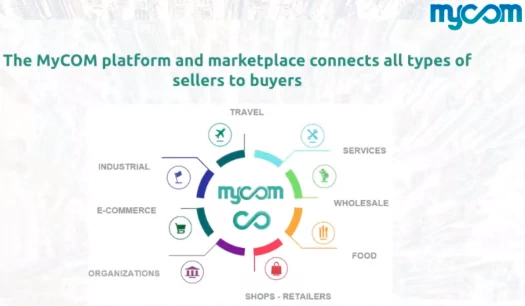 Four years later, here's how that's going: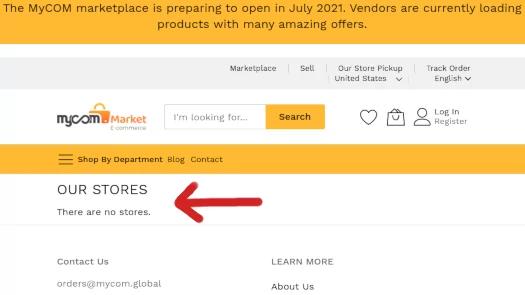 MyCOM's marketplace is a failure on every measurable metric. Thus it's not surprising Tesora Financial and Villagomez have jumped on the crypto bandwagon.
Before we get into that though I want to go over what MyCOM is pitched as.
Essentially you're looking at the usual closed ecommerce portal with cashback. As opposed to actual cashback, affiliates, customers and businesses are paid in COMS – which Villagomez stresses "isn't a cryptocurrency".
That's disingenuous though, because at some point there does appear to have been a crypto component to COM points:

That distinction aside, COMS might as well be an in house MyCOM cryptocurrency.
Retail customers receive COMS when they purchase products on MyCOM's empty marketplace. They can't cash them out.
Retail merchants are paid in COMS, which they can cash out.
Whether MyCOM affiliates can cash out COMS isn't specified, which likely means they can (hush hush).
Oh and for some reason COMS can be directly invested into, which makes no sense other than as a money spinner for MyCOM.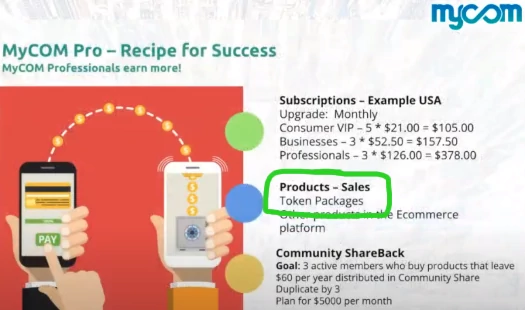 On the MLM side of things whether commissions are paid on MyCOM investment isn't specified.
What we do know is MyCOM charges merchants fees, which funds the cashback (referred to as "shareback" because reasons).
Of this collected cashback fee from the merchant, MyCOM keeps 30% and pays
30% to the purchaser
1% to 4% to the referring MyCOM affiliate (based on how much they're paying in fees)
4% to the MyCOM Pro Advisor assigned to the store
15% to "regional managers"
20% through a ten-level deep unilevel team
MyCOM intentionally hides this unilevel compensation structure. You won't find it anywhere on the internet or in their marketing videos.
The reason I've seen cited for the deception is because MyCOM doesn't want to be seen as an MLM company. They feel this will better position them to attract merchants (see screenshot above, that's going swell).
Shady business practices aside, MyCOM's Marketplace failed because it's an outdated model.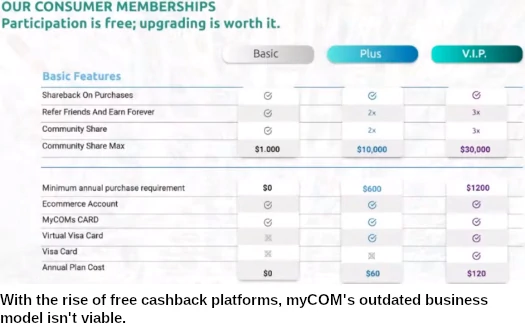 MyCOM charges customers for access based on a three-tier pricing model:
Basic – no cost
Plus – $60 annually
VIP – $120 annually
The more you pay the more COM points you can earn.
Oh and as a potential customer, you have to be referred by an existing MyCOM affiliate.
That's going up against the multitude of free apps and browser cashback/voucher extensions – all of which provide vastly superior coverage of available merchants.
No fees, no restrictive ecosystem to buy into, and some of them actually offer cashback.
That's what MyCOM's Marketplace business model is competing against. So it's no wonder the concept failed.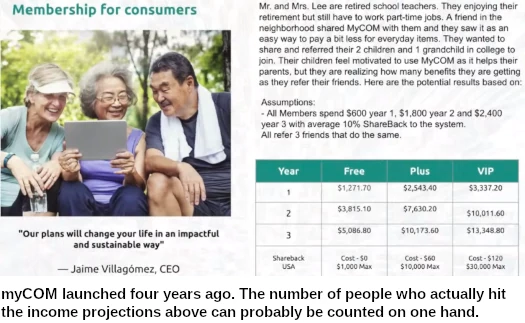 This is the Achilles' heel of every MLM ecommerce cashback platform. Fees have the be charged somewhere or there's no commissions to pay out.
With respect to affiliate fees, MyCOM charges:
Business Consultant – $360 annually
Professional Rep – $600 annually
MyPoint Pro – $900 annually
Again, how much you spend directly impacts earning potential.
MyCOM's business fees are:
Free – no cost, capped at $500 Shareback
Plus – $100 annually, capped at $50,000 Shareback
VIP – $300 annually, capped at $150,000 Shareback
Same story.
MyPoint membership is $900 annually or $75 a month. It appears to be a purely "upgrade your income potential" membership fee.
Whether commissions are paid out on the above membership fees is not disclosed. I'd assume so, otherwise what else is MyCOM doing with those fees?
Anyway now that we've established what MyCOM is and why it failed, let's move onto the next phase of Tesora Financial: crypto shitcoins.
There are a ton of shell companies within Tesora Financial, only a few of which have been elaborated on.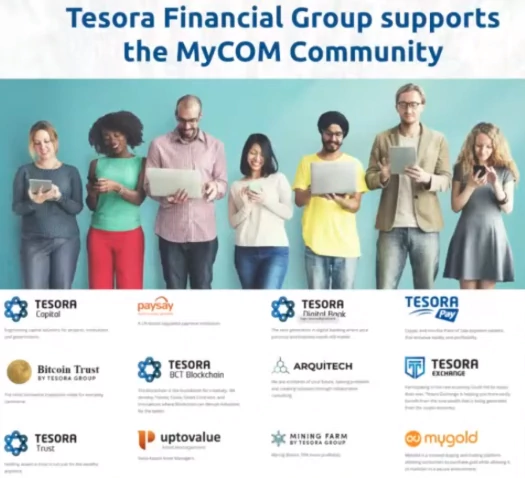 The primary companies we're going to reference are Bitcoin Trust, Tesora Trust, Tesora Custody and Tesora Exchange.
Tesora Financial's primary shitcoin is Bitcoin Trust.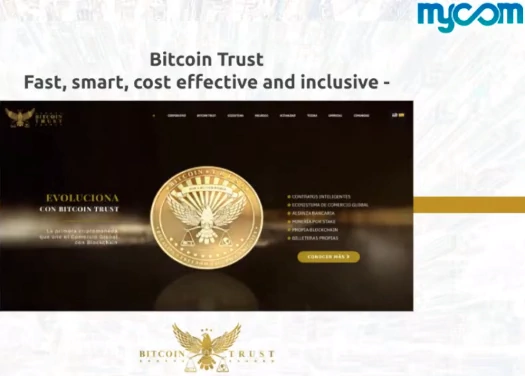 Based on the company's roadmap, Bitcoin Trust (BCT) is an ERC-20 shitcoin.

ERC-20 shitcoins can be set up in five minutes or so on the ethereum blockchain, at little to no cost.
MyCOM affiliates invest directly into BCT through their backoffice.

As per the above example from Jaime Villagomez's backoffice, Tesora Financial sells BCT to affiliates for 0.9994 USDT each.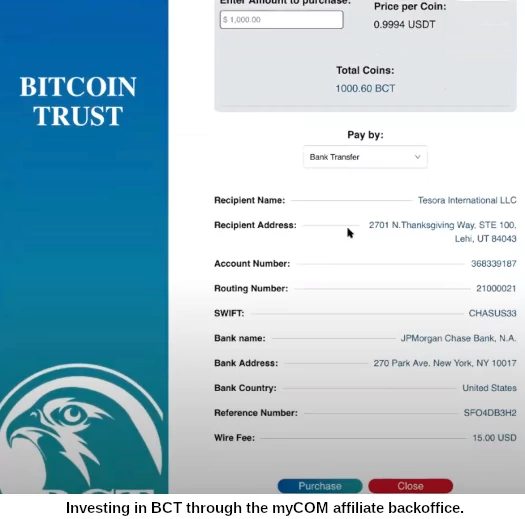 The primary reason for BCT investment, as per Tesora Financial's own marketing, is the implication that affiliate investors will eventually be able to withdraw more than they invested.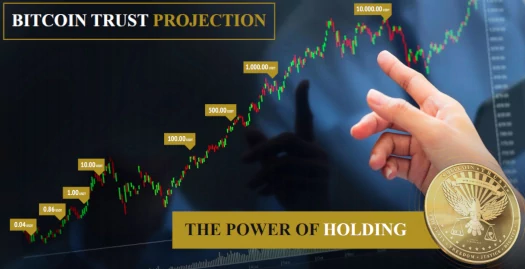 Due to aforementioned secrecy, I wasn't able to ascertain whether commissions are paid on BCT investment.
Once invested in, BCT is parked with the company. In exchange for doing this, Tesora Financial rewards affiliate investors with more BTC. Internal value goes up, and thus affiliates cash out more than they invested.

In other words BCT is your typical MLM crypto passive investment scheme.
Built into this a shitcoin factory (why stop at one shitcoin), purportedly attached to themed smart-contracts.
One of these shit tokens is "mobility token":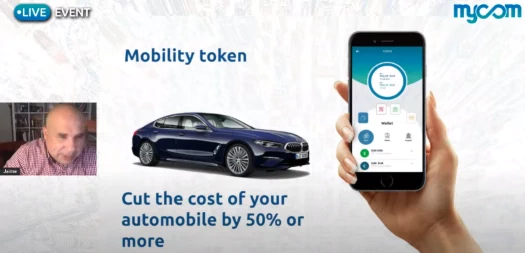 In a mobility token promo video uploaded in August 2020, My ECOM pitches "you can drive you dream car, for free".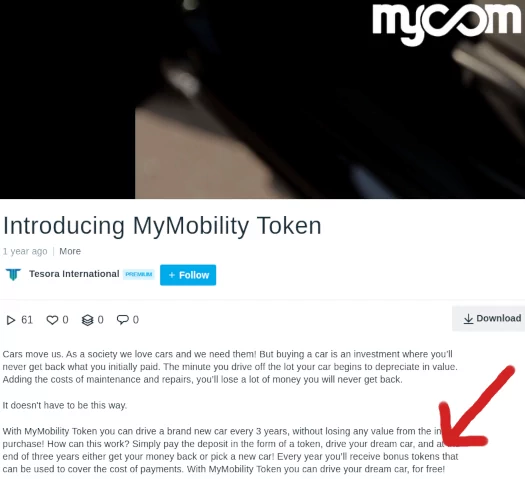 The idea is affiliates invest in mobility tokens, get more mobility tokens as a return, cash out other people's money and that money is used to pay off the car loan.
The mobility token scheme has a place on Tesora Financial's website under "AutoMobility".

There you find a link to another website, "automobility.it".
As far as I can tell, Auto Mobility is an independent Italian business that predated MyCOM.
Naturally there's nothing about a mobility token on Auto Mobility's website.
The only reference I found was one post on Auto Mobility's official Facebook page, dated August 2020.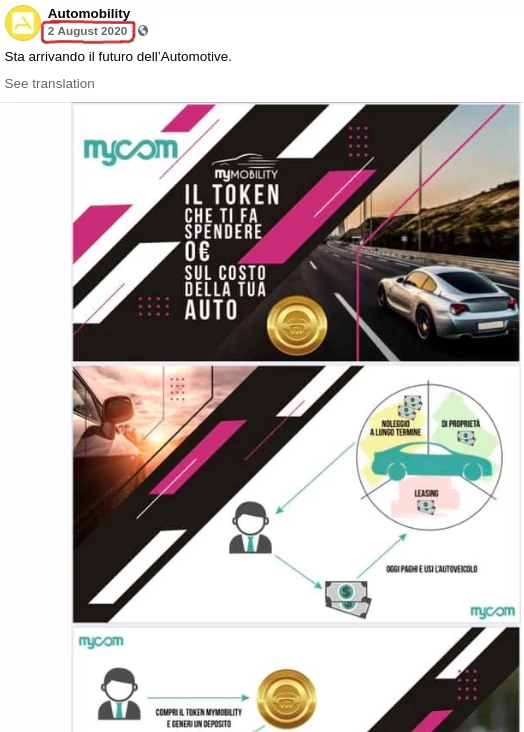 Seems kind of odd Auto Mobility isn't advertising free cars all over its website.
Other themed shit tokens Tesora Financial pushes is a business startup (power start) and real estate (power house). Same nonsense, invest in tokens, park tokens, get more tokens, cash out – free everything.
Tesora Trust is a secret passive investment opportunity. It has a place on myCOM's website but the company is intentionally opaque about specifics: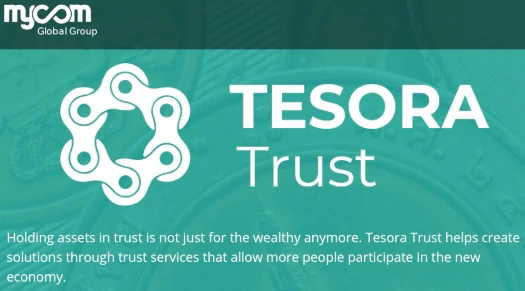 "Holding assets" sounds like another avenue to park tokens, get more tokens and cash out through.
The linked website domain, "tesora.io", naturally doesn't work.
Tesora Custody is a passive bitcoin investment opportunity, accessible through myCOM.

Deposit your bitcoin into Tesora Custody and earn more coins!

There is no sense in holding your bitcoins without trading, place them on deposit, and make them work for you!
Sounds like your typical crypto trading Ponzi scheme ruse.
Finally we have "Mining Farm by Tesora Group", another passive investment opportunity.

Mining Farm by Tesora Group allows through Tesora tokens [sic] for community members to participate without having to manage the technology.
This is the only reference to a "tesora token" I came across.
By offering multiple passive investment opportunities through their MLM opportunity or otherwise, Tesora Financial Group and Jaime Villagomez have created and are promoting multiple securities offerings.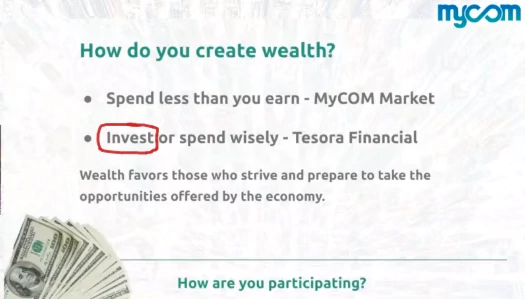 With all of this going down in the US, this means myCOM and Tesora Financial Group need to register their securities offerings with the SEC.
Neither MyCOM, Tesora Financial Group, any of the known shell companies or Jamie Villagomez are registered with the SEC.
And now you know why this is all kept secret and quietly marketed behind closed doors.
To recap;
myCOM is a failed ecommerce platform MLM company that hides the fact its an MLM company;
parent company Tesora Financial Group has jumped on the crypto bandwagon, launching several passive investment schemes;
neither myCOM or Tesora Financial Group are registered with the SEC, meaning the company is committing securities fraud and operating illegally.
You know the drill. This won't end well.
In addition to reviewscenter.net will try to provide their observations and make the best review here. But this monitoring is not complete without your comments, messages and reports. So post your comments on the investment system provided at the end of each post or email reviewscenter.net@gmail.com
NOTE:
reviewscenter.net is not a financial and investment system and it never enter into the investment services's area.
Our main task is to provide the correct payment for hyips and their related data.
reviewscenter.net has no responsibility for your investments.
Do your investment with more observation and investigation.
Is hypertech.pro Scam or Not?
Read articles you may want:
everything a beginner needs to know
how to start investing in bitcoins
In addition to reviewscenter.net will try to provide their observations and make the best review here. But this monitoring is not complete without your comments, messages and reports. So post your comments on the investment system provided at the end of each post or email reviewscenter.net@gmail.com
NOTE:
reviewscenter.net is not a financial and investment system and it never enter into the investment services's area.
Our main task is to provide the correct payment for hyips and their related data.
reviewscenter.net has no responsibility for your investments.
Do your investment with more observation and investigation.
Is expertbtctrade.com Scam or Not?
Read articles you may want:
everything a beginner needs to know
how to start investing in bitcoins