Lingoda Live is language training with a live teacher for personalized instruction — and it's 25% off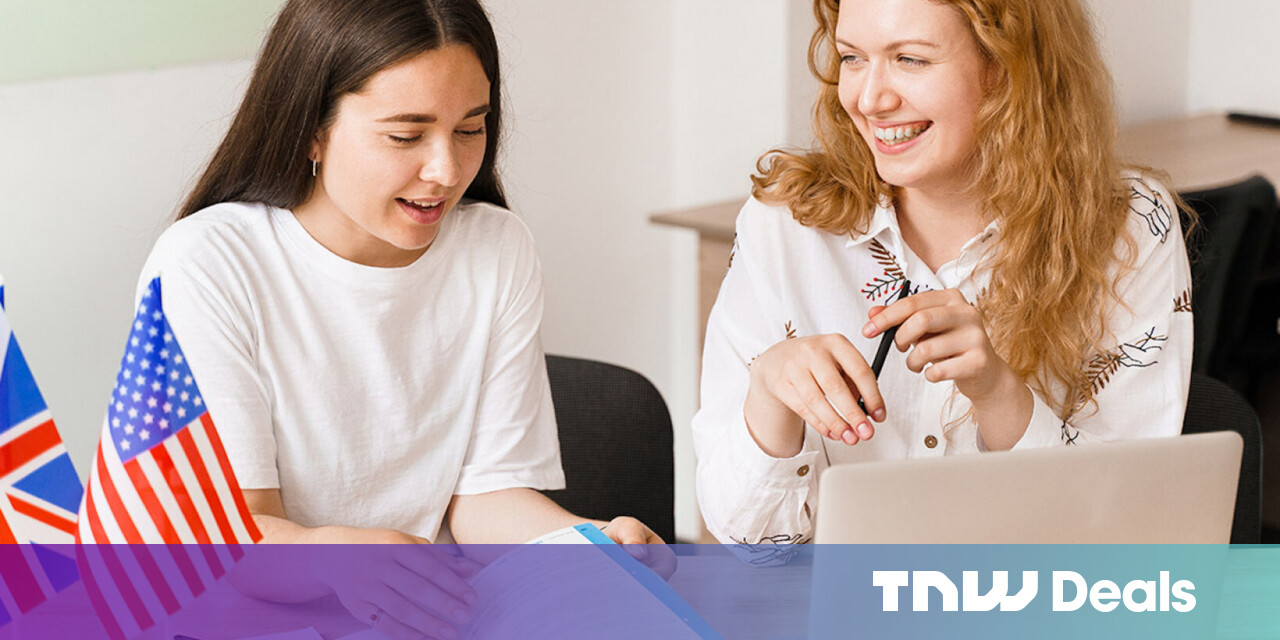 TLDR: With live online classes that fit around your schedule, Lingoda Live Language Courses are a commitment to learning Spanish or French the right way.
If you're busy and on the go, some of the app-based language learning systems can be an amazing way to start speaking a new language. From the bite-sized lessons to the extra training resources to AI-driven speech recognition to hear if your pronunciation is on point, it's one way to get proficient in a whole new way to communicate.
It is, however, missing one thing. It's missing people. You know, the ones you're actually going to be communicating with once you soak up Spanish or French or another exotic tongue.
Lingoda Live Language Courses get back to the heart of language education training, the structured class setting that can really help bring a new language to life. Right now, you can sample language learning the Lingoda Live way with a four-class sampler for just $49.99, over 25 percent off the regular price.
All you have to do first is choose between Spanish and French. Then you choose your current level of knowledge in that language, then find a class time that fits for your schedule. Courses are available virtually 24/7, so no matter how crazy your day-to-day is, you should be able to find a time that agrees with your busy agenda.
Each 60-minute course is taught by one of Lingoda Live's more than 1,000 certified, native-speaking teachers, each with at least two years of professional teaching experience. Class sizes only include 3 to 5 students, so each learner will absolutely receive the personalized language training they need to succeed.
In each live virtual class, instructors accelerate the learning process, encouraging each student to engage and contribute. Course material covers the real-life everyday language that normal people speak, including idioms, cultural references and local expressions that help each learner fit in faster with their new language.
While learning doesn't happen instantly, it is sped up through focus, so Lingoda helps build the habits to progress. They estimate it takes about 50 hours of training to pass the beginner level with your new language. So with five courses a week, you can be speaking your language with fluency in less than 3 months.
This offer lets each student choose the path to language fluency that works for them, starting with four Lingoda Live Language Courses for only $49.99, a savings of over 25 percent off. Of course, you can also commit to more levels and more savings with a plan that includes 12 courses ($119.99) or a full 20-course plan ($168.99).
Prices are subject to change.
Facebook is making glasses with Ray-Ban — but don't expect AR features
While we don't know what kind of devices the company will release under the program, it told The Verge that it's planning to launch a pair of smart glasses in partnership with Ray-Ban. However, there won't be any integrated display, so don't expect any AR shenanigans.
Facebook told the publication that these glasses would be a step in its overall AR work. The company's VP of reality labs, Andrew Bosworth, gave a statement describing a vision of the smart glasses, but it doesn't tell us much:
We're passionate about exploring devices that can give people better ways to connect with those closest to them. Wearables have the potential to do that. With EssilorLuxottica we have an equally ambitious partner who'll lend their expertise and world-class brand catalogue to the first truly fashionable smart glasses
Last year, Facebook gave us a glimpse into its AR vision through prototype hardware called Project Aria. However, because of the lack of a display, the firm called it a "sensor platform," instead of calling it a pair of AR glasses.
In contrast, the new Facebook and Ray-Ban glasses are unlikely to host too many sensors. My hunch is that they might have only as many functions as Snap Spectacles, which capture video and take images. These glasses could be the first step for Facebook to gauge how people react to smart glasses and their features, and tune their first AR glasses product accordingly.
Did you know we have a newsletter all about consumer tech? It's called Plugged In – and you can subscribe to it right here.
How to create an activity trail for your school
Want to transform your tired schoolyard into a play haven?
With the school holidays approaching, now is the perfect time to start looking at new school playground equipment and asking your pupils what apparatus they'd like to see, come September.
Whilst you could choose a challenging climbing frame with a slide to whizz down, more and more primary schools are opting for adventure trails. Perhaps you could do the same?
These trails can be tailored to suit your exact specifications and allow pupils to practice a broad range of skills. For example, Early Years Foundation Stage (EYFS) can develop low-level balancing and coordination skills whilst Key Stages 1 and 2 can challenge their physical and mental strength with climbing activities.
In this article, you can get some pointers on how to create a fun-filled activity trail for your school children.
Four factors to think about when designing an activity trail
Space
Though trails can be linear in shape, they are great for joining irregular spaces in the playground. That means, if you have any unused spaces, you can transform them with exciting new school playground equipment.
How much available space you have can also determine what type of components your trail consists of, which leads us on to the next point.
From balancing beams and stepping logs to scrambling nets, rope bridges, monkey bars, climbing walls, and tunnels, you can make your activity trail as challenging as you like.
Of course, you want to encourage youngsters to set themselves targets – but you need to be realistic, so keep in mind their ages and abilities to ensure they can use the activity trail safely.
When investing in any new playground apparatus, you need to think carefully about how much you can afford to spend.
It's worth arranging a meeting with the board of governors to explain your ideas and to explore your fundraising options. Alternatively, you may consider applying for a grant.
Although it's perfectly possible to install an adventure trail directly onto grass, it's advised that you opt for some type of safety surfacing – i.e. rubber mulch, synthetic grass, rubber bark, mats, or matting.
In doing so, you can relax knowing that your students can play safely in wet weather, without the play area becoming flooded or waterlogged.
Seek expert advice
By far the best thing you can do when investing in new play equipment for your school – be it a single unit or an activity trail – is to arrange a consultation with playground specialists, like Setter Play.
They have been designing, manufacturing and installing playground equipment for schools in Bedfordshire and the surrounding area for more than 20 years, and consider no job too big or too small.
During the consultation, you can share your initial ideas with their design team, and they will create a plan – taking into consideration you and your pupils' requests. They can even offer tips and recommendations in this appointment to ensure that you create the most exciting activity trail for your students.
So, why not get in touch with them today?
This is the Marvel-DC crossover movie that James Gunn wants to make
There's a new Suicide Squad movie coming out next week, and people seem to love it. Many reviews are praising James Gunn's work on the famous team of DC villains. Now that Gunn is done with his Suicide Squad reboot, he's returning to the Marvel universe, where he will end his Guardians trilogy with Vol. 3, which is set to launch in May 2023. Gunn might work on other comic book projects in the future. We have no idea what his schedule entails. But the writer/director just revealed that he would love to do a Marvel-DC crossover movie. That might sound impossible right now, as these are two separate universes belonging to two different corporations. But Gunn already knows what his Marvel-DC film would be. And he even pitched the idea.
Today's Top Deal
Echo Buds have noise cancellation just like AirPods Pro — but they're on sale for $100 less! List Price:$119.99 Price:$89.99 You Save:$30.00 (25%)
Buy Now Available from Amazon, BGR may receive a commission Available from Amazon BGR may receive a commission
There's no question that Marvel's MCU is the more exciting superhero ecosystem right now. Warner Bros. stumbled along the way, rushing out its own superhero team-up movie before it even introduced all of the heroes. But DC still has plenty of potential, as Gunn's The Suicide Squad seemingly shows. And Warner has several DC movies in the works, including its own big multiverse story that might rival Marvel's.
Bridging the two worlds with a Marvel-DC film or a series of movies would give fans the kind of event that we'd never expect. Marvel and DC superhero teams could fight teams of Marvel and DC supervillains. The sky is the limit. Bu the red tape makes it sound nearly impossible.
Gunn's Marvel-DC movie pitch
Talking to YouTube channel Jake's Takes, Gunn explained that he pitched a Marvel-DC film to the heads of the two studios. He said that he would love to do a Harley Quinn and Groot movie:
Well, I would be really happy to do a Harley Quinn and Groot movie. That would be exciting for me. And not only have I thought about that but I've actually talked about that to the heads of both Marvel and DC. But, you know, it's like, they… you know, everybody's open to everything, but whether anything would ever happen, who knows? But the idea of being able to bring Marvel and DC together in a movie is, that would be really fun for me.
Gunn acknowledged the "Berlin wall of lawyers" that he and other people partial to the idea of connecting Marvel and DC heroes via films:
And I know it's exciting for even the heads of Marvel and DC to think about. Kevin Feige over at Marvel and Toby Emmerich over at Warner Bros. You know, it's something we all like to dream about. Whether we could ever get through the barrage, the Berlin Wall of lawyers we would need to get through to ever make something like that happen, I don't know, but it would be a blast.
Gunn also put forward a second idea that he could get behind for a Marvel-DC movie: A team-up between Rocket and Groot for Marvel and King Shark and Weasel for DC.
While we wait for these pipe dreams to come true, The Suicide Squad launches in theaters and HBO Max next week. Gunn's interview with Jake's Takes follows below:
Today's Top Deal
Behold: Apple AirPods Pro just hit Amazon's lowest price of 2021! List Price:$249.00 Price:$189.99 You Save:$59.01 (24%)
Buy Now Available from Amazon, BGR may receive a commission Available from Amazon BGR may receive a commission