If 2020 taught us anything, it was that our lives could be turned upside down without warning. In the harshest months of the pandemic, we learned that one has to be prepared for the unpredictable. You have to think a few steps ahead and assess all possible scenarios, even the less favorable ones. Like many others, I often found myself thinking about the best ways to pass down my digital information to loved ones if the situation ever called for it.
Were something to happen to me, I wanted to ensure they had access to all of my devices, online accounts, and recent backups. Sharing passwords to devices alone wouldn't be enough. What if the iPhone is lost in the process? I would also risk having that sensitive data exposed to hacks if it were stored online. I had also written out a sort of will, a set of instructions peppered with thoughts, so my family knew where and how to begin untangling the massive number of online profiles that would need to be dealt with.
Apple knows that some of us want to safeguard all the digital information that we want to have passed down to our loved ones after we're gone. And so, Apple created a new Digital Legacy feature that will be available on iPhone and Mac in the very near future.
Today's Top Deal
Free Echo Dot with when you buy a $45 Ring Video Doorbell in this crazy early Prime Day deal ($100 value)! Price:$44.99
Available from Amazon, BGR may receive a commission Buy Now Available from Amazon BGR may receive a commission Today's Top Deal
AirPods Pro are back in stock at Amazon's lowest price of 2021! List Price:$249.00 Price:$197.00 You Save:$52.00 (21%)
Available from Amazon, BGR may receive a commission Buy Now Available from Amazon BGR may receive a commission
Digital Legacy is a feature you'll rarely have to use, but it's a good idea to set up as soon as possible on iPhone or Mac once Apple rolls out its newest iCloud features. Digital Legacy will let an iCloud user designate a contact who could be granted access to their iCloud account after the user dies.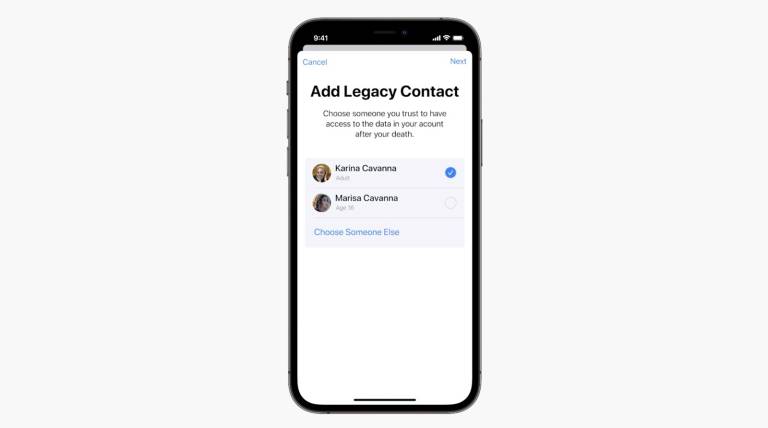 The functionality isn't enabled on iPhone or Mac right now, but Apple's VP of Apple Cloud Services Mike Abbott showed it on stage during Apple's iCloud segment at WWDC 2021 on Monday. Users will be able to add a Legacy Contact in iCloud, as seen above.
That chosen Legacy Contact will then be able to request access from Apple to the iCloud account of the person who just passed away. There's no way to test the iCloud functionality right now, but Apple shared images that explain how it will work.
The Legacy Contact will need to provide a copy of the death certificate to access the iCloud information. Apple explains that once the request has been approved, access to the iCloud data will be given, and the Activation Lock for the user's device will be removed.
The information displayed on the Mac in the image above indicates the Legacy Contact will have a limited time to act — in this example, they'd have to access the data in the iCloud account by November 1st, 2024. After that, the account and data will be permanently deleted.
The example above also explains what sort of data will be available to the Legacy Contact:
You can view Michael's data on icloud.com or download a copy from privacy.apple.com. On an iOS or iPadOS device, you can restore Michael's data from iCloud Backup. You can also access Michael's iCloud data on a Mac.

You cannot access or view Michael's payment information, subscriptions, licensed media, or Keychain.
Apple offers a URL where the Digital Legacy process information might be available to users: https://digital-legacy.apple.com/manage. The page prompts the user to log in to their iCloud account, but once that done, an error page returns. The feature isn't yet available for anyone to try out. Still, the feature is something all iPhone users should consider enabling when it's available.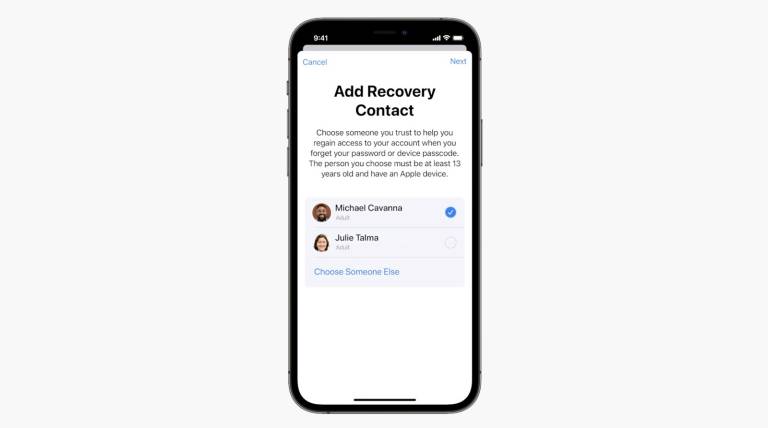 Apple also announced another handy security iCloud feature during the WWDC event that relies on having another person involved in the iCloud security process. Account Recovery now supports a new way to recover an Apple ID password or device passcode. You'll be able to add family and friends as Recovery Contacts in iCloud and then call them when you need Recovery Codes to get into your account or device. The Recovery Contacts will never have access to the actual iCloud account.
Super Mario World Is Now Playable In Widescreen
Software engineer and SNES ROM hacker Vitor Vilela has led a team which has created and released Super Mario World Widescreen, a download that lets you play Nintendo's Super Mario World—first released in 1990—on modern widescreen displays.
Crucially SMWW keeps the game's original 8:7 pixel aspect ratio, meaning that no matter how wide you stretch the display, "the screen you will see is like how would you see on a real TV screen connected to the SNES, except expanded to the widescreen resolution!"
While standard 16:9 and 16:10 monitor resolutions are supported, Vilela is also working on some other, funkier aspect ratios, like 2:1 and even 21:9 for anyone with an ultrawide monitor.
It's available here, but before you go rushing to download it, there's some stuff you need to know. Firstly, the download link is just for SMWW, and doesn't contain a ROM of Super Mario World itself. You'll have to find that…elsewhere.
G/O Media may get a commission
And secondly, you'll also need to download the emulator bsnes_hd, since the only way SMWW was made possible was because bsnes_hd allowed Vilela to increase the game's horizontal resolution by 96 pixels, from 256×224 to 352×224. bsnes also allows many other SNES games to run in widescreen as well, though not to the same level of tailored perfection as we're seeing here (as you can see in the comparison screenshot above, simply running SMW in bsnes has some framing issues).
You can check out a trailer below:
Get free AirPods with Apple's 2021 Back to School sale
School is just now ending in many states around the country, but that didn't stop Apple from kicking off its back-to-school sale this week. If you're in the market for a new device ahead of the coming school year, Apple is giving away a free pair of AirPods with your purchase of any eligible computer or tablet. This includes the MacBook Air, MacBook Pro, 24-inch iMac, Mac Pro, Mac mini, iPad Pro, and iPad Air, which leaves you with plenty of options.
Today's Top Deal
The newest Nest Thermostat just hit an all-time low price for Prime Day! List Price:$129.99 Price:$94.95 You Save:$35.04 (27%)
Available from Amazon, BGR may receive a commission Buy Now Available from Amazon BGR may receive a commission
If you decide to take advantage of the promotion, all that you need to do is head to Apple's Back to School landing page, select your Mac or iPad of choice, and proceed with the checkout process. After you've decided which model you're going to choose, you'll reach a page where you can add AirPods with a charging case (normally $159.99) to your order free of charge.
If you'd prefer to have a wireless charging case, you can upgrade for $40, and you'd rather get a pair of AirPods Pro, it's going to cost you $90. You can also opt not to take the free AirPods at all, but even if you don't need the wireless headphones, they'd probably make a solid gift.
In addition to the AirPods offer, Apple is also giving current and newly accepted college students and their parents, as well as teachers and staff, 20% off AppleCare+ for the products they buy.
It's also worth noting that all new Apple devices come with three-month free trials to both Apple Arcade and Apple TV+. For quite some time, Apple was giving consumers a free year of Apple TV+, but as we learned earlier this week, the company actually wants people to start paying for the streaming service at some point. Therefore, all of the initial free trials from 2019 that have been extended multiple times will finally be ending in July. Furthermore, eligible devices activated July 1st, 2021 or later will qualify for offers of 3 months free Apple TV+, so if you want a full year (as well as some free AirPods), you might want to place your order soon.
Today's Top Deal
The newest Nest Thermostat just hit an all-time low price for Prime Day! List Price:$129.99 Price:$94.95 You Save:$35.04 (27%)
Available from Amazon, BGR may receive a commission Buy Now Available from Amazon BGR may receive a commission
Everyone's binge-watching this raunchy new Netflix comedy right now
For anyone in the US who's been going through Schitt's Creek withdrawals and could use a hilarious new comedy from our neighbor to the north, especially as an antidote of sorts to the pandemic and all kinds of other negative news in the world right now, rejoice — Netflix has you covered, in the form of a raunchy sitcom from Catherine Reitman.
Season 5 of her show Workin' Moms just got added to Netflix in the US a few days ago, and already it's one of the most-watched Netflix shows, having rocketed up the streamer's ranks of what's popular across the service at any given moment. Reitman, the daughter of famed Hollywood director Ivan Reitman, not only stars in the series but she always writes and directs, and as of the time of this writing the series is currently the #4 most-viewed TV show on Netflix in the US. Originally broadcast in Canada via the CBC (Canadian Broadcasting Corporation), this comedy is built around the following, according to Netflix's summary: "Maternity leave is over, and it's time for these four moms to return to work while navigating kids, bosses, love, and life in modern-day Toronto."
Today's Top Deal
🚨 Get 2 months of any premium channel for just 99¢ with this crazy Prime Day deal! Price:$0.99
Available from Amazon, BGR may receive a commission Buy Now Available from Amazon BGR may receive a commission
Reitman will already be familiar to American audiences thanks to acting in such productions as It's Always Sunny in Philadelphia, Friends With Benefits, and Knocked Up. Her Workin' Moms cast also includes Dani Kind, Juno Rinaldo, and Jessalyn Wanlim.
We have the best fans! We are Top 4 in the US, UK, Australia, Ireland, Switzerland, Holland, Croatia and Finland on @netflix! Thank you! pic.twitter.com/eGHIHoPfa5

— Workin Moms (@WorkinMomsNFLX) June 17, 2021
As far as how much of the show is available on Netflix right now, subscribers can stream all five available seasons of the show. Reitman recently took to Instagram to confirm that Season 6 of the show is a go, it having been renewed by CBC. In terms of when that means we can expect it to make its way to Netflix — don't expect it before 2022, probably mid-year.
Check back here this weekend, meanwhile, for our latest complete rundown on what's hot and being binged the most right now across all the major streaming services, from Netflix to Disney+, Apple TV+, HBO Max, and more. Our list comes, as always, from the team at the streaming search engine service Reelgood, which regularly shares with a BGR a snapshot of what shows and movies are the most popular on a weekly as well as monthly basis among its millions of users.
Reelgood, by the way, is a great service to be aware of, if you're not already and if you're a streaming power-user. It aims to be a one-stop-shop that makes finding shows and movies to watch convenient, especially since it gets a little hard to keep track of which service has this or that new TV show — and since they're all constantly adding and removing content pretty regularly.
Today's Top Deal
How are these hot new mini smart plugs on Amazon only $2.97 each?! List Price:$16.97 Price:$11.88 You Save:$5.09 (30%)
Available from Amazon, BGR may receive a commission Buy Now Available from Amazon BGR may receive a commission