The scammers behind the Ilgamos Ponzi scheme are rebooting with a new Ponzi shitcoin.
A visit to Ilgon's website reveales Ilgamos isn't mentioned anywhere.
In fact when a reader reached out to me claiming it was a reboot, I pushed back. There wasn't anything to go on other than a similar-sounding name.
Confirmation of ILGON being an Ilgamos reboot came by way of a communication sent out to Ilgamos bagholders.
Ilgamos was a Ponzi scheme launched in mid 2015. OPR Ponzi points and an Ilcoin shitcoin.
You know the deal; sign up, invest, omg moon tomorrow, lose your money etc.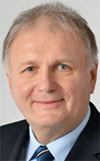 The scam was headed up by CEO Geza Kapitany (right), who at the time had ties to Russia, Germany and the Middle East.
Despite admins and top investors cashing out years prior, Ilgamos was still stringing investors along in 2020.
By this stage OPR had been phased out and Ilcoin dumped on public exchanges.
On or around August 2020 Ilgamos executives began squabbling. This resulted in the Ponzi scheme officially collapsing.
Ilgamos' website is still up and shilling Ilcoin as I write this. Website traffic however is dead and there's nothing going on.
Ilcoin is still publicly tradeable. When Ilgamos collapsed in 2002 Ilcoin had dumped from a high of 13.5 cents to 2 cents. It is now worth half a cent.
Enter Ilgon, headed up by a new cast of executives you've never heard of.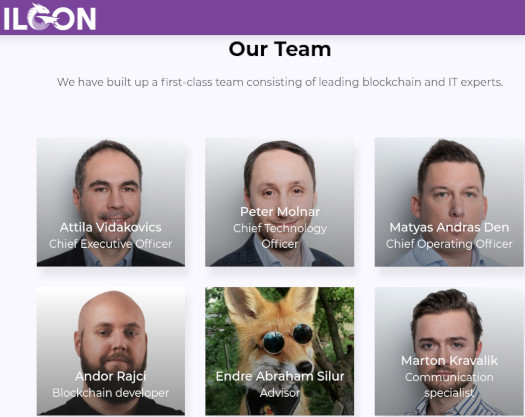 If you're wondering about the fox, Endre Abraham Silur is elsewhere credited as a "hacker".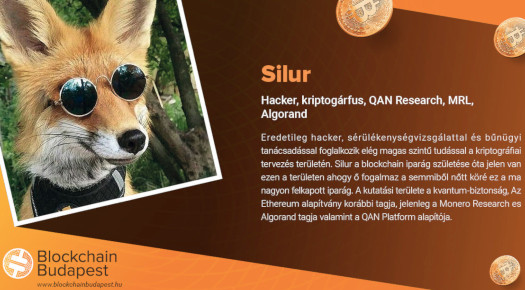 Yeah, I don't know why MLM crypto has to be such a wankfest either.
Geza Kapitany has been replaced by Attila Vidakovics. Outside of the usual blockchain bro projects, Vidakovics doesn't appear to have any executive experience.
Attila is responsible for the vision, coordination, and development of ILGON.

Attila developed the blockchain curriculum for Milton Friedman University.

He founded the Blokktatás (Block-education) non-profit educational group, the Mensa HungarIQa Blockchain Research Group, and the Mensa International (the oldest global high IQ society) Blockchain Research Group.

In 2018, he founded the blockchain consulting and development company Dynamic Laboratories and worked on many experimental blockchain applications (Wedding on Blockchain, StellarFish, Minereon) and crypto-financial solutions.

After working with Ethereum and Stellar for years, Attila and his partner Peter Molnar realised that current networks have to be redesigned to serve both corporate and end-user needs now.

With the arrival of Mátyás, and with the wealth of experience he brings to the project, the concept is coming to life in the present moment as The ILGON Nation-state Ecosystem.
Pater Molnar is cited as Ilgon's Chief Technology Officer.
So where does Ilgamos fit into this?
Ilgon launched on or around January 2021. Sometime thereafter the following communication was sent out to Ilgamos Ilcoin bagholders:
Dear Partner,

If you decided to exchange your ILCoins to ILGONs, please learn more about the possibilities.

Staking and Staking Bonus

Staking is a key feature of ILGON Blockchain ecosystem.

It means that Partners, who ILGOINs from Ilgamos, will have exclusive usage policies and investment rules.

Partners with ILGONs from Ilgamos package purcahses or bonus will get better interest rates, than anyone can get from the market.

Besides this, Partners who purchases ILGONs from exchanges or from other ILGON users, can user their ILGONs for …
So there you have it. Ilgamos bagholders have been preloaded into ILCON.
Now they're expected to market ILGON and bring in new investors to steal from.
Existing bagholders and ILGON's new executives profit. And new ILGON bagholders are created. Sorry for your loss etc. etc.
The footer of Ilgon's website credits "Technokrats".
Technokrats markets itself as a "digital transformation company", but at present it's nothing more than a website with a logo placeholder and address in Budapest, Hungary.
Technokrats differentiates itself from an Indian web design company bearing the same name, by referring to itself as "Technokrats Kft".
ILGON itself is just ethereum with a few tweaks. This is from ILGON's whitepaper;
Due to the shared origins with Ethereum, ILGON is fully compatible with all Ethereum Token Standards.
I went looking to see what Geza Kapitany was up to. He seems to have taken his Ilgamos Ponzi money and disappeared off the face of the Earth.
If Kapitany is involved in ILGON it hasn't been made public.
For now ILGON appears to be solely a shitcoin project. It's up on CoinMarketCap as ILG but is an "untracked listing".
I couldn't find an MLM opportunity attached to ILGON, hence why this is an article and not a review.
If that changes we'll keep you updated.
In addition to reviewscenter.net will try to provide their observations and make the best review here. But this monitoring is not complete without your comments, messages and reports. So post your comments on the investment system provided at the end of each post or email reviewscenter.net@gmail.com
NOTE:
reviewscenter.net is not a financial and investment system and it never enter into the investment services's area.
Our main task is to provide the correct payment for hyips and their related data.
reviewscenter.net has no responsibility for your investments.
Do your investment with more observation and investigation.
Is minttrex.com Scam or Not?
Read articles you may want:
everything a beginner needs to know
how to start investing in bitcoins
Bitcoin had a unstable Tuesday, for a short time
Bitcoin's near 50% reduction from all-time highs surprised analysts as China's crackdown fueled bearish sentiment. Bitcoin had a unstable Tuesday, for a short time it was dipping below $30,000. That was for the first time since January before settling around $33,000 at press time. The world's largest cryptocurrency by market value, is Bitcoin. It is still up about 11% year to date, according to CoinDesk 20 data.
"The primary reason for the sell-off has been the crackdown in China on mining operations and banking services,". The analyst at multi-investment platform eToro who is Simon Peters, talked about this.
Regulatory forces from China is always a very big problem for cryptocurrencies. Which is why the near-50% reduction from all-time highs surprised some analysts.
"The news out of China regarding mining and trading crypto may seem dramatic to newer investors, while those with experience should used to the progression of this news over the past several years," . This was by Sean Rooney, head of research at crypto asset manager Valkyrie Investments.
The effect of regulatory crackdown
Maybe an exasperated regulatory crackdown was not fully priced in given how the price of bitcoin almost doubled over the past year.
"Today we polled our 950+ person community to gauge their opinion on where the bitcoin bottom may be, and we received split answers for $28,600 and $25,500," . Nick Mancini wrote about it. He is also the research analyst at crypto sentiment data provider Trade the Chain.
In addition, others stay more hopeful and confident about the future, where bitcoin's price is going. "Bitcoin is currently trading approximately one-third below its long-term exponential trend line,". A phenomenon that it has only exhibited for 20% of the time in bitcoin's history, according to Stephen Kelso.
As the head of markets at ITI Capital said. "Given the market forces and demand for scarcity assets to protect wealth, ITI believes this is an attractive buying opportunity for investors."
For now, $30,000 remains a key support level, even though technicals show limited upside towards $34,000-$36,000.
MicroStrategy
MicroStrategy's newest relationship to finance the company's additional buying of bitcoin is now trading under its face value as the cryptocurrency keep falling and decreasing.
Prices on the $500 million bond, which closed on June 15, fell almost three points after the company said on Monday. That it completed its purchase of 13,005 bitcoin at an average price of $37,617. Bitcoin was trading at around $32,542 as of press time.
At last count, MicroStrategy held 105,085 bitcoins. The company so far issued more than $1.5 billion in changeable notes and junk bonds to fund such purchases. Blockchain data shows low request for transactions over the past few months.
Bitcoin and Ethereum Transfer
"Both Bitcoin and Ethereum experienced dramatic slowdowns in on-chain activity, with active addresses and total transfer volume falling back to 2020 and early 2021 levels," .Mentioned Glassnode in a newsletter published on Monday.
Bitcoin's active addresses decreased 24% from the March peak. While Ethereum's share in falling in active addresses was more. It dropped 30% from peak levels.
Bitcoin Holds $30K Support After Unstable Tremble; Resistance at $36K
Bitcoin (BTC) went back to above the $30,000 level on Tuesday. After an unstable trading session this happened. Buyers started stepping in with a fast speed. As oversold conditions appeared on intraday charts. The next level of resistance is around $36,000, which could limit further upside.
The world's biggest cryptocurrency by market value was trading around $34,000 at press time. And it is up 9% over the past 24 hours.
The near-10% price fall on Tuesday was typical of a tremble. Which signals a period of market uncertainty when sellers surrender.
Bitcoin's two-month decreasing movement appears exhausted after the relative strength index (RSI) on the daily chart registered a higher low. This means buyers can stay active towards upper resistance levels.
The RSI on the four-hour chart is not yet overbuy. Even though bitcoin is still under the 100-period moving average, offering resistance could be found at $36,000.
Stronger resistance is at $40,000 which is near the superior bound of a month-long range.
Bitcoin looks to have bottomed out
While bitcoin (BTC, +1.73%) looks to found a bottom, a quick rally to record highs looks unprobable. Analysts are talking about that the cryptocurrency now faces price consolidation.
"Bitcoin looks to have bottomed out, having digested most negative news during the recent sell-off from $41,000 to $29,000," . The trader and analyst Alex Kruger said.
Prices went up to $41,000 early last week before turning south in the latter half after the Federal Reserve's unexpected hawkish dip on interest rates. Market signal and market value of cryptocurrencies are showing major fall.
Bearish sentiment got stronger on Monday after the People's Bank of China repeated its crypto banking ban in the wake of the Chinese government's crackdown on crypto mining. Bitcoin expanded the previous week's sell-off. It continued hitting five-month lows near $29,000 during early U.S. hours Tuesday.
Stack Funds is also keeping a careful stance in spite of signs of bargain hunting.
"We have noticed that whales (large investors) are re-entering the market as risk appetite returns," it said in a research noted published Wednesday. Short-squeeze hunters are also exiting the market, it said.
"We believe bitcoin is very close to the bottom, at least in this current wave," analysts are talking about it. But, "we will keep a close eye on bitcoin's price post options expiry, and it will be interesting to see how this will unfold in the first week of July, the start of the third quarter."
Bitcoin price is 33,322.70 at the time of this report.