Samsung has a big Unpacked press conference planned for early August. That's where the next-gen Galaxy Note would arrive, but there's no Note 21 this year. Samsung is doing things differently this summer, as it's looking to boost its foldable smartphone sales. Reports say that Samsung has already started Galaxy Z Fold 3 and Flip 3 mass-production, aiming to sell seven million units between the two of them.
The two foldables are the direct successors of the Fold 2 and the original Flip that launched last year. Both the Fold 3 and Flip 3 are supposed to deliver several key upgrades over the 2020 versions. That's what most rumors and leaks said over the past few months. Most of those rumors focused on the Fold 3, however. The Fold 3 is the kind of flagship device that could keep the Note legacy alive. It will reportedly feature a large screen and S Pen functionality. These are the Note's signature feature that made it so popular with fans.
A brand new leak delivers more details about the Flip 3 design, the smallest foldable of the two. The latest rumor makes a bold claim about the Flip successor, saying the handset will also pack one of the Fold 3's most anticipated design features.
Today's Top Deal
This robot vacuum is way too good to be on sale for just $89.99! List Price:$99.99 Price:$89.99 You Save:$10.00 (10%)
Available from Amazon, BGR may receive a commission Buy Now Available from Amazon BGR may receive a commission
Galaxy Z Fold 3 is the king of foldable leaks
An increasing number of rumors and leaks paint the same Fold 3 picture when it comes to design, build quality, and specs. The foldable handset will look almost like the Fold 2 and Fold, although it should sport better build quality. The phone should be more durable than its predecessors, including a next-gen Ultra Thin Glass (UTG) screen cover that will make S Pen functionality possible.
Running the show will be a high-end processor of the Qualcomm or Exynos variety. More interestingly, Samsung might bring its AMD GPU to smartphones starting with the Fold 3.
The camera department might deliver a key Fold 3 upgrade. Reports say the foldable will be Samsung's first phone with an under-display camera. Or Under Panel Camera (UPC), as Samsung's marketing team called it.
Exciting Galaxy Z Flip 3 design rumor
A well-informed leaker shared Fold 3 and Flip 3 renders a few days ago that seemingly confirmed existing design leaks. But those images (seen above) focused on the Fold 3's changes than on the Flip 3.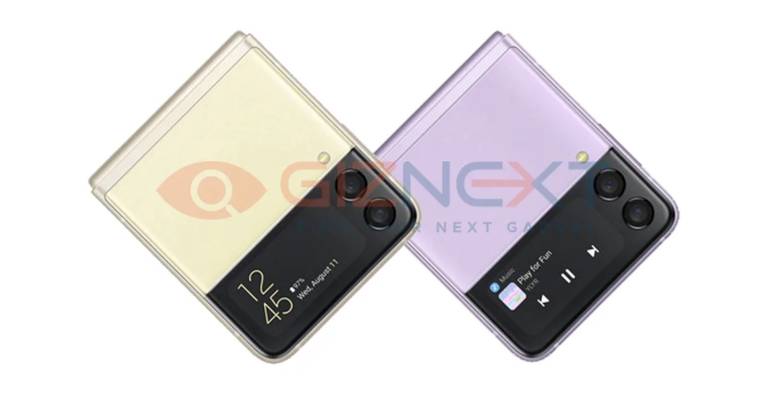 A brand new leak offers more Flip 3 images that highlight Samsung's new design for the clamshell foldable. The handset looks a lot like its predecessor in the renders that GizNext obtained. We're looking at a two-tone color scheme on the back and a dual-lens camera system.
The cameras are placed vertically, sitting next to a much larger display than the Flips. The screen will allow users to control the phone better with the screen closed. More importantly, the larger Flip 3 screen will provide a better viewfinder for the camera.
The blog says the Flip 3 will be available in no less than eight different colors. The list includes Dark Green, Light Violet, Beige, Pink, and Dark Blue.
But the blog casually drops the most interesting purported Galaxy Z Flip 3 design detail later in the post. The Flip 3 will also feature a UPC screen. It's unclear where the information comes from, and it's not a rumor that we've heard that often. But we do expect Samsung to launch more phones with perfect all-screen designs. That means hiding the selfie camera under the screen.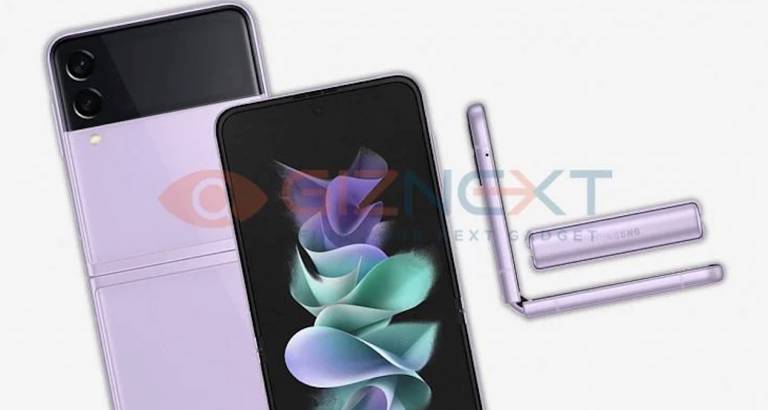 Samsung should announce the Fold 3 and Flip 3 in early August. It won't be long until we find out whether the Flip 3 will indeed receive a UPC design or not.
Today's Top Deal
OMG… the $60 diamond stud earrings Amazon shoppers rave about are finally back in stock! Price:$59.90
Available from Amazon, BGR may receive a commission Buy Now Available from Amazon BGR may receive a commission
Facebook is making glasses with Ray-Ban — but don't expect AR features
While we don't know what kind of devices the company will release under the program, it told The Verge that it's planning to launch a pair of smart glasses in partnership with Ray-Ban. However, there won't be any integrated display, so don't expect any AR shenanigans.
Facebook told the publication that these glasses would be a step in its overall AR work. The company's VP of reality labs, Andrew Bosworth, gave a statement describing a vision of the smart glasses, but it doesn't tell us much:
We're passionate about exploring devices that can give people better ways to connect with those closest to them. Wearables have the potential to do that. With EssilorLuxottica we have an equally ambitious partner who'll lend their expertise and world-class brand catalogue to the first truly fashionable smart glasses
Last year, Facebook gave us a glimpse into its AR vision through prototype hardware called Project Aria. However, because of the lack of a display, the firm called it a "sensor platform," instead of calling it a pair of AR glasses.
In contrast, the new Facebook and Ray-Ban glasses are unlikely to host too many sensors. My hunch is that they might have only as many functions as Snap Spectacles, which capture video and take images. These glasses could be the first step for Facebook to gauge how people react to smart glasses and their features, and tune their first AR glasses product accordingly.
Did you know we have a newsletter all about consumer tech? It's called Plugged In – and you can subscribe to it right here.
How to create an activity trail for your school
Want to transform your tired schoolyard into a play haven?
With the school holidays approaching, now is the perfect time to start looking at new school playground equipment and asking your pupils what apparatus they'd like to see, come September.
Whilst you could choose a challenging climbing frame with a slide to whizz down, more and more primary schools are opting for adventure trails. Perhaps you could do the same?
These trails can be tailored to suit your exact specifications and allow pupils to practice a broad range of skills. For example, Early Years Foundation Stage (EYFS) can develop low-level balancing and coordination skills whilst Key Stages 1 and 2 can challenge their physical and mental strength with climbing activities.
In this article, you can get some pointers on how to create a fun-filled activity trail for your school children.
Four factors to think about when designing an activity trail
Space
Though trails can be linear in shape, they are great for joining irregular spaces in the playground. That means, if you have any unused spaces, you can transform them with exciting new school playground equipment.
How much available space you have can also determine what type of components your trail consists of, which leads us on to the next point.
From balancing beams and stepping logs to scrambling nets, rope bridges, monkey bars, climbing walls, and tunnels, you can make your activity trail as challenging as you like.
Of course, you want to encourage youngsters to set themselves targets – but you need to be realistic, so keep in mind their ages and abilities to ensure they can use the activity trail safely.
When investing in any new playground apparatus, you need to think carefully about how much you can afford to spend.
It's worth arranging a meeting with the board of governors to explain your ideas and to explore your fundraising options. Alternatively, you may consider applying for a grant.
Although it's perfectly possible to install an adventure trail directly onto grass, it's advised that you opt for some type of safety surfacing – i.e. rubber mulch, synthetic grass, rubber bark, mats, or matting.
In doing so, you can relax knowing that your students can play safely in wet weather, without the play area becoming flooded or waterlogged.
Seek expert advice
By far the best thing you can do when investing in new play equipment for your school – be it a single unit or an activity trail – is to arrange a consultation with playground specialists, like Setter Play.
They have been designing, manufacturing and installing playground equipment for schools in Bedfordshire and the surrounding area for more than 20 years, and consider no job too big or too small.
During the consultation, you can share your initial ideas with their design team, and they will create a plan – taking into consideration you and your pupils' requests. They can even offer tips and recommendations in this appointment to ensure that you create the most exciting activity trail for your students.
So, why not get in touch with them today?
This is the Marvel-DC crossover movie that James Gunn wants to make
There's a new Suicide Squad movie coming out next week, and people seem to love it. Many reviews are praising James Gunn's work on the famous team of DC villains. Now that Gunn is done with his Suicide Squad reboot, he's returning to the Marvel universe, where he will end his Guardians trilogy with Vol. 3, which is set to launch in May 2023. Gunn might work on other comic book projects in the future. We have no idea what his schedule entails. But the writer/director just revealed that he would love to do a Marvel-DC crossover movie. That might sound impossible right now, as these are two separate universes belonging to two different corporations. But Gunn already knows what his Marvel-DC film would be. And he even pitched the idea.
Today's Top Deal
Echo Buds have noise cancellation just like AirPods Pro — but they're on sale for $100 less! List Price:$119.99 Price:$89.99 You Save:$30.00 (25%)
Buy Now Available from Amazon, BGR may receive a commission Available from Amazon BGR may receive a commission
There's no question that Marvel's MCU is the more exciting superhero ecosystem right now. Warner Bros. stumbled along the way, rushing out its own superhero team-up movie before it even introduced all of the heroes. But DC still has plenty of potential, as Gunn's The Suicide Squad seemingly shows. And Warner has several DC movies in the works, including its own big multiverse story that might rival Marvel's.
Bridging the two worlds with a Marvel-DC film or a series of movies would give fans the kind of event that we'd never expect. Marvel and DC superhero teams could fight teams of Marvel and DC supervillains. The sky is the limit. Bu the red tape makes it sound nearly impossible.
Gunn's Marvel-DC movie pitch
Talking to YouTube channel Jake's Takes, Gunn explained that he pitched a Marvel-DC film to the heads of the two studios. He said that he would love to do a Harley Quinn and Groot movie:
Well, I would be really happy to do a Harley Quinn and Groot movie. That would be exciting for me. And not only have I thought about that but I've actually talked about that to the heads of both Marvel and DC. But, you know, it's like, they… you know, everybody's open to everything, but whether anything would ever happen, who knows? But the idea of being able to bring Marvel and DC together in a movie is, that would be really fun for me.
Gunn acknowledged the "Berlin wall of lawyers" that he and other people partial to the idea of connecting Marvel and DC heroes via films:
And I know it's exciting for even the heads of Marvel and DC to think about. Kevin Feige over at Marvel and Toby Emmerich over at Warner Bros. You know, it's something we all like to dream about. Whether we could ever get through the barrage, the Berlin Wall of lawyers we would need to get through to ever make something like that happen, I don't know, but it would be a blast.
Gunn also put forward a second idea that he could get behind for a Marvel-DC movie: A team-up between Rocket and Groot for Marvel and King Shark and Weasel for DC.
While we wait for these pipe dreams to come true, The Suicide Squad launches in theaters and HBO Max next week. Gunn's interview with Jake's Takes follows below:
Today's Top Deal
Behold: Apple AirPods Pro just hit Amazon's lowest price of 2021! List Price:$249.00 Price:$189.99 You Save:$59.01 (24%)
Buy Now Available from Amazon, BGR may receive a commission Available from Amazon BGR may receive a commission