Europe can overcome its semiconductor shortage with these lessons from a lightbulb company
The shortage of semiconductor chips has exposed the vulnerability of European high-tech manufacturers that rely heavily on chip imports from Asia. The automotive sector alone, traditionally a European high-tech stronghold, is expected to take a US$110 billion (£79 billion) hit over the coming years as a result.
In 2020, high-tech products represented approximately 20% of total exports from the European Union by value, with other major sectors including pharmaceuticals, telecoms, aerospace, and armaments. Enjoying annual growth rates upward of 10% before the semiconductor shortage and employing more than 3.5 million workers, high-tech is the fastest-growing European industry by far.
Considering the importance and apparent vulnerability of the sector, the EU is scrambling to implement initiatives to encourage domestic chip manufacturing and reboot innovation at home. After all, Europe accounted for about 44% of global semiconductor manufacturing in 1990, compared to only around 10% today. This slow decline was the result of manufacturers failing to adapt after domestic first-generation cellphone makers Nokia, Ericsson, and Siemens were usurped by American and Asian competition.
Yet in the midst of this struggle for technological self-sufficiency, a European powerhouse in high-tech manufacturing was created by the acquisition of German LED (light-emitting diode) manufacturer Osram by Austrian sensor specialist AMS. The combined company is among Europe's largest semiconductor firms and holds the largest market share in chips supplied to the automotive sector.
It is the latest in a series of mergers and takeovers in semiconductors that are representative of what has been happening in high-tech industries as a whole. Products that were once the exclusive domain of western manufacturers have become increasingly commodified as Asian manufacturers catch up, boosted by government subsidies that have left established companies struggling to compete. Yet at the same time, highly profitable and strategically important niche applications are emerging, which point to opportunities.
To understand why some companies have failed to adapt to a rapidly changing business environment, while others are driving innovation, it's worth looking at the history of Osram in more detail.
Spotlight on Osram
Osram traces its roots back some 115 years to Austrian chemist Carl Auer von Welsbach, who greatly improved on Thomas Edison's light-bulb designs with the use of a metal filament in 1906. Osram-branded bulbs started manufacturing the same year and went on to become the flagship product for one of the biggest lighting companies in the world. Osram later played a key role in the development of other lighting technologies, including compact fluorescent light bulbs.

Key to Osram's survival over the years has been its ability to adapt by proactively seeking out new markets. Following the global effort to phase out incandescent lamps in the 2000s, Osram was well placed to capitalize. Scientists at Osram and the German Fraunhofer Institute had patented a white LED as early as 1996. This was only weeks after the Japanese researchers that would go on to win the 2014 Nobel Prize in physics for their groundbreaking invention, and Osram's early start in LED research established its IP portfolio.
But when highly subsidized Chinese companies entered the market after 2010, LEDs for general illumination became increasingly ubiquitous and less profitable. Osram instead focused on developing market segments that demanded high-performance LEDs.
Backed by its in-house strength in research and development, fruitful university collaborations, and production capacity in the EU, Osram secured market leadership positions in niche applications like horticultural lighting for high-yield agriculture, infrared sensors for heart rate monitoring and lights, and sensors for the automotive industry.
High-performance LED development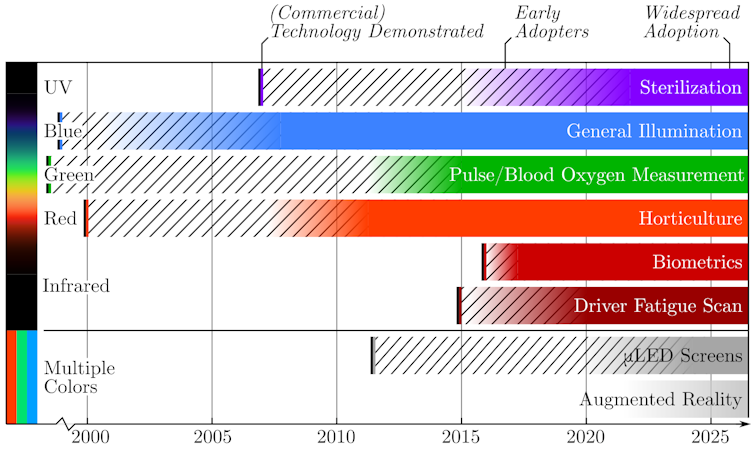 Osram stayed ahead of the competition by moving to niches where higher device performance and electrical efficiency were of paramount importance, rather than low manufacturing cost. The company's product and IP portfolio today remains among the industry's largest in key patent classes. And the takeover by AMS shouldn't be seen as a sign of failure. It creates a global leader in high-tech optical solutions that has a much better chance of staying ahead of emerging Asian competition in these niche sectors.
Other western companies have not navigated the lighting sector as successfully. General Electric, a long-time competitor, had opted against developing its own LED research department, instead of procuring chips from overseas manufacturers to include in its lamps. Faced with increasing economic pressure, and unable to fall back on more specialized products, the company that traces its roots back to Edison had little choice but to sell its lighting unit in 2020.
Lessons to learn
My department's research has shown that maintaining in-house research capabilities and academic collaborations will be key to the survival of European high-tech companies in the near future. Governments can support these efforts of private industry by strengthening the academic landscape in Europe. This can be achieved through projects like the Horizon Europe Programme, which funds both basic university research and collaborative efforts with industry.
In the long run, the best way to ensure the resilience of Europe's high-tech industries is to "backshore" manufacturing of these products to Europe. With Sino-US tensions only expected to mount in the coming years, this would largely decouple strategic industry sectors from economic sanctions and mitigate geopolitical risks. It would also reduce the risk of IP theft in overseas manufacturing.
Two of Europe's largest suppliers of semiconductor components have already moved a significant part of their production back to Europe: Infineon Technologies in Austria and Bosch in Germany. This was enabled by unprecedented levels of factory automation and advanced robotics that is known as the fourth industrial revolution. As the Osram experience shows, controlling the most important parts of your technology is often the secret to long-term survival.

Article by Michael Weinold, Researcher, Cambridge Centre for Environment, Energy and Natural Resource Governance, University of Cambridge
This article is republished from The Conversation under a Creative Commons license. Read the original article.
Amazon fined a record $887 million over data privacy violations
In a regulatory filing on Friday, Amazon revealed that Luxembourg's National Commission for Data Protection (CNPD) has hit the company with a record $746 million euro fine ($887 million). If it stands, it will be the largest penalty ever handed out due to Europe's data protection rules. Bloomberg reports CNPD issued its decision on July 16th. The group accused Amazon of processing personal data in violation of the EU's General Data Protection Regulation (GDPR). Of course, this is about more than just a fine. The CNPD is also demanding that Amazon stop the practices that resulted in the alleged violation.
Today's Top Deal
Super-popular TP-Link Kasa mini Alexa smart plugs just hit a new all-time low price of $6 each! List Price:$26.99 Price:$23.99 You Save:$3.00 (11%)
Buy Now Available from Amazon, BGR may receive a commission Available from Amazon BGR may receive a commission
"On July 16, 2021, the Luxembourg National Commission for Data Protection (the "CNPD") issued a decision against Amazon Europe Core S.à r.l. claiming that Amazon's processing of personal data did not comply with the EU General Data Protection Regulation," Amazon explained in its 10-Q filing. "The decision imposes a fine of €746 million and corresponding practice revisions. We believe the CNPD's decision to be without merit and intend to defend ourselves vigorously in this matter."
In addition to slapping Amazon with a huge fine, the CNPD also ordered Amazon to revise its business practices. CNPD did not specify which practices Amazon needs to revise, nor would it comment on the decision. As Bloomberg notes, local laws prevent the Luxembourg commission from commenting on any specific cases or confirming receipt of a complaint.
Amazon will appeal the CNPD's fine
Amazon argues that the case is "without merit" for several reasons. The company noted that hackers have not stolen any data. Additionally, Amazon says that all customer data remains secure. Amazon plans to appeal the decision, which means that it could be quite some time before this resolves.
Amazon provided The Wall Street Journal with the following statement regarding the fine:
Maintaining the security of our customers' information and their trust are top priorities. There has been no data breach, and no customer data has been exposed to any third party. These facts are undisputed. We strongly disagree with the CNPD's ruling, and we intend to appeal. The decision relating to how we show customers relevant advertising relies on subjective and untested interpretations of European privacy law, and the proposed fine is entirely out of proportion with even that interpretation.
Currently, Google's 50 million euro fine is the largest under the GDPR. France's data watching, the CNIL, issued the fine in 2019. Google lost its appeal in 2020. The CNPD's fine eclipses that sum, and will be a new record by a wide margin if it stands.
Today's Top Deal
Control your garage door from anywhere with your smartphone or Alexa! List Price:$29.98 Price:$22.99 You Save:$6.99 (23%)
Buy Now Available from Amazon, BGR may receive a commission Available from Amazon BGR may receive a commission
Last chance to add hands-free Alexa to your car for $19.99 with this Amazon deal
If you purchase an independently reviewed product or service through a link on
our website, we may receive an affiliate commission.
Alexa is amazing. Everyone loves having Alexa in their homes. That's because there are endless "skills" that Amazon's virtual personal assistant can take care of for you. The problem for so many people, however, is what happens when they leave the house. They lose access to all their Echo speakers since Amazon doesn't make any portable Echo speakers anymore. Needless to say, Amazon is well aware of this limitation.
That's exactly why the company created products like Echo Buds that give you access to Alexa on the go. They also offer fantastic sound quality and they're on sale today at the lowest price ever. Then there's the Echo Auto, which gives you hands-free access to Alexa in your car while you drive. And right now, Echo Auto is on sale with a massive discount if you pick up a certified refurb!
Amazon's virtual personal assistant is no longer merely a luxury for so many people out there. Instead, Alexa is a necessity these days. I can't even remember what life was like before I had Alexa doing my bidding. Alexa turns the lights on and off for me. It shows me who's at my front door thanks to a Ring Video Doorbell and an Echo Show. Plus, it makes my coffee in the morning and arms my alarm system at night. I'm so used to having the ability to speak commands to Alexa that I have definitely caught myself doing it once or twice when I wasn't even near an Echo speaker. Oops!
I really only have one problem with all this reliance on Alexa. It's the fact that Alexa isn't readily available once I leave my house. Or at least, that used to be the case. Thanks to one of Amazon's best Alexa smart devices, I don't have to worry anymore. It's called the Echo Auto, and it's basically an Echo Dot for your car. It gives you hands-free access to all the Alexa skills you love. Plus, it plays Alexa's voice or streaming music through my car's speakers.
This is a must-have for anyone who uses Alexa. And right now, it's on sale right now for just $19.99 instead of $50 if you get a refurbished model. That's a gigantic 60% discount and it's the lowest price we've seen in a long time. This deal has been available all week long though, so there's a good chance it's going to end either today or over the weekend. Don't miss out!
Echo Auto – Hands-free Alexa in your car (Certified Refurbished) List Price:$44.99 Price:$19.99 You Save:$25.00 (56%)
Buy Now Available from Amazon, BGR may receive a commission
Here are some of the main takeaways:
Amazon's Echo Auto gives you access to all the great Alexa skills you love and use in your home, and it's all hands-free
You can also take advantage of Alexa skills that are perfect for when you're driving, like playing music, listening to an Audible book, checking your calendar, finding a nearby restaurant or other business, and making calls.
Echo Auto has 8 different microphones to ensure that your voice commands are heard over road noise and your radio.
Works through your car speakers and connects to your smartphone for data, so you don't need to pay for a wireless plan.
Echo Auto connects to the Alexa app on your smartphone and can connect to your car speakers using an auxiliary input or your phone's Bluetooth connection.
Echo Auto – Hands-free Alexa in your car (Certified Refurbished) List Price:$44.99 Price:$19.99 You Save:$25.00 (56%)
Buy Now Available from Amazon, BGR may receive a commission
Go here to see this month's best deals on Amazon!
---
Follow @BGRDeals on Twitter to keep up with the latest and greatest deals we find around the web. Prices subject to change without notice and any coupons mentioned above may be available in limited supply.
Happy Plugs Air 1 Zen true wireless headphones review: Not quite there
True wireless headphones are everywhere these days, but they're not created equal. While the likes of the Sony WF-1000XM4 and AirPods Pro are easy sells thanks to their high quality, if you don't want to spend as much cash, you'll need to do a little more research. Happy Plugs thinks it has the solution with the Happy Plugs Air 1 Zen headphones.
The Air 1 Zen headphones are clearly AirPods Pro clones, thanks to their angled stem design. But that doesn't mean you should avoid them. Are the Happy Plus Air 1 Zen headphones worth buying? I've been testing them for a while now to find out.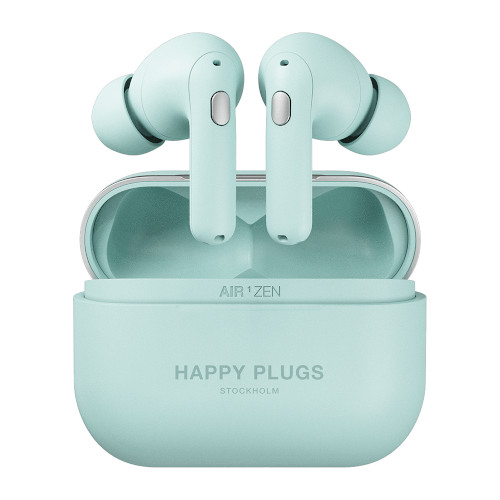 Happy Plugs Air 1 Zen True Wireless Headphones Price:$79.99 Buy Now BGR may receive a commission

Happy Plugs Air 1 Zen design
Right from the get-go, you can see similarities between the Air 1 Zen headphones and Apple's AirPods Pro. While the Air 1 Zen headphones come in more colors, they have Apple's angled stem look, and the same overall shape. Perhaps the biggest difference between the two is that these headphones have a button on each bud, instead of the touch-sensitive stem on the AirPods Pro. The buttons are relatively easy to use, but you'll have to get used to the controls and how they work.
The charging case has a USB-C port on the bottom, along with a pairing button, and a set of lights to indicate charging status. It's relatively compact and should be easy to fit in a pocket or bag, but it's definitely bigger than the AirPods Pro case.
As mentioned, the headphones are available in a range of colors. I'm reviewing the "Mint Green" model, but they also come in pink, white, black, and silver.
Generally speaking, the Happy Plugs Air 1 Zen headphones look good, thanks largely to the fact that they copy the AirPods Pro.
Happy Plugs Air 1 Zen features and battery
There's one area in which the Air 1 Zen headphones are nothing like the AirPods Pro — features. That's to say, you won't get Spatial Audio or Automatic Switching here.
Ultimately, the Air 1 Zen headphones don't really offer any extra features. They're Bluetooth earbuds, and nothing more. Don't be fooled by the company's claim of "passive noise cancelation." While technically true, that just means that they naturally block out some noise — like all headphones. There's no active noise cancelation here.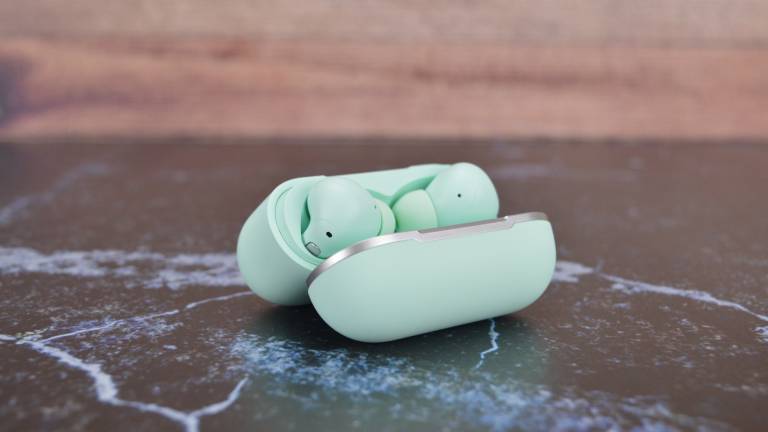 Unfortunately, the Bluetooth performance on offer by these headphones was pretty spotty, sometimes losing connectivity completely. At times, the headphones went slightly out of sync, creating an echo effect. Cool for two seconds, annoying for any longer. It wasn't a deal-breaker, and connectivity was usually only momentarily lost. But at this point in time, true wireless headphones should offer a better connection than this.
The battery life of the headphones isn't bad. You'll get six hours of use on a single charge, and a total of 30 hours with the battery case.
Happy Plugs Air 1 Zen comfort
Generally speaking, the Happy Plugs Air 1 Zen headphones are comfortable, and easy to wear for longer periods of time. That's good news — considering the fact that true wireless headphones are usually bulkier than their wired counterparts.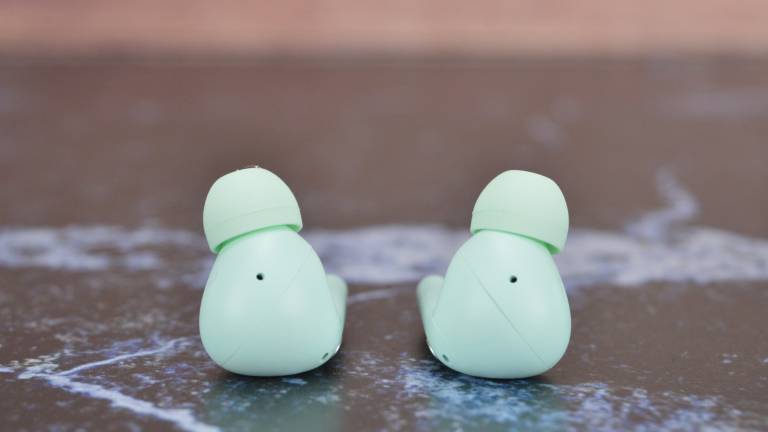 One of the best things about these headphones is that they offer a good fit, at least for my ears. They're not big enough to be uncomfortable, but they are big enough to create a good seal that ensures they remain in your ears.
Happy Plugs Air 1 Zen sound
The Happy Plugs Air 1 Zen headphones offer a relatively deep sound quality that isn't necessarily for audiophiles but should please most listeners.
The bass response, for starters, is heavy and deep. Kick drums offer plenty of oomph, while bass guitars and synthesizers are front and center. It does overshadow other aspects of the headphones a little, but it's not too muddy or over-the-top.
The mids are decently tuned, with an emphasis on the warm, low mids, and a dip in the high mids. The result is that things like vocals and guitars can feel a little tucked away.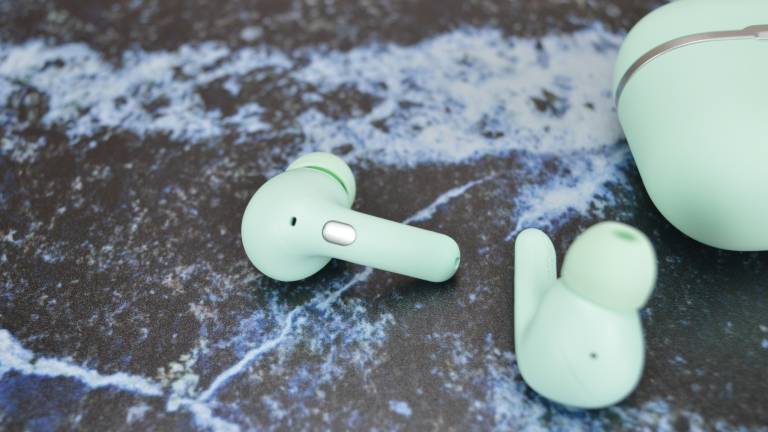 The highs aren't as clear or as detailed as I would have liked. It's not terrible, but cymbals feel a little midsy, doing away with the sheen you would expect from them.
Along with the connectivity issues, the headphones also have pretty bad connection noise. It's really only noticeable when you're not listening to anything, but still annoying.
Conclusions
The Happy Plugs Air 1 Zen headphones are a little hit and miss. The headphones don't look or sound bad, but they suffer from some connectivity issues. That said, the headphones are only $80 — so it makes sense that they wouldn't be perfect.
The competition
If you want to buy a pair of true wireless headphones for under $100, we recommend looking elsewhere. JLab Audio makes a range of great headphones at a low price, and the Samsung Galaxy Buds Plus are exactly $100. The Happy Plugs Air 1 Zen don't really do enough to beat out the competition.
Should I buy the Happy Plugs Air 1 Zen?
No. You should consider the Samsung Galaxy Buds Plus instead.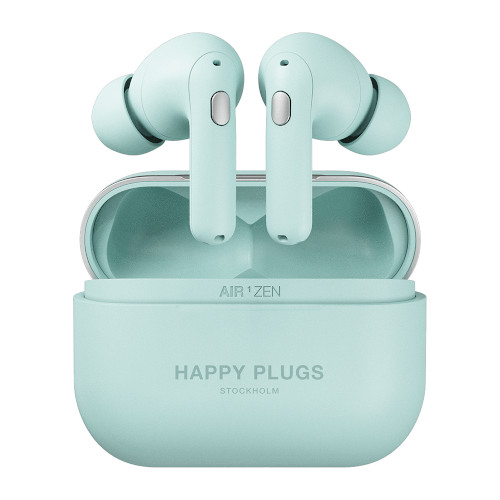 Happy Plugs Air 1 Zen True Wireless Headphones Price:$79.99 Buy Now BGR may receive a commission