You won't find anything about Centurion Global's history on its website.
All Centurion Global provides is a vague generic marketing pitch;
Each day, in some part of the world, a big idea is being born. It may be an innovation that could revolutionise everyday living, a technology that could improve the lives of many, or a product that could help create generational wealth.

At Centurion, we have made it our mission to find these big ideas and bring them to life, and to you.
Oh and apparently the company runs out of a PO Box in the scam-friendly Cayman Islands.
There are a few chinks in Centurion Global's armor. The first of which are website links leading back to Ducatus Network.

Centurion Global's Terms and Conditions also state:
THE INFORMATION PROVIDED ON THIS SITE IS NOT FOR CIRCULATION, DISPLAY, RECEPTION OR DISTRIBUTION IN SINGAPORE (INCLUDING TO THE PUBLIC OR ANY SECTION OF THE PUBLIC IN SINGAPORE) OR ANY OTHER JURISDICTION WHERE THE PRODUCTS OR SERVICES OF CENTURION GLOBAL OR ITS AFFILIATES WOULD BE PROHIBITED WITHOUT A REQUISITE LICENSE OR EXEMPTION.

NEITHER CENTURION GLOBAL NOR ANY OF ITS AFFILIATES HEREBY OFFER ANY SERVICE THAT WOULD CONSTITUTE A PAYMENT SERVICE FOR PURPOSES OF THE SINGAPORE PAYMENT SERVICES ACT 2019, OR ANY OTHER ACTIVITY SUBJECT TO REGULATION BY THE MONETARY AUTHORITY OF SINGAPORE, IN SINGAPORE OR TO ANY PERSON IN SINGAPORE.

NEITHER THE DUCATUS COIN NOR DUCATUSX IS AVAILABLE FOR SALE BY CENTURION GLOBAL IN SINGAPORE.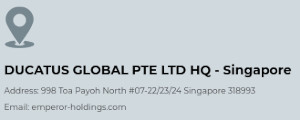 Securities fraud is of course illegal all around the world. The reason Centurion Global singles out Singapore however, is because Ducatus Network represents it is headquartered there.
Perhaps India would have been a better fit for meaningless pseudo-compliance, seeing as Alexa attributes the country with 100% of Ducatus Network's website traffic.
Centurion Global's website isn't busy enough for country demographics, but what little traffic it receives is also likely to be from India.
Anyway let's backtrack and revisit what Ducatus Network is and why it rebooting as Centurion Global matters.
In 2017 Swiss Mine emerged as a clone of the then popular OneCoin Ponzi scheme.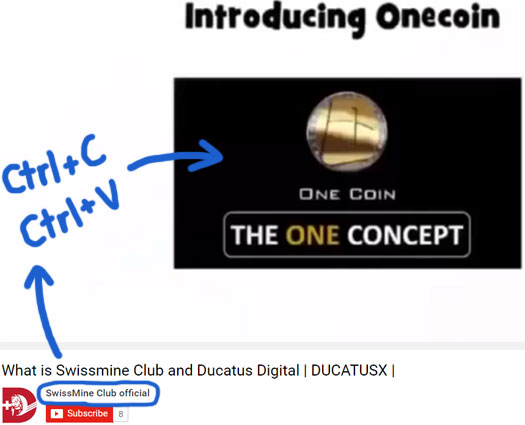 Back then Swiss Mine was pretending it was based out of Switzerland.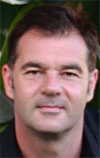 Heading up the company were Knut Unger and Ronny Andreas Tome (right).
Instead of OneCoin Ponzi points, Swiss Mine affiliates invested in Ducatus Ponzi points (DUC).
A year later Swiss Mine rebooted as Ducatus Network.
Seeking to distance itself from OneCoin, which by then had collapsed, Ducatus Network was presented as a bitcoin alternative.
As a hard fork of bitcoin Ducatus will work in a very similar way to Bitcoin.

Ducatus will use an almost identical set of rules and we will run our own software on e-wallets to establish, build, maintain and manage its own decentralised blockchain.
At some point Ducatus Global was introduced, as well as the ducatusx shitcoin.
DucatusX is a fork of the Ethereum blockchain. But unlike Ethereum, DucatusX uses a "Proof of Authority" consensus algorithm which significantly reduces its maintenance cost.

In the future, it is envisioned to switch to "Proof of Stake", giving users even more confidence in choosing DucatusX for their projects.
Something something, Indians getting scammed, and that brings us to 2021 and the October 2020 launch of Centurion Global.
The new ruse is getting gullible affiliates to invest in DUC through rEaL-eStAtE tOkEnIzAtIoN.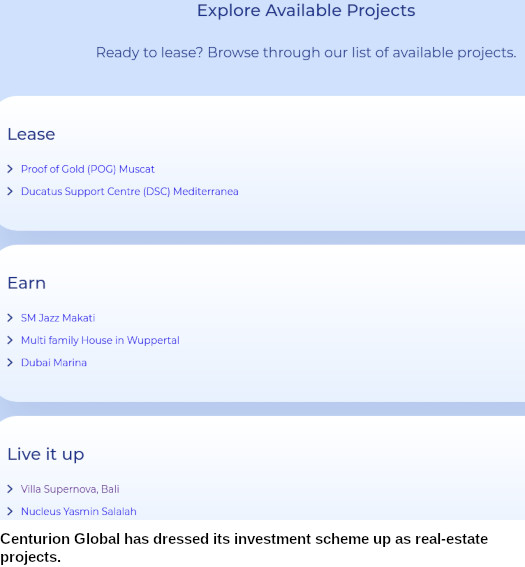 Meaning absolutely nothing in the real world, this is just an excuse to steal more money.
Each property is allocated a set amount of tokens, on the promise of a set ROI – paid in DUCX tokens.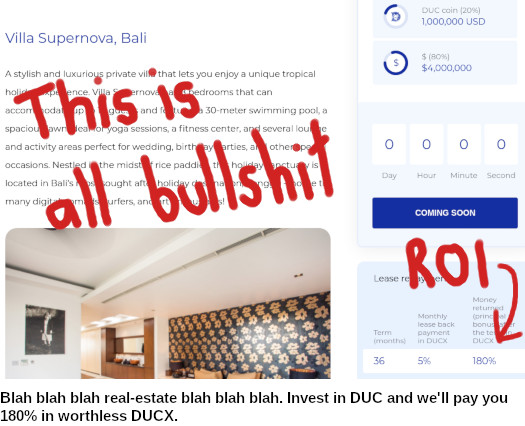 The only real money is that entering the scheme on the front-end for DUC. When it comes time to cash DUCX out, sorry for your loss.
For a more specific look at the loss process in action, here's a first-hand account sent in by a BehindMLM reader;
When trying to sell our coins we purchased at $0.06 under "Ducatus"(now worth only $0.02 under "Centurion"), members now also need to purchase DSVs (Digital Vouchers at USD$1 ea) then swap to purchase their coin/s the "DUC" under Centurion etc.

Then if you want to use your DSV to purchase a product in their "Digital Economy" you must swap your DSV for a DSV-P (more fees) which can only be redeemed in their overpriced store stocking only their other MLM products they represent at highly inflated prices, i.e. USD $36.00 for one cake of Soap?

And If you want to sell or cash in your DUC they will tell you you now need to swap those for their other coin the "DUC-X" which is traded on an exchange they own aaplussg.

Once you get to this site, its a long wait, and the coin has lost most of its value in fees and exchanges and then you only get to swap for another cryptocurrency, i.e. USDC (Not Cash).

Then there are more fees when you try to transfer or try to sell that and so on…
Of course none of this is revealed on Centurion Global's website.
When Swiss Mine was launched Ronny Tome was living in Indonesia. He's since relocated to Singapore, which ties into the "our Ponzi scheme is not available in Singapore" pseudo-compliance.
Beyond that there's nothing much else to Centurion Global. New name, hope that new suckers invest, existing suckers cash out, Ronny Tome skims his admin fees and uh, yeah.
If Centurion Global takes off, the eventual exit-scam will play out via any number of well established methods.
If not, Centurion Global reboots with a fourth company name in a few years. Who knows.
Neither Ducatus Network, Ducatus Global, Centurion Global or Ronny Tome are registered to offer securities anywhere in the world.
Stop falling for this garbage.
In addition to reviewscenter.net will try to provide their observations and make the best review here. But this monitoring is not complete without your comments, messages and reports. So post your comments on the investment system provided at the end of each post or email reviewscenter.net@gmail.com
NOTE:
reviewscenter.net is not a financial and investment system and it never enter into the investment services's area.
Our main task is to provide the correct payment for hyips and their related data.
reviewscenter.net has no responsibility for your investments.
Do your investment with more observation and investigation.
Is minttrex.com Scam or Not?
Read articles you may want:
everything a beginner needs to know
how to start investing in bitcoins
Bitcoin had a unstable Tuesday, for a short time
Bitcoin's near 50% reduction from all-time highs surprised analysts as China's crackdown fueled bearish sentiment. Bitcoin had a unstable Tuesday, for a short time it was dipping below $30,000. That was for the first time since January before settling around $33,000 at press time. The world's largest cryptocurrency by market value, is Bitcoin. It is still up about 11% year to date, according to CoinDesk 20 data.
"The primary reason for the sell-off has been the crackdown in China on mining operations and banking services,". The analyst at multi-investment platform eToro who is Simon Peters, talked about this.
Regulatory forces from China is always a very big problem for cryptocurrencies. Which is why the near-50% reduction from all-time highs surprised some analysts.
"The news out of China regarding mining and trading crypto may seem dramatic to newer investors, while those with experience should used to the progression of this news over the past several years," . This was by Sean Rooney, head of research at crypto asset manager Valkyrie Investments.
The effect of regulatory crackdown
Maybe an exasperated regulatory crackdown was not fully priced in given how the price of bitcoin almost doubled over the past year.
"Today we polled our 950+ person community to gauge their opinion on where the bitcoin bottom may be, and we received split answers for $28,600 and $25,500," . Nick Mancini wrote about it. He is also the research analyst at crypto sentiment data provider Trade the Chain.
In addition, others stay more hopeful and confident about the future, where bitcoin's price is going. "Bitcoin is currently trading approximately one-third below its long-term exponential trend line,". A phenomenon that it has only exhibited for 20% of the time in bitcoin's history, according to Stephen Kelso.
As the head of markets at ITI Capital said. "Given the market forces and demand for scarcity assets to protect wealth, ITI believes this is an attractive buying opportunity for investors."
For now, $30,000 remains a key support level, even though technicals show limited upside towards $34,000-$36,000.
MicroStrategy
MicroStrategy's newest relationship to finance the company's additional buying of bitcoin is now trading under its face value as the cryptocurrency keep falling and decreasing.
Prices on the $500 million bond, which closed on June 15, fell almost three points after the company said on Monday. That it completed its purchase of 13,005 bitcoin at an average price of $37,617. Bitcoin was trading at around $32,542 as of press time.
At last count, MicroStrategy held 105,085 bitcoins. The company so far issued more than $1.5 billion in changeable notes and junk bonds to fund such purchases. Blockchain data shows low request for transactions over the past few months.
Bitcoin and Ethereum Transfer
"Both Bitcoin and Ethereum experienced dramatic slowdowns in on-chain activity, with active addresses and total transfer volume falling back to 2020 and early 2021 levels," .Mentioned Glassnode in a newsletter published on Monday.
Bitcoin's active addresses decreased 24% from the March peak. While Ethereum's share in falling in active addresses was more. It dropped 30% from peak levels.
Bitcoin Holds $30K Support After Unstable Tremble; Resistance at $36K
Bitcoin (BTC) went back to above the $30,000 level on Tuesday. After an unstable trading session this happened. Buyers started stepping in with a fast speed. As oversold conditions appeared on intraday charts. The next level of resistance is around $36,000, which could limit further upside.
The world's biggest cryptocurrency by market value was trading around $34,000 at press time. And it is up 9% over the past 24 hours.
The near-10% price fall on Tuesday was typical of a tremble. Which signals a period of market uncertainty when sellers surrender.
Bitcoin's two-month decreasing movement appears exhausted after the relative strength index (RSI) on the daily chart registered a higher low. This means buyers can stay active towards upper resistance levels.
The RSI on the four-hour chart is not yet overbuy. Even though bitcoin is still under the 100-period moving average, offering resistance could be found at $36,000.
Stronger resistance is at $40,000 which is near the superior bound of a month-long range.
Bitcoin looks to have bottomed out
While bitcoin (BTC, +1.73%) looks to found a bottom, a quick rally to record highs looks unprobable. Analysts are talking about that the cryptocurrency now faces price consolidation.
"Bitcoin looks to have bottomed out, having digested most negative news during the recent sell-off from $41,000 to $29,000," . The trader and analyst Alex Kruger said.
Prices went up to $41,000 early last week before turning south in the latter half after the Federal Reserve's unexpected hawkish dip on interest rates. Market signal and market value of cryptocurrencies are showing major fall.
Bearish sentiment got stronger on Monday after the People's Bank of China repeated its crypto banking ban in the wake of the Chinese government's crackdown on crypto mining. Bitcoin expanded the previous week's sell-off. It continued hitting five-month lows near $29,000 during early U.S. hours Tuesday.
Stack Funds is also keeping a careful stance in spite of signs of bargain hunting.
"We have noticed that whales (large investors) are re-entering the market as risk appetite returns," it said in a research noted published Wednesday. Short-squeeze hunters are also exiting the market, it said.
"We believe bitcoin is very close to the bottom, at least in this current wave," analysts are talking about it. But, "we will keep a close eye on bitcoin's price post options expiry, and it will be interesting to see how this will unfold in the first week of July, the start of the third quarter."
Bitcoin price is 33,322.70 at the time of this report.