Facebook has unleashed another threat to the future of Clubhouse.
The social media giant on Monday started rolling out Clubhouse-clone Live Audio Rooms, continuing the company tradition of ripping off competitors.
Like Clubhouse, Live Audio Rooms lets users listen to and join live conversations. Initially, only public figures and select Facebook Groups on iOS in the US will be able to create Live Audio Rooms, but users on both Android and iOS will be able to join them.
Hosts can invite up to 50 speakers to a conversation. The initial set of creators include Grammy-nominated electronic music artist TOKiMONSTA, American football quarterback Russell Wilson, and scholar-activist Rosa Clemente.
[Read: Why entrepreneurship in emerging markets matters]
Unlike Clubhouse, there's no limit to the number of listeners. Both members and listeners can listen to the rooms in public groups, but only members can listen in private groups.
Users can find rooms via their News Feed and Facebook notifications. They can also set reminders that go off a room goes live, hit a "raise a hand" button when they want to speak, and get notifications when their friends or followers join the chat. Users can also enable live captions, a feature that's still not offered by Clubhouse.
In a further push into the social audio market, Facebook has also started adding podcasts to the platform.
Users can listen to podcasts while scrolling through Facebook via a mini or full-screen player. They can find shows on the creators' Facebook Pages, as well as in the News Feed, and have the option to listen while their screen is off.
The initial slate of podcasts is pretty damn slim, but Facebook says it will add more in the coming weeks.
Clubhouse competition heats up
Live Audio Rooms joins a growing list of Clubhouse clones. Tech giants including Twitter, Reddit, and Spotify have also recently jumped on the social listening bandwagon, which started rolling rapidly when Clubhouse launched in March 2020.
The app's popularity skyrocketed during the pandemic, but downloads of the IoS app have nosedived in recent months.
The launch of Clubhouse for Android in May gave the company a much-needed shot in the arm, with more than a million new users joining within a week of the release. The coming months will be a major test of the app's longer-term prospects.
Critics have questioned the post-lockdown appeal of the app, which now faces intense from larger, more established rivals. Facebook's enormous user base and deep pockets could make Live Audio Rooms the biggest threat yet to Clubhouse.
Social listening may be more than just a passing fad, but the format's pioneer faces a challenging future.
Did you know we have a newsletter all about consumer tech? It's called Plugged In – and you can subscribe to it right here.
iOS 15 beta 4 and iPadOS 15 beta 4 are rolling out now on iPhone and iPad
Precisely two weeks after the last beta release, Apple began seeding iOS 15 beta 4 and iPadOS 15 beta 4 on Tuesday. There were eight beta releases before iOS 14 launched to the public in 2020. If Apple is following the same pattern in 2021, we're halfway through the betas.
First of all, we should point out that all of the devices that were supported by iOS 14 will be supported by iOS 15 as well, so if you were able to update to iOS 14, you're in the clear for at least one more year, even if you're still using an iPhone 6s Plus, an iPad Air 2, or an iPad mini 4.
As for the new features, iOS 15 is upgrading FaceTime with spatial audio, a grid view, Portrait Mode, and SharePlay to share music, movies, and more during video calls. The new Focus feature lets you make custom modes to decide which notifications you see depending on what time it is and where you are, Live Text can recognize text and make it selectable, and a few apps are getting significant redesigns, including Maps and Weather. All in all, it's a pretty substantial update.
Today's Top Deal
Behold: Apple AirPods Pro just hit Amazon's lowest price of 2021! List Price:$249.00 Price:$189.99 You Save:$59.01 (24%)
Buy Now Available from Amazon, BGR may receive a commission Available from Amazon BGR may receive a commission
Which devices work with iOS 15 beta 4?
iOS 15 beta 4 is now available to developers, as is iPadOS 15 beta 4. If you want to know whether or not your device is compatible with iOS 15 or iPadOS 15, we put together the full list below containing every supported device. If your device is on the list, you're good to go:
iPhone 12
iPhone 12 mini
iPhone 12 Pro
iPhone 12 Pro Max
iPhone 11
iPhone 11 Pro
iPhone 11 Pro Max
iPhone XS
iPhone XS Max
iPhone XR
iPhone X
iPhone 8
iPhone 8 Plus
iPhone 7
iPhone 7 Plus
iPhone 6s
iPhone 6s Plus
iPhone SE (1st generation)
iPhone SE (2nd generation)
iPod touch (7th generation)
iPad Pro 12.9-inch (4th generation)
iPad Pro 11-inch (2nd generation)
iPad Pro 12.9-inch (3rd generation)
iPad Pro 11-inch (1st generation)
iPad Pro 12.9-inch (2nd generation)
iPad Pro 12.9-inch (1st generation)
iPad Pro 10.5-inch
iPad Pro 9.7-inch
iPad (7th generation)
iPad (6th generation)
iPad (5th generation)
iPad mini (5th generation)
iPad mini 4
iPad Air (3rd generation)
iPad Air 2
How to download and install iOS 15 beta 4
As you know by now, installing the latest iOS or iPadOS beta on your iPhone, iPad, or your iPod touch could not be easier. Just navigate to Settings > General > Software Update and then tap "Download and Install" at the bottom of that page. If you want, you can also install the update through iTunes by connecting your iOS device to your computer. Whichever method you choose, just make sure to back up your device before installing the update. You can never be too careful!
Today's Top Deal
Super-popular TP-Link Kasa mini Alexa smart plugs just hit a new all-time low price of $6 each! List Price:$26.99 Price:$23.99 You Save:$3.00 (11%)
Buy Now Available from Amazon, BGR may receive a commission Available from Amazon BGR may receive a commission
Amazon shoppers rave about this 22-in-1 screwdriver set that's down to $18 today
If you purchase an independently reviewed product or service through a link on
our website, we may receive an affiliate commission.
Have you ever heard of a brand of tools called Nanch? It's obviously not as big as companies like Craftsman and Black & Decker. But over the years, BGR Deals readers have grown to love this specialized tool maker. As a matter of fact, it's not just our readers who have made Nanch a top screwdriver brand on Amazon.
Nanch has essentially become synonymous with high-quality multi-piece tool sets. They feature surprisingly good construction at prices that are so low, they often seem like mistakes. This company's screwdriver sets have helped to unclutter thousands upon thousands of our readers' toolboxes over the years. And Nanch's best-sellers are getting more and more popular by the day. Each and every new product that the company releases ends up finding new ways to improve upon earlier models, which is impressive since those earlier models are already so great. And there's no question that's the case with the new Nanch H8 22-in-1 precision screwdriver set. The previous model is still among the best screwdriver sets we've ever tested. But the updated version is somehow even better — and it's on sale right now for just $17.99 at Amazon!
Nanch's H8 22-in-1 precision screwdriver set features an even better design than the model it replaces, and the construction is still just as solid as it was before. This set uses S2 steel bits with a hardness rating of HRC 58-62. Plus, they have a special treatment that prevents rusting. Also of note, these bits are all magnetized. That way, you won't lose anything when you're working with tiny screws.
This new H8 model is so impressive that it already has over 2,600 5-star ratings on Amazon. Despite the fact that it's just a few months old. The refreshed handle design fits comfortably in your palm and the end swivels smoothly for effortless turning. For working on anything that has small screws like smartphones, laptops, desktop computers, this set is perfect.
The Nanch H8 22-in-1 precision screwdriver set is already a bargain at its full retail price of $28. As a matter of fact, there might not be a better value on Amazon in the tool section. Today, however, a deep discount slashes the price to $17.99.
Nanch H8 22-in-1 precision screwdriver set Price:
Buy Now Available from Amazon, BGR may receive a commission
Here are the main takeaways:
Nanch's H8 22-in-1 screwdriver set includes 22 magnetic screwdriver bits
Don't worry because the bits aren't over-magnetized, so they won't damage small electronics
All bits are made from S2 steel alloy with a hardness rating of

HRC 58-62

Special anti-rust treatment ensures that this set stays free of any rusting
Ergonomic screwdriver handle is comfortable yet durable, with a special grip surface to prevent slipping
Perfect for performing repairs on all sorts of

electronics and more, such as laptops, smartphones, computers, watches, eyeglasses, toys, video game consoles, and more

2-year warranty
Nanch H8 22-in-1 precision screwdriver set Price:
Buy Now Available from Amazon, BGR may receive a commission
Go here to see this month's best deals on Amazon!
---
Follow @BGRDeals on Twitter to keep up with the latest and greatest deals we find around the web. Prices subject to change without notice and any coupons mentioned above may be available in limited supply.
Here's how much money you can get right now between stimulus checks and tax credits
By the time we get to the end of this year, the federal government will have sent millions of Americans a bonus, of sorts, this year that totals almost $3,500. That's according to a new stimulus update from the Institute on Taxation and Economic Policy, which has calculated that a mix of new stimulus checks and tax credits is having a big impact. To the tune, in fact, of an average of $3,450 for Americans making $65,000 or less annually.
These figures focus on the third stimulus checks that millions of Americans have already started to receive. As well as the expansion of two tax credits — the child tax credit, as well as the earned income tax credit. They stem from the stimulus legislation that President Biden signed in March. But, remember, that bill was also chock-a-block with other benefits for Americans, including an increased health care subsidy and an extra $300/week to help jobless workers.
Today's Top Deal
Control your garage door from anywhere with your smartphone or Alexa! List Price:$29.98 Price:$19.98 You Save:$10.00 (33%)
Buy Now Available from Amazon, BGR may receive a commission Available from Amazon BGR may receive a commission
New stimulus update
Before taking a closer look at these benefits, let's also remember what else that the federal government, as well as state officials, are doing in response to the economic pain of the coronavirus pandemic. More than one emergency coronavirus relief bill passed by Congress, as we noted yesterday, also included billions in stimulus rental assistance. Unfortunately, though, there's evidence that enough Americans still don't seem to be aware of that fact.
Another expanded tax credit is the Child and Dependent Care Credit. It can net taxpayers up to 50% of up to $8,000 of child care and similar costs for a child under 13, a spouse or parent who can't care for themselves, or another dependent. And up to $16,000 of expenses for two or more dependents.
That brings us to where things stand with the institute's assessment of what millions of the neediest Americans can get from some of the other myriad stimulus benefits available.
The data
The following data from the institute, via CNBC, shows how much Americans at a variety of income levels can earn from the new stimulus benefits: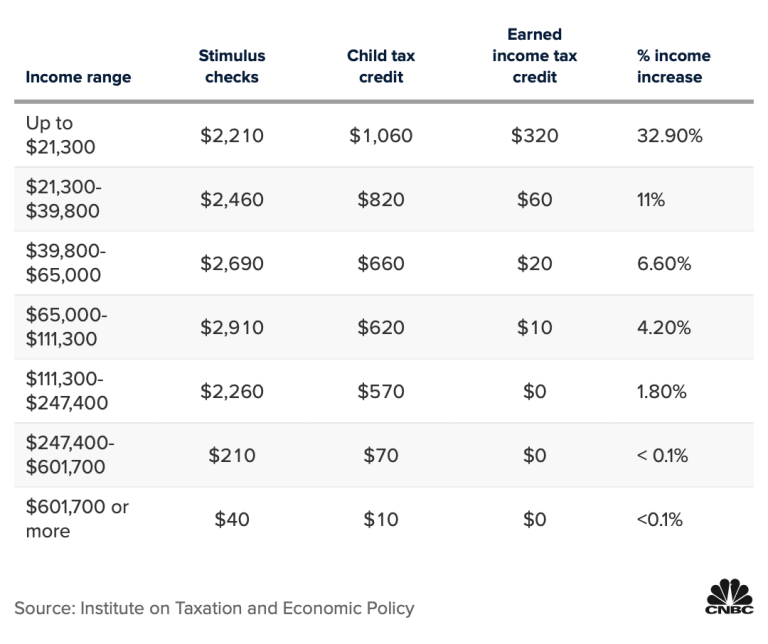 Earlier this month, the IRS started distributing the first of six expanded federal child tax credit payments. Normally, that credit maxes out at $2,000. Because of the pandemic, that amount got bumped up to $3,600. The credit is also structured so that recipients get half of it starting now and half next year.
Other details to keep in mind as part of this new stimulus update:
Regarding the half of that tax credit you can get now, families with children under age 6 are getting monthly checks for up to $300 for each eligible child. Between ages 6 and 17, the amount is $250 for each child. These six checks will add up to half of the family's approved child tax credit payment. The other half is coming next year as a normal tax credit.
Today's Top Deal
Echo Buds have noise cancellation just like AirPods Pro — but they're on sale for $100 less! List Price:$119.99 Price:$89.99 You Save:$30.00 (25%)
Buy Now Available from Amazon, BGR may receive a commission Available from Amazon BGR may receive a commission