The best Wi-Fi range extender can be the magic bullet for lag, latency, or any other internet ailments that may be troubling your gaming PC. There's nothing worse than installing a brand new PC upstairs only to find that its passage so weakens the Wi-Fi signal you get through walls and floors that you might as well be using dial-up. This will not do, so add one of the best Wi-Fi range extenders to your network and enjoy better connections and more responsive gaming.
Many people still swear by the old ways, connecting their PC directly to one of the best gaming routers, using an ethernet cable, and annoying their partner by running it up the stairs and under the carpet. But the latest iterations of Wi-Fi offer speeds to rival that of ethernet, along with the stability that, while not as good as ethernet, betters that of previous Wi-Fi revisions.
Adding a Wi-Fi extender can improve this, especially if you're using the faster 5GHz network, which doesn't penetrate walls as readily as 2.4GHz signals. Because of this extra speed, it's worth keeping devices such as gaming PCs on 5GHz, leaving the congested 2.4GHz band for smart home kits such as digital assistants, smart lightbulbs, and the like—many of these can only be connected on 2.4GHz.
In the real world, we found getting good connections and speeds with these extenders reasonably straightforward. Plugging them in and pressing the WPS button was all that was needed to set them into repeater mode, mirroring the SSIDs of our existing wireless networks and passing data along. Speeds, measured by copying 50Gb of video files to a networked SSD, were, as advertised, limited only by the throughput of our Wi-Fi 6 router and its USB 3 ports.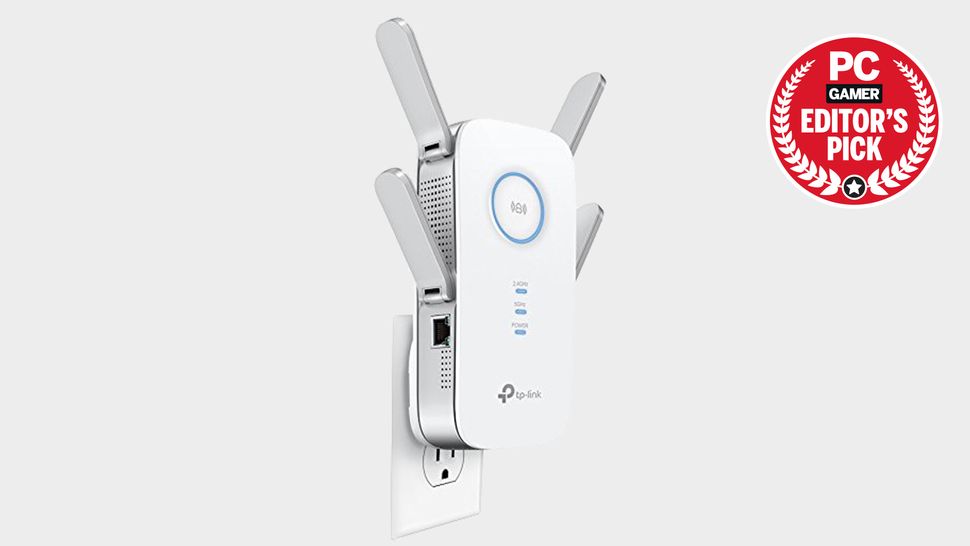 A large and heavy Wi-Fi extender with a vent at the top to let the heat out, the RE650 has four antennas and the second-fastest speeds of all the extenders on test here. You get 1733Mbps on the 5GHz band and 800Mbps on 2.4Ghz, enough to have several people streaming and gaming simultaneously, as long as your internet speeds are up to it.
It's a Wi-Fi 5 extender and makes use of MU-MIMO to ensure multiple users get a good signal; plus, there's a gigabit ethernet port for plugging in a whole network's worth of wired devices.
Sadly, we couldn't get it to stand up on its antennas as much as we tried. It takes longer to start working after being switched on than others on the test, but this didn't stop us from ranking it as the best Wi-Fi extender for most people on the test due to its combination of coverage, speed, and affordability.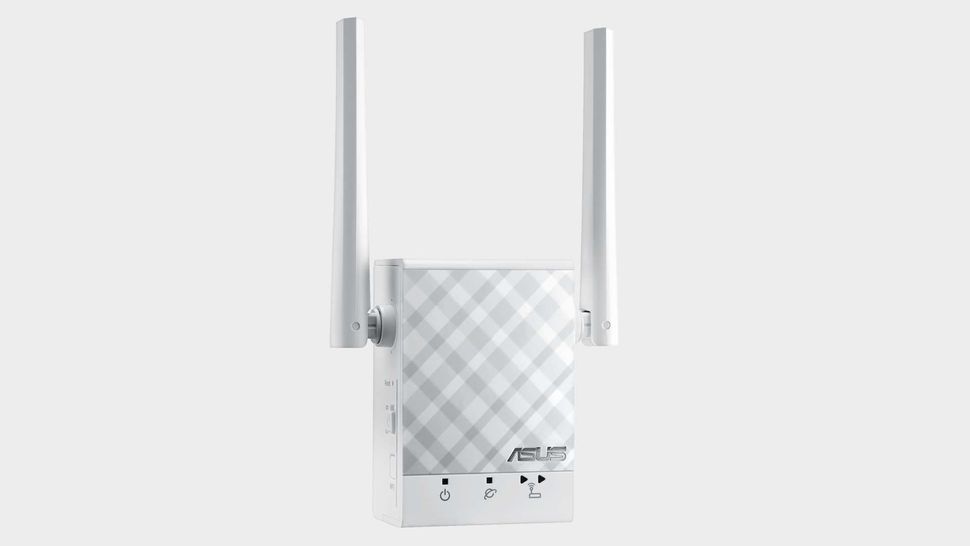 To our delight, it's possible to stand the Asus Wi-Fi AC Repeater upside down on its antennas as if it were a diminutive Scoutwalker. Admittedly, this has nothing to do with its wireless boosting capabilities, which are excellent as long as you're not looking for Wi-Fi 6.
Along with the 433MBps Wi-Fi—you'll need to amalgamate the channels to get the advertised 750Mbps—you get an ethernet port (only 10/100 rather than gigabit) so that the extender can be wired into your existing network and operate in access point mode. There's an on/off switch, a WPS button for easy pairing with a router, and a reset button. LEDs on the front indicate power and network status. Inside the box, you get not one but two quick start guides to talk you through setup in various languages.
The extender merged seamlessly into our network, is reasonably priced, and provides good speeds, making it ideal for those places where your router's Wi-Fi can't reach.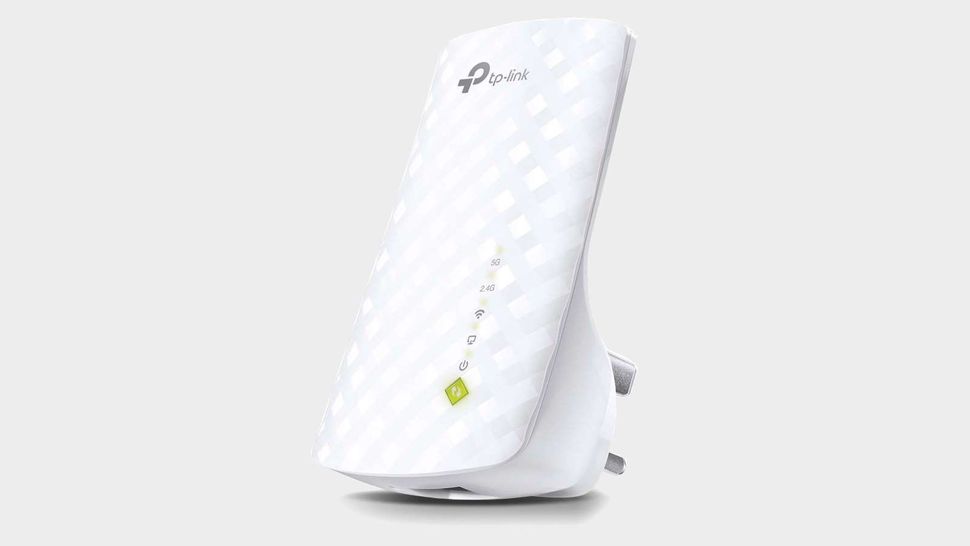 How much network speed do you really need? If you're using your Wi-Fi extender to pass through internet access and don't need fast file transfer, 433Mbps on the 5GHz channel is enough for most broadband providers.
There are always overheads, of course, but with something like 4K streaming taking perhaps 15Mbps of bandwidth, you're still not going to struggle too much, and its ability to eliminate dead spots is as good as all the rest. Its Ethernet port is a 10/100 model, so you're not going to get the full benefit of the Wi-Fi 5 speed there either. A clever feature to maximize the speed you get is Full Speed Mode, which connects to the router exclusively using the 5GHz network, then uses the 2.4GHz channel to connect to laptops, phones, lightbulbs, etc. This sticks you to the 2.4GHz max speed of 300Mbps but maximizes throughput and again outstrips most internet connections unless you've got some expensive fiber.
With no external antennas, the range is limited, and therefore positioning is vital. There's no power passthrough so that you will lose a plug socket, but it's not using Powerline, so anywhere on an extension strip will do. Indicator lights on the front of the extender tell you if you're getting a good wireless connection, so it's simple enough to try a few sockets and see which is best.
On paper, this looks like a bit of a dud, but unless you want super-fast file transfer around your home network, it's really just as good as many of the others if you position it right. And it comes in cheaper too.
Best mesh router kit | Best gaming laptops | Best gaming motherboards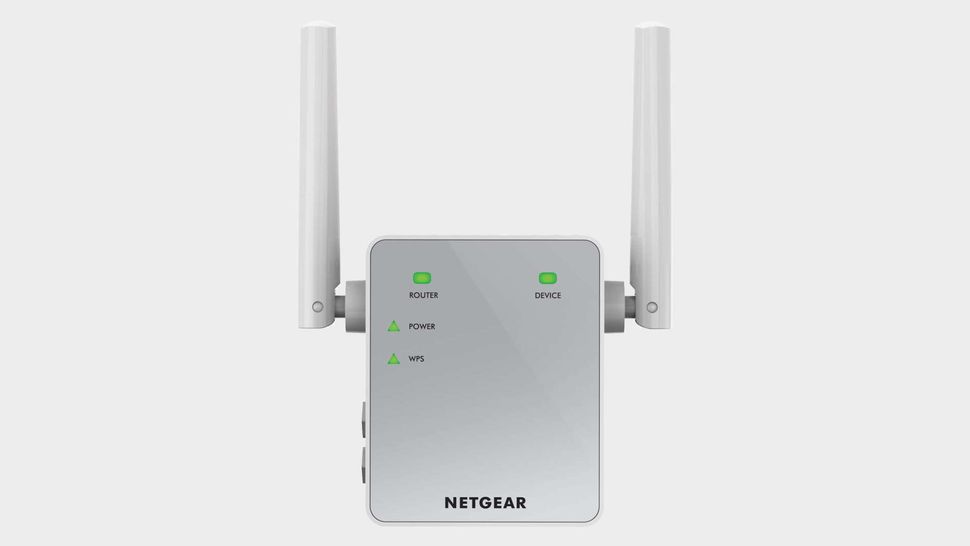 This 750Mbps Wi-Fi 5 extender will not stand upside down on its antennas due to them having rounded ends, but otherwise is a close cousin of the Asus model.
You get an on/off switch, WPS, and reset buttons, plus a 10/100 ethernet port that can put the extender into access point mode or allow an ethernet-only device to access a wireless network. The device connected immediately to our network over WPS and delivered fast, stable internet access.
Wi-Fi 5 is only available on the 5GHz network, with the 2.4GHz connection using Wi-Fi 4. Netgear's Fastlane system combines both channels into one for a higher speed connection if you're having trouble streaming 4K or online gaming. The settings can be accessed through the web interface or Netgear's app.
If you've got many older devices that can't use the newer Wi-Fi standards, this extender will take care of them while leaving the faster bands available for gaming or streaming.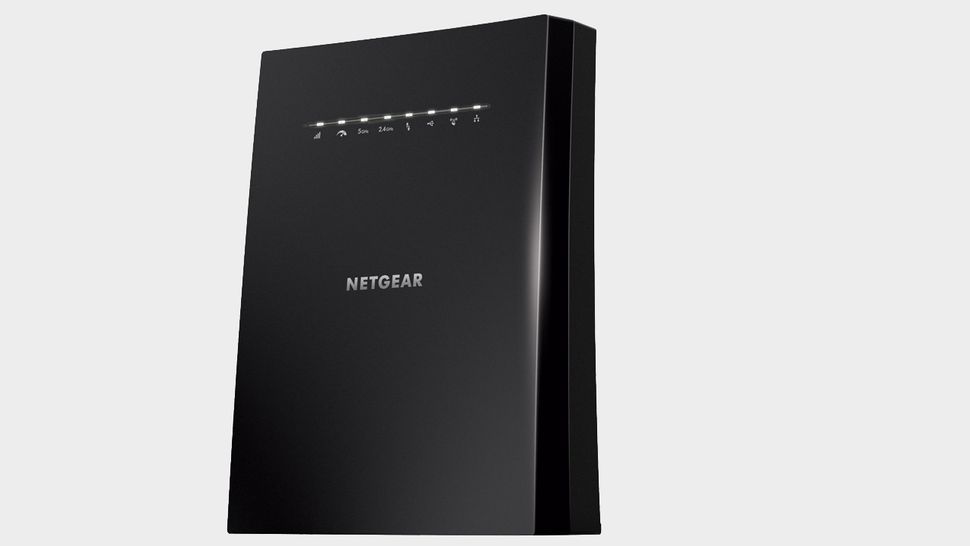 This is a beast. A black slab of plastic that's effectively a router in its own right and moves us from Wi-Fi extender to mesh router territory. It's the only unit on the test to have its own power supply, the only one to have four-gigabit ethernet ports and a USB 2 port, and the only one to address three wireless bands (one is kept as a dedicated link to your router).
It's expensive, but if you're in a particularly wide or tall house, or maybe a castle, and desire a solid wireless signal in every room, then this is the way to go. And if you're feeling really flush, there's an AX6000 version that costs twice as much.
Setup is as simple as pressing the WPS buttons on both the extender and your router and letting them sort themselves out, with the Nighthawk app available if you want to delve into the settings. The quad-core processor keeps things speeding along nicely, and the rarely-seen 802.11k protocol is supported to handle traffic management. All this means is that one of these, properly placed, should iron out any wrinkles in your home network.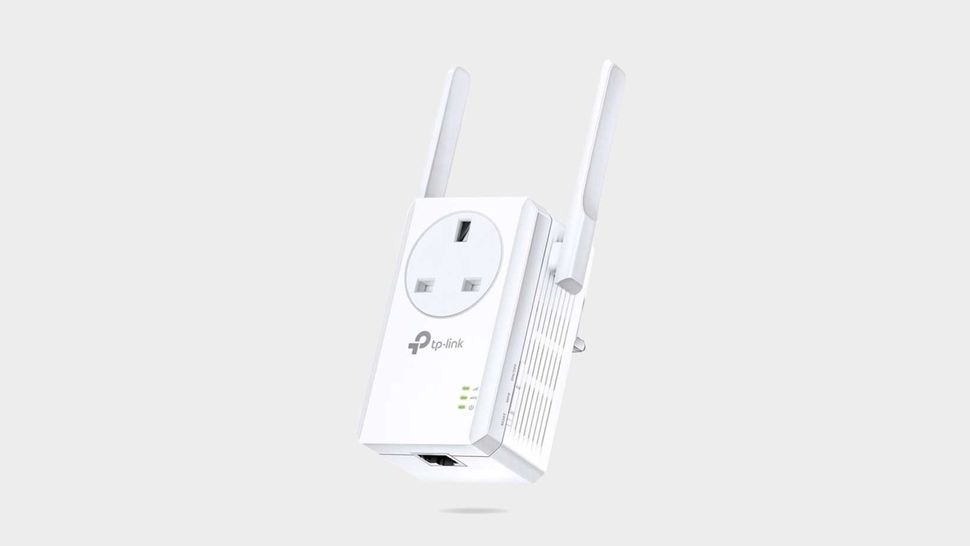 Not the smallest extender on the test but the slowest, this unit from TP-Link makes up for being only Wi-Fi 4 and 2.4GHz with some additional features. For a start, it's the only one here with a power socket pass-through, which means you won't have to sacrifice a socket to use it.
There's 2×2 MIMO, which is unusual for a Wi-Fi 4 extender and should help keep the 300Mbps of bandwidth going where it needs to be. There are two antennas, too narrow to allow balancing upside down, and a 10/100Mbps ethernet port. Setup through WPS is a breeze, and if you need to delve into settings, you can either use the TP-Link Tether app on your phone or do it through a web browser.
It's hard to recommend this, despite it being cheap, as Wi-Fi 4 is outdated, and Wi-Fi 5 and 6 extenders will be backward compatible during the time it takes you to upgrade to one of the best gaming routers.
Best Wi-Fi range extenders Q&A
Q. What's the most important spec?
A. Extenders come in all shapes and sizes, but what really matters is which version of Wi-Fi they support and how fast they're able to transfer data. Wi-Fi 6 is the latest version of the Wi-Fi spec, and along with more speed, it brings some interesting things to the table, such as increased throughput and enhances beamforming over Wi-Fi 5. To use it, every link in the chain must support the new standard, from the router, through any extenders, to the client PC. None of the extenders we've tested here support the latest standard, which has yet to make its way into many homes. The next time you upgrade your router, however, it's worth looking out for.
Q. Where should I place my Wi-Fi extender?
A. If you have a Wi-Fi dead spot in your home, then the positioning of a Wi-Fi extender is crucial. The extender needs to be in good contact with the router, so don't place it in the dead spot itself but on the edge of your router's current coverage. As these extenders plug into a socket, you may be limited by their placement, but you can always put one on the end of an extension cord if need be.
Q. What's all this Mesh Wi-Fi stuff then?
A. If you know there will be problems with Wi-Fi in your home—perhaps it's particularly large or was built on top of a crashed UFO—then it's worth looking at a mesh system before you buy a router and a load of extenders. Mesh systems place small stations all over your house to really saturate it with signal and aren't as expensive as you might think.
How To Find Mutagel In Ark Genesis Part 2?
After a long wait, Studio Wildcard has finally released the final storyline for Ark: Survival Evolved. With the arrival of Ark: Genesis Part 2, several new creatures, weapons, and other items have appeared in the game.
In order to fulfill their missions, players need to find several items in the game that helps in upgrading or creating other items in the game.
One such item is Mutagel In Ark: Genesis Part 2 which players need to find in order to progress in the story.
In this guide, we shall take a look at how to find Mutagel in Ark and how to use it to create Mutagen.
MORE: Ark Genesis Part 2 – All New Dinos And Creatures
Mutagel Location In Ark Genesis Part 2
The Mutagen is a resource that enables the survivor to further evolve their existing tames in Ark: Genesis Part 2. It can also be used to improve the statistics of non-bred dinos in the game.
Mutagel can also be crafted into Mutagen at a Chemistry bench, which can be used later to tame Stryders. It takes 800 Mutagel to make 1 Mutagen so make sure you collect lots of it.
To get Mutagel from rocks, you can head over to the space area where you can find different rocks depending on the time of the day.
Next, you need to look for orange/golden colored rocks in the space area to mine Mutagel. These rocks are scattered in the area and they contain both Mutagel and Ambergris inside it.
You can use a pickaxe to break the rocks and collect Mutagen from it.
Alternatively, you can obtain Mutagel in Rockwell's Innards biome from a Mutagen plant. It yields 1 Mutagel and 1 Plant Species R Seed. It can also trigger a defense against multiple Summoner and their minions.
Have something to tell us about this article?
Genshin Impact 1.6 Kazuha Banner 4 Star Characters, Release Date
Last year was filled with a number of highly anticipated titles, but Genshin Impact managed to come out on top amidst all of that. By the end of the year, it had over 40 million players.
When it comes to updates, there are only a few games that are as consistently updates as Genshin Impact. With a new update releasing every six weeks, fans always have tons of new content to look forward to.
MORE: Genshin Impact 1.6 Livestream Officially Announced
With the release of the next update drawing closer, the community is quite eager to know what new stuff we will be getting in the 1.6 Update. So far, we have got to know that we will finally be getting costumes, something fans have been asking for quite a while now.
Apart from that, a new region known as Summer Islands and character, Kazuha, will be joining the game.
Genshin Impact 1.6 Kazuha Banner 4 Star Characters, Release Date
Today, a new leak has given us the details of the Kazuha banner. The leak comes from popular Genshin Impact leaker Lumie and it states that the Kazuha banner will be featuring Rosaria, Bennett, and Razor.
This is in line with the leaks which surfaced almost a month ago, so it seems quite likely that this is true. Do note that unless official information is out, this should be taken with a grain of salt.
Apart from that, the Klee banner will also be arriving as per leaks. It will be featuring "Klee – Fischl – Sucrose – [No Trial]", according to Wangsheng Funeral Parlor. It will be interesting to see if we actually end up getting the same characters. However, considering that leaks in the past have been quite accurate, there is high chance of this being true. As far as the release date is concerned, Kazuha might be the first banner arriving in 1.6, followed by Klee.
Have something to tell us about this article?
First Biomutant patch will tackle dialogue problems alongside combat Biomutant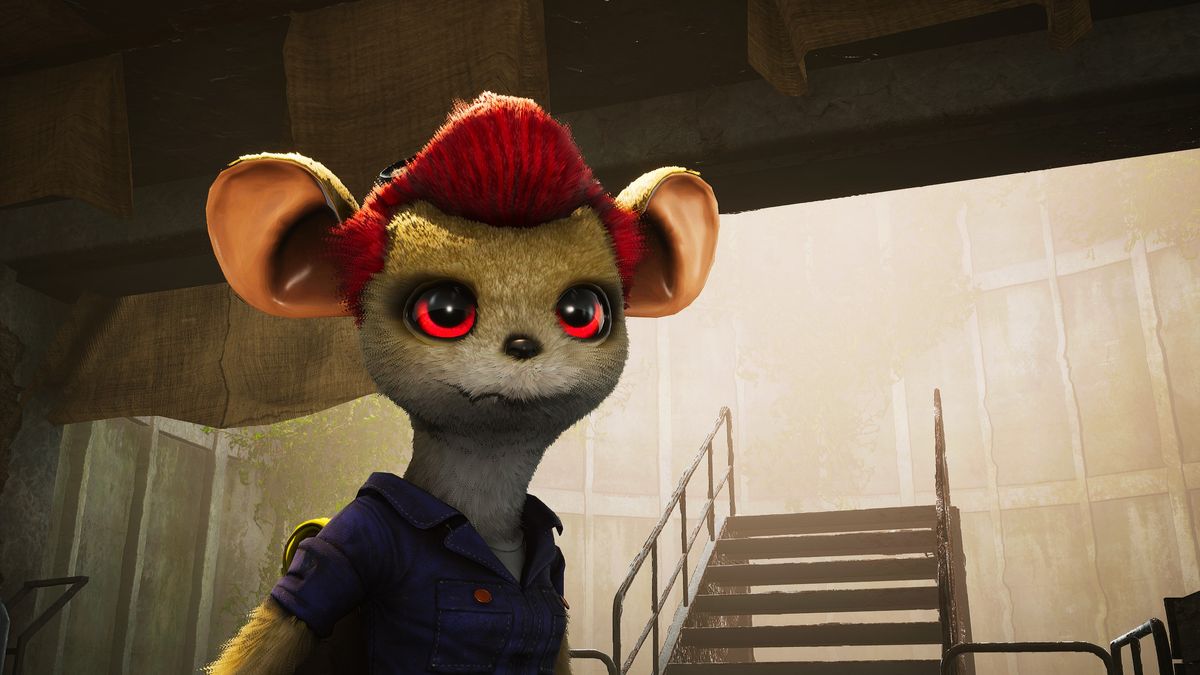 We are working on an update for #Biomutant which we will hope to get into players' hands soon.Most likely we will be able to deliver the update to PC platforms first and then to consoles. The update will include bug fixes and changes based on community feedback.May 29, 2021
See more
The developers at Experiment101 have announced they're working on an update for Biomutant, naturally, that they "hope to get into players' hands soon." The update will include work on some of the community's most persistent bugbears, like "the pacing of dialogues, narrator settings, difficulty settings, video settings like depth of field and motion blur, loot and enemy tuning as well as sound and combat."
Weird dialogue pacing, as well as the persistent and constant narration, have been key notes from many players. Though you can turn down the constant chatter from the narrator, you can't turn it off.
Key for some people, me included, is a promise to change video settings like depth of field and motion blur. Some people don't like those. I do not like them. For now, you can go and find some mods to change those—they're already out there.
Reviewer James Davenport found Biomutant to have a charming world, but lackluster gameplay, in our review. "Biomutant feels like it's going to be much more," he said, "but in practice it's an endless stream of new ideas that go nowhere and beautiful, toxic landscapes with little to offer except an excuse to use photo mode."
Nonetheless, James did give out some hot tips for making the most of Biomutant.
We are working on the pacing of dialogues, narrator settings, difficulty settings, video settings like depth of field and motion blur, loot and enemy tuning as well as sound and combat.May 29, 2021
See more