Smartphones don't last forever, even when you protect them with display shields and custom phone cases. While the best smartphones aren't cheap, we can help you save some cash if it's time for a new mobile. We've gathered below all the best cheap smartphone deals available this week that cover all the bases including Google Pixel deals, Samsung Galaxy deals, iPhone deals, 5G phone deals, and other bargains.
Amazon Prime Day is June 21 and 22 this year, and Prime Day deals are making all of these deals even better. Amazon has a huge selection of Prime Day smartphone deals that aren't listed on this page. Make sure to compare them both!
These discounts can save you hundreds, so if you've got some cash left burning a hole in your pocket and you're hungry for more, definitely check out these smartwatch deals as well.
Today's best smartphone deals
Carrier offers usually require you to sign up for a specific service (usually an unlimited plan), trade in an old device, or port in your current number to get the best possible discount, and this is often the best way to score a deal on a brand-name smartphone — particularly just released newer models. That's not always a viable option, however, so these smartphone deals also include some great unlocked devices that you can bring to a service provider of your choice:
Samsung Galaxy smartphone deals
More than ten years after their inception, Samsung's Galaxy smartphones still command the lion's share of the Android smartphone market and could arguably be considered Apple's main competition worldwide (although Apple currently enjoys a larger market share in the U.S. than all Android phone brands combined). As you probably inferred from the name, the 2019 Galaxy S10 phones represent the tenth generation of Samsung's main flagship line, but Samsung got in the spirit of 2020 when it rolled out the new S-series flagship — dubbed the Galaxy S20 — at its February Galaxy Unpacked event. The Galaxy family also features the Note smartphones that occupy kind of a weird space as alternative flagships featuring larger displays and included stylus pens, and we were more impressed with the new Note 20 and Note 20 Ultra than with the S-series devices. Samsung also recently revealed the unique Galaxy Z Flip, a new spin on the old flip-phone concept, along with the larger (almost iPad Mini-like when in use) Samsung Galaxy Fold.
As far as the new 2021 offerings go, the release strategy hasn't changed much from last year with three next-generation Galaxy devices to choose from: The Galaxy S21, the larger Galaxy S21 Plus, and the premium Galaxy S21 Ultra (which is far and away our favorite of the bunch). They're all solid phones as you'd expect, although the Samsung didn't exactly re-invent the wheel. Your best bet when looking for a deal on new releases like these is to take advantage of the carrier offers below, but if you don't mind last-gen stuff, you can also find great deals on carrier-unlocked models like the Galaxy S10, Note 10, and similar 2019 flagships.
Apple iPhone deals
The Apple iPhone is the device that brought smartphones into the limelight, and more than a decade later, the series is still going strong. We saw the release of not two, but three new models (an industry trend that has become the norm in recent years) in 2019 with the mid-range iPhone 11, the flagship iPhone 11 Pro, and the up-sized iPhone 11 Pro Max. For 2020, Apple actually released four new flagships — the iPhone 12, iPhone 12 Mini, iPhone 12 Pro, and iPhone 12 Pro Max, and Apple also recently brought back the iPhone SE, (with the second-gen SE representing a great mid-range flagship alternative similar to Google's Pixel 3a). That makes five new Apple phones for 2020, giving you more options than ever if you're after a new iPhone.
Unfortunately, Apple iPhone deals can be a little hard to find sometimes. Often, the best way to save hundreds is to either take advantage of a carrier sign-up offer or to simply buy refurbished, but savvy bargain-hunters can still find prepaid or unlocked iPhone deals on new and slightly older models if they look around. Now is an especially good time to look for deals on recently discontinued devices such as the iPhone XS and iPhone XS Max, which are great flagships from 2018 that are much cheaper now but not too dated for use as your everyday smartphone.
LG smartphone deals
Sorting through LG's flagship offerings can be a little confusing due to some odd naming conventions, but there's no denying that this brand pumps out some very good Android smartphones. Not unlike Samsung, LG has two different flagship lines: The standard G-series devices and the premium V-series phones, both of which now bear LG's "ThinQ" branding. In 2019, the company added three new devices to the G series stable, the LG G8 ThinQ (the successor to the 2018 G7 ThinQ), and the truly unique dual-screen ThinQ G8x, while the V series saw a refresh in the newer 5G-capable LG V50 ThinQ that succeeded the 2018 V35 ThinQ and LG V40 ThinQ. Even more recently, we saw the LG Velvet and dual-screen LG V60 ThinQ.
LG's newest offerings didn't excite us quite as much as others have, but they're still solid Android devices and are worth it if you can find a good deal — which, with our help, you can. Carriers frequently offer discounts, rebates, and BOGO offers on these premium LG devices, but you can also find some nice unlocked smartphone deals sometimes, even on the latest models. And of course, if you want the best deal on a flagship you can still find new (and not used or refurbished), don't turn up your nose on slightly older picks like the LG G7 ThinQ or the LG G6.
Google Pixel smartphone deals
Google was late to the hardware game, but given that this software titan is the brain behind the Android operating system, it's no surprise that its Pixel phones deliver what might be the best out-of-the-box Android experience to be found in a mobile device. In contrast to decade-old devices like the iPhone or Galaxy, Google's Pixel devices are currently only in their fifth generation. The Pixel 4 and Pixel 4 XL were released last fall, bringing with them some notable improvements like fully metal-and-glass construction (ditching the partially plastic backside of previous models) along with a new three-lens camera module. These were followed by the shockingly cheap Pixel 4a and the new fifth-gen flagship, the Google Pixel 5.
These flagship smartphones are affordable compared to the competition, too (given that Apple and Samsung are now releasing flagships in the $1,000-plus range). Google's staggered smartphone release strategy means that we may see a new Pixel 5a next spring, but for now, the sub-$400 Pixel 4a is the one to buy if you want one of these devices on the cheap. Also, while deals on the Pixel 5 might be scarce this early after its launch, the Pixel 4 and Pixel 4 XL are still worthy buys that can be had for deep discounts now.
Carrier smartphone deals
Cellular service providers regularly offer enticing incentives to get you to switch to their LTE plans. Carrier offers are also often the best way to score deals on new flagships like the iPhone 12 and Samsung Galaxy S20. If you're looking for a new carrier, you can save a good chunk of change and even score a free device by taking advantage of one of the many smartphone deals that are always available from Sprint, T-Mobile, Verizon, or AT&T, although note that these promotions are often given in the form of bill credits rather than regular discounts.
These carrier offers change all the time, but you can check out each service provider's updated deal page right here:
T-Mobile

Verizon

AT&T

Sprint
We strive to help our readers find the best deals on quality products and services, and we choose what we cover carefully and independently. The prices, details, and availability of the products and deals in this post may be subject to change at anytime. Be sure to check that they are still in effect before making a purchase.
Digital Trends may earn commission on products purchased through our links, which supports the work we do for our readers.
Editors' Recommendations
Unlock your door the same way you unlock your phone with eufy's stunning Smart Lock Touch
If you purchase an independently reviewed product or service through a link on
our website, we may receive an affiliate commission.
Anker's latest smart lock lineup from its smart home brand eufy is called the eufy Security Smart Lock Touch. This awesome model is easily the most stylish option that we have come across in our many, many years of testing smart locks. Just take one look and you'll agree. Equally as important, however, is the fact that Anker's eufy brand values function just as much as form. This lock also happens to be among the most feature-rich models we've ever tested, offering four different unlock methods including our favorite… fingerprint unlock.
That's right, you can unlock your front door in an instant with the same tech you use to unlock your smartphone!
Everyone on the BGR Deals team is a huge fan of this smart lock, but there was always one problem that kept the original model from being perfect. The good news is that eufy has solved that problem and created a lock that is as close to perfect as we've ever seen.
Today's Top Deal
AirPods Pro just sold out — now they're back in stock at Amazon's lowest price of 2021! List Price:$249.00 Price:$197.00 You Save:$52.00 (21%)
Available from Amazon, BGR may receive a commission Buy Now Available from Amazon BGR may receive a commission
As we mentioned, we seriously love the eufy Security Smart Lock Touch. It retails for $200 (though it's on sale right now at Amazon for just $169.99) and it is awesome. Beyond the gorgeous design and sturdy construction, this smart lock by Anker's smart home brand eufy is also one of the most feature-rich models out there. With eufy's Smart Lock Touch, you can unlock your door in four different ways — including our favorite by far, which allows you to unlock your door with a quick fingerprint scan. It works so quickly and it lets you unlock your door in the most natural way possible, without having to mess with keys or even your smartphone. How cool is that?!
Nearly everything about the Smart Lock Touch is great, but there was one issue we had with it: locking and unlocking it remotely requires a separate Wi-Fi bridge. Now, however, eufy has released a brand new model that finally solves this problem. Thankfully, there is now a newer version of this awesome smart lock called the eufy Security Smart Lock Touch & Wi-Fi. As the name suggests, this new model is exactly like the earlier version that we love so much in terms of both design and functionality. The only difference, of course, is that Wi-Fi is now built right into the lock itself so you don't have to worry about buying another piece of hardware.
We have no doubt whatsoever that this lock is as close to perfection as we've ever seen, and it's currently back in stock after having sold out recently — and it's on sale with a discount. Don't miss out!
eufy Security Smart Lock Touch, Fingerprint Scanner, Keyless Entry Door Lock, Bluetooth Electro… List Price:$199.99 Price:$169.99 You Save:$30.00 (15%)
Available from Amazon, BGR may receive a commission Buy Now

eufy Security Smart Lock Touch & Wi-Fi, Fingerprint Scanner, Keyless Entry Door Lock, Smart Wi-… List Price:$249.99 Price:$229.99 You Save:$20.00 (8%)
Available from Amazon, BGR may receive a commission Buy Now
Here are the key takeaways:
The fastest way to unlock your door — the integrated fingerprint scanner reads your print in 0.3 seconds and unlocks your door in just 1 second
Sleek and stylish design adds flair to any entryway
Made of sturdy zinc alloy and stainless steel for solid construction and durability
IP65 water and dust resistance
Control your lock from anywhere with built-in Wi-Fi connectivity (newer version) or with the additional Wi-Fi bridge (older version)
eufy Security Smart Lock Touch, Fingerprint Scanner, Keyless Entry Door Lock, Bluetooth Electro… List Price:$199.99 Price:$169.99 You Save:$30.00 (15%)
Available from Amazon, BGR may receive a commission Buy Now

eufy Security Smart Lock Touch & Wi-Fi, Fingerprint Scanner, Keyless Entry Door Lock, Smart Wi-… List Price:$249.99 Price:$229.99 You Save:$20.00 (8%)
Available from Amazon, BGR may receive a commission Buy Now
---
Follow @BGRDeals on Twitter to keep up with the latest and greatest deals we find around the web. Prices subject to change without notice and any coupons mentioned above may be available in limited supply.
Windows 11 leaks reveal new design, taskbar, and Start menu
Microsoft has been dropping subtle hints in the weeks leading up to its June 24th event, but the big surprise might have already been spoiled. On Tuesday, purported screenshots of a Windows 11 beta appeared on the Chinese site Baidu, offering up our first look at the new user interface that Microsoft would be bringing to its popular operating system.
Within hours, the build began making the rounds, and several publications had installed Windows 11 onto their computers to give it a test run. PCWorld's hands-on was among the most comprehensive — here are some of the most interesting revelations from their report.
Today's Top Deal
Add hands-free Alexa to your car for $14.99 instead of $50 with this crazy early Prime Day deal! Price:$14.99
Available from Amazon, BGR may receive a commission Buy Now Available from Amazon BGR may receive a commission
According to PCWorld, installing the ISO on a Surface Pro 7+ tablet took 20 minutes or so and involved several reboots. Unlike with a fresh Windows 10 installation, Cortana didn't start shouting at the team during the setup process to ask them about their preferences. Rather, the software seemed to be drawing upon what it already knew as Windows 11 finished installing.
Once Windows 11 has finished installing, it boots directly to the home screen, complete with a new default desktop background. The most obvious change comes in the taskbar, where the app icons — as well as the Start button — are now centered the same way they would be on a macOS or a Chrome OS device. The Start menu has received a sleek makeover as well, doing away with the Live Tiles and replacing them with a list of pinned and recommended apps.
One of the many changes that PCWorld saluted in its hands-on preview was the implementation of PowerToys' FancyZones into every windowed app. If you hover your cursor over the "Maximize" icon on any app, you will see a feature that will allow you to align the app in a variety of configurations all over the screen. This should make it easier to organize apps on your display.
Another notable change is the addition of Widgets icon in the taskbar. The Widgets drawer appears to be a rebranded version of the News and Interests feature that hit Windows 10 earlier this year. The Widgets drawer slides in from the left side of the screen and takes over most of the display, offering updates on the weather, recent headlines, stocks, and sports scores.
Based on this hands-on report and several others that have popped up since the leak, Windows 11 is more than just a simple UI refresh, but not by much. While the taskbar and Start menu have been reworked, many of the other menus look the same as they did in Windows 10. Of course, this isn't the final version of Windows 11, and PCWorld ran into plenty of bugs that will likely be fixed before the update rolls out to the public, but anyone who was expecting Microsoft to completely revolutionize its desktop OS might want to temper those expectations.
If you want to see the build in action, here's a hands-on video from Windows Central:
Today's Top Deal
Add hands-free Alexa to your car for $14.99 instead of $50 with this crazy early Prime Day deal! Price:$14.99
Available from Amazon, BGR may receive a commission Buy Now Available from Amazon BGR may receive a commission
Apple hints AirPods might get an awesome hidden feature soon
When you think of AirPods, you think of yet another Apple product that redefined an industry. Apple's desire to create an all-screen iPhone prompted it to remove the headphone jack from the iPhone 7 series in 2016. That's when Apple announced the first-gen AirPods, which were one of the "fixes" Apple proposed to iPhone buyers for dealing with the absence of the 3.5mm audio port. The AirPods became instant best-sellers when they launched, forcing all of Apple's rivals to follow Apple's lead and come up with AirPods alternatives.
Apple upgraded the AirPods with a second-gen model that got better internals and wireless charging and then released the AirPods Pro, which featured a new design and active noise cancelation support. Apple is expected to upgrade the AirPods and AirPods Pro further this year, with several rumors already detailing the expected design and feature changes. While the AirPods' main purpose will remain to deliver audio wirelessly from nearby devices, an Apple exec seemed to confirm that the earphones might be getting an awesome hidden feature.
Today's Top Deal
Add hands-free Alexa to your car for $14.99 instead of $50 with this crazy early Prime Day deal! Price:$14.99
Available from Amazon, BGR may receive a commission Buy Now Available from Amazon BGR may receive a commission
Apple announced a few novel AirPods features at WWDC 2021 that will be available soon, including Dolby Atmos support, spatial audio for FaceTime conversations, and better Find My support. But Apple didn't say anything about health-related features it is considering for the wireless earphones.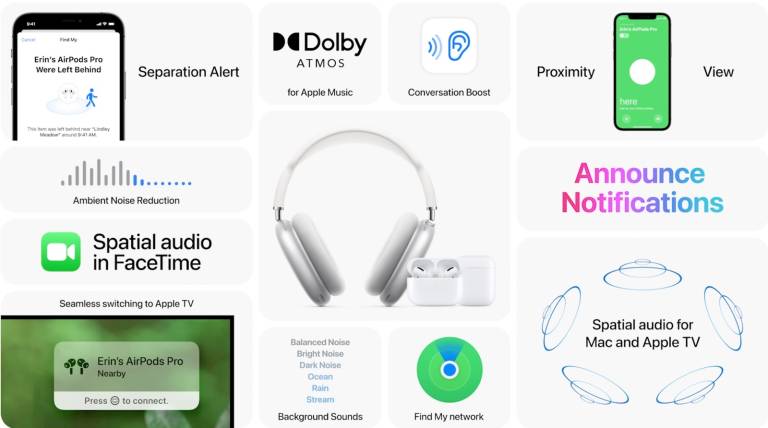 Reports in previous months did indicate that Apple has been looking at adding health monitoring features to the AirPods. Well-known Ming-Chi Kuo and Bloomberg's Mark Gurman have made such claims in previous research notes and reports, respectively. Gurman's latest update on the AirPods Pro 2 claimed that they'd include "updated motion sensors with a focus on fitness tracking."
Apple's vice president of technology, Kevin Lynch, who routinely hosts Apple Watch segments during Apple's events, spoke with TechCrunch about Apple's increased interest in health and how the company got there with the help of the Apple Watch.
Towards the end of the interview, after going through the Watch's early days at monitoring health and explaining the more recent walking steadiness feature that will be available when iOS 15 and watchOS 8 rollout, Lynch had this to say about sensor fusion and whether AirPods will be used in that approach to gathering health data:
"We already do sensor fusion across some devices today, and I think there's all kinds of potential here."
Lynch did not outright say that AirPods will collect health data points that could be used to tweak health parameters monitoring, but his answer came in response to a question about the wireless earphones. Walking steadiness relies on Apple Watch and iPhone data, but it could also harness data points from AirPods in the future. This is what sensor fusion refers to, using multiple sensors on different devices to monitor health parameters.
Today's Top Deal
Add hands-free Alexa to your car for $14.99 instead of $50 with this crazy early Prime Day deal! Price:$14.99
Available from Amazon, BGR may receive a commission Buy Now Available from Amazon BGR may receive a commission