If you're one of the millions of people around the world who loves Apple, then we don't have to tell you why these gadgets are so famous. Sleek designs, no-nonsense reliability, intuitive software, and industry-leading build quality are just a handful of reasons why so many techies flock to Apple time and time again, and the fact that Apple products remain status symbols certainly doesn't hurt their popularity, either. This stuff isn't usually cheap, but this roundup of this week's best Apple deals is your chance to score some new Apple kit on the cheap.
Looking for something in particular? Check out our other roundups of iMac deals, Mac Mini deals, AirPods deals, Apple Watch deals, iPad deals, iPhone deals, and MacBook deals for even more savings.
Today's Best Apple Deals
Our Favorite Apple Products
Apple Watch Series 5 and Series 6
Smartwatches never became the next smartphones, but the Apple Watch is the one smartwatch that has managed to enjoy widespread popularity. Apple updated its WatchOS-powered smart wearable last year, releasing the excellent — and pricey — new Apple Watch Series 6. The Apple Watch Series 5 and Apple Watch Series 6 refined everything we loved about previous models. The fifth-gen version brought design to near perfection with great software, a vibrant always-on display, and an excellent set of health and fitness-tracking features.
We've also seen some fantastic discounts in the wake of the Series 6 release that bring the Series 5 closer in price (or even cheaper than) the now-discontinued Series 4, making now a particularly perfect time to buy the Apple Watch Series 5 if you've been on the fence and waiting for a deal.
Apple 10.2-Inch iPad (8th Generation)
Apple released its 8th-gen iPad last year, and aside from incremental hardware changes, the new 2020 model didn't really re-invent the wheel. Yet given how good these tablets are and the value they provide, that's just fine with us, and there's never really a bad time to score the new 10.2-inch iPad at a discount as retailers offer them on sale pretty much year-round.
When it was first on the market, our review team named the 7th-gen 10.2-inch iPad the best tablet for most people thanks to its superb touchscreen, solid performance, and great overall design and build quality. That hasn't changed with the new 8th-gen refresh, which is now the one we recommend you buy. It's an even easier sell given how affordable it is relative to other much pricier Apple devices like the iPad Pro line.
Apple iPhone 12
The iPhone 12 series is Apple's current flagship smartphone line, and with it, Apple built upon its three-phone release strategy by rolling out four new devices this time around: the iPhone 12, the pocket-friendly iPhone 12 Mini, the higher-end iPhone 12 Pro, and the up-sized iPhone 12 Pro Max. The iPhone 12 and 12 Mini are the more affordable models (the iPhone 12 Mini retails for just $700, in contrast to the $1,000 sticker price for the 12 Pro), and they're both winners.
All four 12th-gen iPhones look great, feel great, deliver snappy performance thanks to the new A14 Bionic chip, and boast an excellent camera modules. The iPhone 12 is truly the everyman's mobile, and as the current-gen iPhone, it also has the benefit of being available with some of the best carrier discounts and rebates at the moment.
Apple MacBook Air (Late 2020 Model with M1 CPU)
With modern laptops getting slimmer and slimmer, the MacBook Air is almost redundant now, but it still does its thing very well. That should come as no shock considering that Apple wrote the book in super-slim laptops with the MacBook Air, and its late 2020 model makes for a fantastic featherweight work machine now that it comes loaded with Apple's superb new M1 CPU.
On the latest MacBook Air, that M1 chip is paired with 8GB RAM (perfectly respectable hardware for work, browsing, and streaming) along with a 128GB solid state drive. One thing we didn't like about the Intel Core MacBook Air was its launch price, but the addition of that M1 CPU make it much more attractive and it's still the cheapest entry point into the MacBook ecosystem — especially if you can find a good deal.
We strive to help our readers find the best deals on quality products and services, and we choose what we cover carefully and independently. The prices, details, and availability of the products and deals in this post may be subject to change at anytime. Be sure to check that they are still in effect before making a purchase.
Digital Trends may earn commission on products purchased through our links, which supports the work we do for our readers.
Editors' Recommendations
10 deals you don't want to miss on Saturday: Alexa in your car for $19.99, $200 Chromebook, $13 string lights, $190 AirPods Pro, more
If you purchase an independently reviewed product or service through a link on
our website, we may receive an affiliate commission.
There are so many fantastic deals on Amazon this weekend. We sifted through them all to find the very best ones. After all, you should be relaxing this weekend, not digging for discounts! Here are the 10 best deals we can find right now:
Scroll through all of today's best bargains below.
Echo Auto – Hands-free Alexa in your car (Certified Refurbished) List Price:$44.99 Price:$19.99 You Save:$25.00 (56%)
Buy Now Available from Amazon, BGR may receive a commission

Samsung Galaxy Chromebook 4 11.6-inch 64GB eMMC, 4GB RAM List Price:$249.99 Price:$199.99 You Save:$50.00 (20%)
Buy Now Available from Amazon, BGR may receive a commission

Hyundai HyFlip 11.6-Inch Touchscreen Laptop & 128GB MicroSD Card Bundle List Price:$259.99 Price:$229.99 You Save:$30.00 (12%)
Buy Now Available from Amazon, BGR may receive a commission

TP-Link Kasa mini smart plugs with Alexa and Google (4 Pack) List Price:$26.99 Price:$23.99 You Save:$3.00 (11%)
Buy Now Available from Amazon, BGR may receive a commission

Tuff & Co. Crystal Clear iPhone Case Military-Grade Drop Tested Price:$15.99
Buy Now Available from Amazon, BGR may receive a commission

Apple AirPods Pro List Price:$249.00 Price:$189.99 You Save:$59.01 (24%)
Buy Now Available from Amazon, BGR may receive a commission

DEPSTECH Wireless Borescope Inspection Camera, IP67 Waterproof List Price:$36.99 Price:$28.85 You Save:$8.14 (22%)
Buy Now Available from Amazon, BGR may receive a commission

Echo Dot (4th Gen) + Amazon Smart Plug | Charcoal List Price:$74.98 Price:$59.99 You Save:$14.99 (20%)
Buy Now Available from Amazon, BGR may receive a commission

Afirst Outdoor String Lights 20FT with 22 Edison Bulbs Vintage Bistro Lights List Price:$25.95 Price:$13.47 You Save:$12.48 (48%)
Buy NowCoupon Code: 508C5I7I Available from Amazon, BGR may receive a commission

True Luxury 1000-Thread-Count 100% Egyptian Cotton Bed Sheets, 4-Pc Queen List Price:$107.99 Price:$53.99 You Save:$54.00 (50%)
Buy Now Available from Amazon, BGR may receive a commission
Go here to see this month's best deals on Amazon!
---
Follow @BGRDeals on Twitter to keep up with the latest and greatest deals we find around the web. Prices subject to change without notice and any coupons mentioned above may be available in limited supply.
New Gorilla Glass for camera lenses will improve smartphone photography
Most people rely on their smartphones for photos and videos. Thanks to the various advancements from smartphone vendors each year, there's almost no point in getting a point-and-shoot camera. But smartphone cameras have become increasingly large and more prone to accidental damage. The smartphones that deliver excellent photo quality have more than one camera on the back. Those phones also have significant camera protrusions (or "bumps"). That's the compromise smartphone vendors have to make to improve camera performance. These developments can increase the risk of damage. That's why Corning made its new Gorilla Glass DX and DX+ lens covers.
Today's Top Deal
Amazon's #1 best-selling portable Bluetooth speaker is down to the lowest price of 2021! List Price:$34.99 Price:$22.09 You Save:$12.90 (37%)
Buy Now Available from Amazon, BGR may receive a commission Available from Amazon BGR may receive a commission
Corning is a well-known name in the mobile industry. Many of the current and past smartphones feature strong Corning Gorilla Glass panels protecting the displays. Gorilla Glass is quite durable and will safeguard devices against most accidents. Glass is still glass, however, so the risk of accidental damage remains.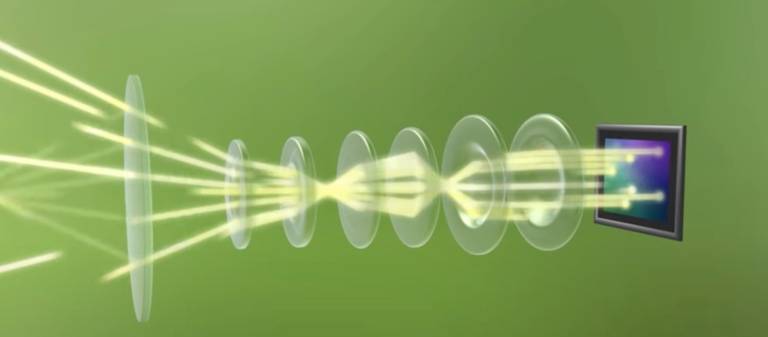 The company's next glass component for smartphones targets cameras. The new Gorilla Glass DX and Gorilla Glass DX+ will provide better scratch resistance than other alternatives and allow more light to reach the camera sensor in the process.
Gorilla Glass DX and DX+ coming first to Samsung phones
The new Gorilla Glass DX and DX+ lenses will feature a new anti-reflective coating that will allow 98% of light to pass through. More light leads to better photography, and Corning says its new durable glass lenses will do better than existing solutions. The video below shows that other lens covers allow between 92% and 95% of light to pass through.
The upgrade to 98% might not seem like much. But it might make a world of difference for low-light and night photography.

Aside from improving photography, the new Gorilla Glass DX and DX+ will offer better scratch resistance than other solutions. The video below says that Gorilla Glass DX and DX+ covers will be almost as scratch-resistant as sapphire glass. Apple has been using the latter for protecting iPhone cameras and the Apple Watch. Corning used the DX and DX+ technology on smartwatches before.
Samsung will be the first company to employ Corning's Gorilla Glass DX and DX+ camera covers. It's unclear what Samsung smartphones might make use of the new Corning camera parts. But the timing of Corning's announcement might suggest that some of Samsung's next flagships will feature the new DX and DX+ lens technology. It so happens that Samsung announced a press event for August 11th, where it'll unveil the Galaxy Z Fold 3 and Flip 3 foldable handsets.
Today's Top Deal
Control your garage door from anywhere with your smartphone or Alexa! List Price:$29.98 Price:$21.99 You Save:$7.99 (27%)
Buy Now Available from Amazon, BGR may receive a commission Available from Amazon BGR may receive a commission
Apple Watch Series 7: All there is to know about Apple's next watch
The Apple Watch has completely changed the wearable world. Sure, there were smartwatches before the Apple Watch, but none as impactful, influential, and well-implemented. The Apple Watch Series 6 was Apple's best effort yet. Rumors indicate that Apple will take things to the next level with the Apple Watch Series 7.
Traditionally, Apple launched a redesign for its iPhone and Apple Watch every three years. For the Apple Watch, this is the year. As a result, we're expecting the Apple Watch Series 7 to bring a number of changes.
Excited for the Apple Watch Series 7? Or just want to learn more about the upcoming smartwatch? Here's everything we know about Apple's next smartwatch so far.
Apple Watch Series 7 design
As mentioned, Apple brings a redesign to its mobile devices every three years — and this is the year for the Apple Watch. Rumors indicate that the device will get a flat-edged design that brings it more in line with the iPhone, higher-end iPad, and iMac.
This has been corroborated by serial leaker Jon Prosser. Prosser claims to have seen renders of the upcoming device, and has created his own images based on those renders. Prosser also says that the device will come in a series of colors and that there may be smaller bezels around the display than previous-generation Apple Watches.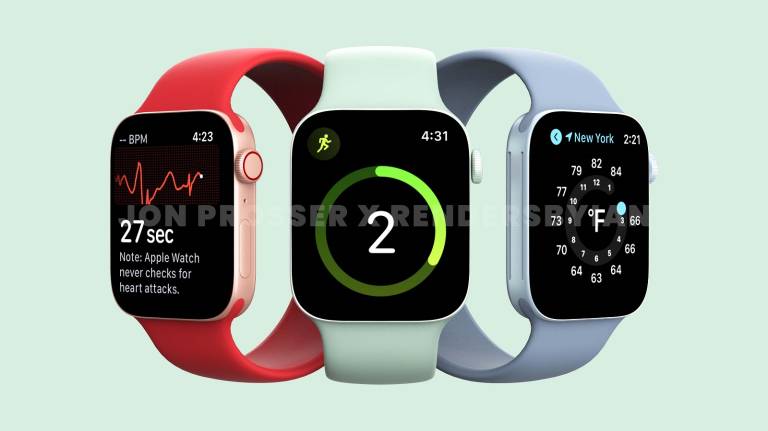 Bloomberg's Mark German agrees with this speculation, saying that the Apple Watch Series 7 will sport thinner bezels and that Apple has been testing a new "lamination technique" that will bring the display closer to the top cover of the Apple Watch. Gurman's sources also note that the watch may be "slightly thicker," but that it won't be a noticeable difference. If it means a larger battery, we're completely fine with that trade-off.
Apple Watch Series 7 health tracking
Apple has emphasized health tracking on the Apple Watch since its release, and that's unlikely to change any time soon. The device will sport the same fitness-tracking features as on the Series 6, but it may add some new ones too. Chief among those could be blood glucose monitoring.
Rumors about blood glucose monitoring on the Apple Watch have been swirling for a few years now. It's clear that Apple is working on bringing that tech to the Watch. But there are conflicting rumors as to whether it will be on the Series 7. A report from ETNews notes that blood glucose monitoring will be a standout feature of the Apple Watch Series 7, however, a newer report from Bloomberg instead suggests that the tech may not be ready for the Series 7.
Some rumors have been hinting at the idea that Apple might be working on blood pressure monitoring as well. The Samsung Galaxy Watch 3 has a sensor for blood pressure monitoring, so it wouldn't be that surprising to see it — especially given the fact that we've seen related patents from Apple.
Apple Watch Series 7 specs
The Apple Watch is already an incredibly functional smartwatch, and it takes years for the device to slow down and not be able to handle new software updates. Like in previous years, the Apple Watch Series 7 will likely get a spec-bump that makes it even more capable, and able to keep up with watchOS 8 and other related features from Apple.
Some rumors, like a report from DigiTimes, suggest that the new S7 chip will support a new double-sided System in Package (or SiP), which could give the device a serious battery life boost. We don't really expect the battery to be larger, though.
Apple Watch Series 7 price and availability
The device is expected to be released at around the same time as previous Apple Watch models. That's to say, Apple will likely announce the device sometime around mid-September. Usually, Apple's keynotes are on a Tuesday.
When it comes to pricing, the device will probably be a similar price as previous-generation models. In other words, it will start at around $399 for the entry-level 40mm model, or $429 for the 44mm model.