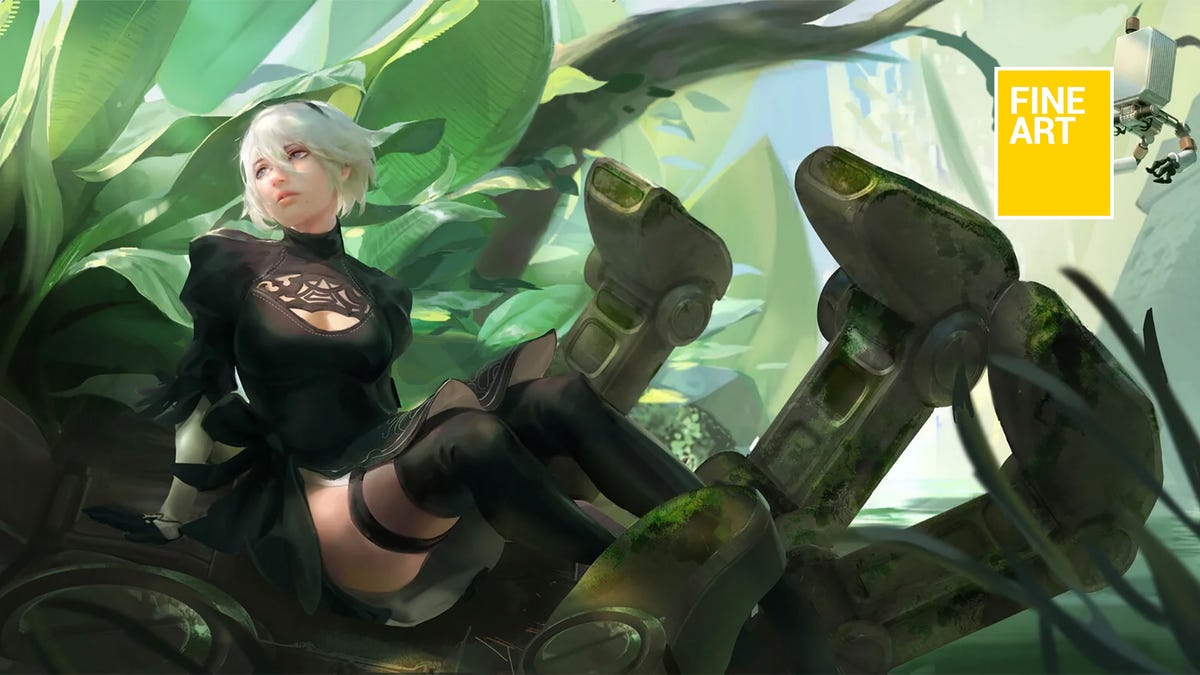 Yusong Zeng is an artist from China.
You can see more of Zeng's stuff at his ArtStation page.
---
Fine Art is a celebration of the work of video game artists, showcasing the best of both their professional and personal portfolios.
---
---
G/O Media may get a commission
Hell Yes Bring Back That 1990s Flight Sim Aesthetic
While some retro video game looks are making huge comebacks—muddy PS1 textures, I'm looking at you—I'm particularly excited here to see here a developer bringing back one very particular aesthetic that I was super into as a kid: that of early 90s hardcore military flight sims.
From the F-15 series to Chuck Yeager to Falcon 3.0, these particular games coming out at this particular time all had a few things in common when it came to their visuals, like low-poly aircraft, sparse terrain and dithering. Oh, the dithering.
You don't see that kind of game anymore because flight sims, obsessed as they are with realism, quickly moved to fill those empty landscapes with hills, and buildings, and satellite data, while the aircraft themselves are in 2021 practically photorealistic.
Not here! This is Tiny Combat Arena, which despite the aesthetic is actually an arcadey aerial shooter for the PC that's due out in September. What's more, it's being published by Microprose, the same brand that released so many of those original flight sims back in the day, and while this isn't the same company—the original died years ago and a new company simply bought the name—it'll still be nice seeing the logo turn up before a game that looks like this.
Super Mario World Is Now Playable In Widescreen
Software engineer and SNES ROM hacker Vitor Vilela has led a team which has created and released Super Mario World Widescreen, a download that lets you play Nintendo's Super Mario World—first released in 1990—on modern widescreen displays.
Crucially SMWW keeps the game's original 8:7 pixel aspect ratio, meaning that no matter how wide you stretch the display, "the screen you will see is like how would you see on a real TV screen connected to the SNES, except expanded to the widescreen resolution!"
While standard 16:9 and 16:10 monitor resolutions are supported, Vilela is also working on some other, funkier aspect ratios, like 2:1 and even 21:9 for anyone with an ultrawide monitor.
It's available here, but before you go rushing to download it, there's some stuff you need to know. Firstly, the download link is just for SMWW, and doesn't contain a ROM of Super Mario World itself. You'll have to find that…elsewhere.
G/O Media may get a commission
And secondly, you'll also need to download the emulator bsnes_hd, since the only way SMWW was made possible was because bsnes_hd allowed Vilela to increase the game's horizontal resolution by 96 pixels, from 256×224 to 352×224. bsnes also allows many other SNES games to run in widescreen as well, though not to the same level of tailored perfection as we're seeing here (as you can see in the comparison screenshot above, simply running SMW in bsnes has some framing issues).
You can check out a trailer below:
The Week In Games: The Game Of Kings
Golf is a classy sport. The kind of sport that has been played by dignified men and women. A perfect sport for Waluigi and Wario. Mario Golf: Super Rush releases later this week on Nintendo Switch.
I've only tried to play golf in real life once and it was boring. I hated it. But in video games, I love it. Especially if the golf featured in the game is goofy and over-the-top. So you better believe I'm excited to hang out with the Wa Bros and play some wacky golf!
Besides Mario Golf: Super Rush, other stuff is coming out this week too. Check out the full list below:
Monday, June 21
Wood Block Escape Puzzles 2 | Switch
Industries of Titan | PC
Labyrinth City: Pierre The Maze Detective | PC
Tuesday, June 22
Super Magbot | Switch, PC
LEGO Builder's Journey | Switch, PC
Dungeons & Dragons: Dark Alliance | PS5, PS4, Xbox Series X/S, Xbox One, PC
Ender Lilies: Quietus of the Knights | Switch, PC
Phantom Abyss | PC
Olympic Games Tokyo 2020: The Offical Video Game | PS4, Xbox One, Switch, PC
Wednesday, June 23
Out of Line | PS4, Xbox One, Switch, PC
Fallen Knight | PS4, Xbox One, Switch, PC
Bitmaster | Xbox One, Switch
Empire of Angels IV | PS4, Xbox One
Worms Rumble | Switch
Blocky Puzzle | Switch
Ninja Buddy Epic Quest | Switch
Rail Route | PC, Mac
Robolife-Days with Aino | PC
Thursday, June 24
Empire of Angels IV | Switch
Alex Kidd in Miracle World DX | PS5, PS4, Xbox Series X/S, Xbox One, Switch, PC
Legend of Mana Remastered | PS4, Switch, PC
The Dungeon of Naheulbeuk: Amulet of Chaos | Xbox One
The Eternal Castle Remastered | PS4
Kirakia Stars Idol Project Nagisa | Switch
Farm Your Life | Switch
Cube Blast: Match | Switch
CarX Drift Racing Online | Switch
Sakura Succubus 3 | Switch
Summer Paws | Switch
Super Cable Boy | Switch
Cyber Hook | Switch
Kingdom Builders | PC
Friday, June 25
Mighty Aphid | Xbox One
Scarlet Nexus | PS5, PS4, Xbox Series X/S, Xbox One, PC
Mario Golf: Super Rush | Switch
Tony Hawk's Pro Skater 1+2 | Switch
Promesa | Switch
#1 Crosswords Bundle | Switch
Loopindex | Switch
Sweet Sugar Candy | Switch
Enigmatis: The Ghost of Maple Creek | Switch
Sun Haven | PC
Eiyu*Senki Gold – A New Conquest | PC
Saturday, June 26
Babol the Walking Box | PC
Bocce | Switch